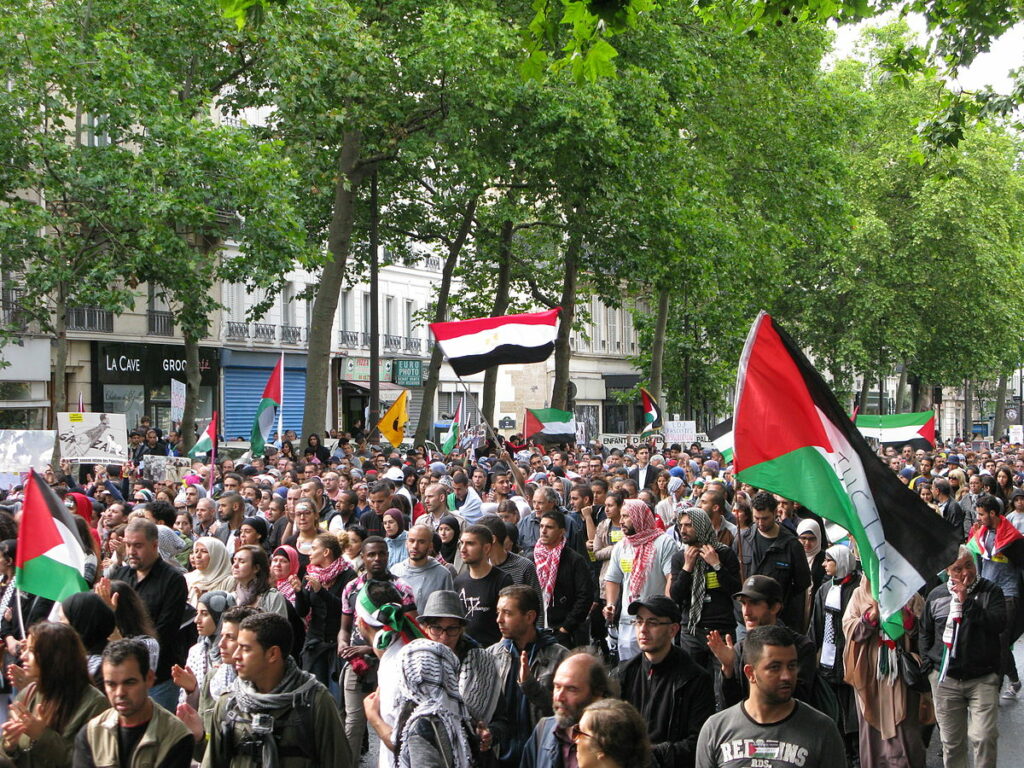 Since the launch of Hamas' Operation Floods of Aqsa and Israel's bombardment of besieged Gaza, Palestinians and pro-Palestine activists in Europe have been facing unprecedented censorship, policing, harassment, arrests, gag orders, and threats. In compiling several reports from leftist activists in various locations in Europe, we aim to alert our activist communities across our region to the oppression that Palestinians and pro-Palestinian activism are facing. We also aim to show how this pattern of oppression relies on heavily exaggerating already-existing racist practices such as racial profiling, anti-migration policies, and on activating racist institutional practices such as police intimidation, arrest, and harassment. While these practices are not new, the scale at which they are multiplying is alarming. This first interview in this series on France is up-to-date as of Saturday, Oct. 21st, but the situation is rapidly developing.
— The LeftEast Editorial Board
Bans on protests
In a telegram sent on 12 October, Interior Minister Gérald Darmanin instructed all prefects (state representatives in a department or region) to ban "pro-Palestinian demonstrations" in France. The organisation of these demonstrations "must result in arrests," stated the Minister. Foreign nationals who attend or organise demonstrations in spite of these bans "must have their residence permits systematically withdrawn, and their deportation implemented without delay."
As a result, bans have been imposed on the October 12 and 15 demonstrations in Paris, the October 13 demonstration in Strasbourg, and the October 12 demonstration in Toulouse, among others. The main reason invoked for the ban is that Palestine solidarity protests constitute "serious risks for public disorder." In some regions, additional motives were also outlined by prefects: in Saint-Etienne, for instance, a prefectural order banning a protest planned on October 12 referred to the presence of "individuals from the ultra-left movement" and denounced pro-Palestine "inscriptions and banners" as constituting threats.
The blanket ban called for by the Ministry of Interior on all pro-Palestinian protests was eventually deemed illegal by the Conseil d'Etat (Council of State) on October 18 – although perfects may still forbid demonstrations on an individual basis.
Arrests and prosecutions
In spite of the bans, in many French cities people gathered to denounce Israeli occupation and the ongoing war crimes. As a result, many were fined up to 135 EUR for taking part in a prohibited demonstration. The October 15 protest in Paris resulted in 752 fines and 19 arrests, according to the Paris prefecture.
In Strasbourg, 13 people were arrested, including the local president of the French Jewish Union for Peace (UJFP), Jean-Claude Meyer, who spent 24 hours in police custody, but was not prosecuted. A BDS and UJFP activist, who was also arrested in Strasbourg, was prosecuted after spending 48 hours in police custody. She will go to court in January, and is accused of being one of the organisers of the banned demonstration, according to the UJFP.
In Toulouse, there were between 5 and 10 arrests – none of them leading to prosecution. Many fines were delivered as people were stopped on the street by riot police. A UFJP activist spent 24 hours in police custody in Marseille, and a journalist (Taha Bouhafs) was arrested in Paris.
Deporting a 72-year-old left-wing activist from Gaza: an "absolute emergency"
On October 16, Mariam Abu Daqqa, a leftist Palestinian activist and intellectual close to the Palestinian Front for the Liberation of Palestine (PFLP), was arrested in Marseille and placed under deportation proceedings at the request of the Minister of the Interior. A resident of Gaza, she was touring France on a short-stay visa issued by the French consulate in Jerusalem in August. At the time of her arrest, which took place as she was going to Marseille's train station, Mariam Abu Daqqa had been staying with the local spokesperson for the UJFP, Pierre Stambul.
Mariam Abu Daqqa remained under house arrest in a hotel and her visa was revoked according to the expulsion order issued by the Minister of the Interior. The list of reasons for this decision, which several newspapers and websites reported, include: "On 7 October 2023, a large-scale attack was carried out by Hamas (…) on the same day, Ms Mariam Abu Daqqa attended a conference entitled 'Occupation, oppression, blockade! Resisting Gaza.'" There were also references to the terrorist attack in Arras on Friday October 13.
The Minister of the Interior argued that "the continuation of Ms. Mariam Abu Daqqa's lectures (…) is likely to lead to serious tensions" and that "Mariam Abu Daqqa's presence represents a serious threat to public order." In an interview to the leftwing newspaper L'Humanité, Mariam Abu Daqqa explained her shock and added: "I have just lost 29 members of my family in the Israeli bombardment of Gaza. My house was destroyed. My message is (…) to denounce the occupation and the everyday living conditions in Palestine."
Eventually, the administrative court in Paris cancelled the decision on 21 October, stating that it was a serious violation of Mariam Abu Daqqa's fundamental rights. One could also wonder what this deportation order actually meant and whether the French Interior Minister was suggesting that Mariam Abu Daqqa should have been deported to Gaza under the current circumstances. The Interior Minister announced that the State will appeal the decision.
"Apologie du terrorisme" (defending / justifying terrorism)
On Monday October 16, Interior Minister Gérald Darmanin also boasted that eleven referrals had been made to the public prosecutor (comparable to a state/district attorney at the national level) for "apologising for terrorism."
This includes the collective "Palestine Vaincra" and the "Palestine Action Committee,", both of which had already been the targets of dissolution proceedings initiated by the government in 2022. The dissolution proceedings have been suspended by the Council of State, which has refuted the government's claims that the pro-Palestinian positions of the two groups amounted to calls for discrimination, hatred, violence, or actions designed to provoke acts of terrorism.
These attempts can be placed in the lineage of a longer-term campaign against pro-Palestinian activism in France. The repressive turn was previously aggravated under the Sarkozy presidency, when a ban of the BDS movement on the grounds of "economic discrimination" was issued (circulaire Alliot-Marie, later deemed a violation of the European Convention on Human Rights by the ECHR) and has been upheld since by successive Presidents, including Emmanuel Macron.
Repression against political figures and parties supporting Palestine
Left-wing political parties are also under attack – primarily the Nouveau Parti Anticapitaliste (NPA) and La France Insoumise (LFI). Following a press release published by the NPA on October 7 in which the party defended Palestine's right to resist occupation, an MP from Macron's party Renaissance stated in an interview given to CNews (an ultra-conservative TV channel routinely deemed to be a French version of FoxNews) that the question of whether to dissolve the NPA had become pressing.
On Tuesday October 17, Gérald Darmanin announced that he was referring LFI MP Danièle Obono to the public prosecutor for making an "apology for terrorism." That morning, in a radio interview where she was aggressively pushed to position herself, she had described Hamas as "an Islamist political group that has an armed wing and is part of the Palestinian political formations" and "a resistance movement that resists an occupation and defines itself as such."
The next day, on October 18, again on CNews, Gérald Darmanin accused football player Karim Benzema, current holder of the Ballon d'Or award, of being associated with the Muslim Brotherhood, following a post on X (formerly Twitter) in which Benzema merely wrote: "All our prayers go to the inhabitants of Gaza who are once again victims of these unjust bombings which spare no women or children."
Unions have also been targeted, with the arrest of two representatives of the CGT (Confédération Générale du Travail – one of the largest unions in France) on October 20. The union's departmental secretary in the North region was arrested by hooded police officers at 6:20 AM in his home, most probably because he had been distributing pro-Palestinian leaflets during the previous days.
A radicalisation of repression
The facts, figures, and statements compiled here remain far from a comprehensive summary of the repression that has unfolded since October 7. The work of systematically putting together and of assessing the full scale of the numerous authoritarian measures taken against pro-Palestinian voices is yet to be done.
The current wave of repression is extending beyond actions specific to Palestine. For instance, in several French cities, the local prefectures evoked a "context of acute terrorist threat which requires a particularly high mobilisation of riot control and police forces" to justify banning gatherings in commemoration of the October 17 massacre in 1961, when the national police attacked a protest gathering of several thousand Algerian nationals in the French capital leading to the deaths of several hundred people.
Besides being a clear sign of the authorities' unconditional support for Israel, these measures are also in line with a broader effort of the Macron government to muzzle any mobilisation against its politics and policies. Relentless criminalisation of protest in the country has made nuanced public debate and political analysis almost impossible.
This is true beyond the Palestinian movement. In recent months and years, the authorities have criminalised the environmental movement (notably by attempting to ban Les Soulèvements de la Terre), they have violently repressed unions, including most recently during the movement against pension reform, and have targeted anti-fascist groups (e.g., attempts at shutting down the local anti-fascist group La GALE, overturned by the Council of State). In 2020, Gérald Darmanin also dissolved one of the largest anti-Islamophobia organisations in the country, the Collective Against Islamophobia in France (CCIF).
Although as of October 21, the widespread ban on protests has been deemed unconstitutional, it remains the case that since October 7, the French government has voluntarily conflated any expression of Palestine solidarity with supporting terrorism: this is a new step in an escalation of repression premised on an attempt at silencing any voice that is not in line with the government and its positions.
Céline Cantat is currently Academic Director and Lecturer at Sciences Po Paris. Her research has focused on migration, humanitarianism, solidarity mobilisation and the relation between macro processes, such as globalisation and state formation, and the forced movement of people within and across borders.