During the past year, healthcare workers all around the world have shouldered an incredible burden. Although both people and policy makers have applauded their contribution to the COVID-19 response, little has been done in practice to actually protect and support workers on the frontline. It is difficult to disregard the fact that thousands of nurses, doctors, and other frontline staff risked their lives during the pandemic. Over 15 thousand healthcare workers have died of COVID-19, and many more have been infected, according to data by Amnesty International, Public Services International and UNI Global.
It is important to consider that before the onset of the pandemic, healthcare workers were already overworked, underpaid, and in many cases, burnt out. While this is true for practically all countries in the world, healthcare systems outside of high-income countries found themselves in a particularly dire situation. In East and South East Europe, as well as Central Asia, working conditions in healthcare have deteriorated because of austerity policies and large-scale emigration of healthcare workers to the West. This means that workers who remained in their countries of origin faced the pandemic with insufficient capacities and little hope of adequate protection in the workplace.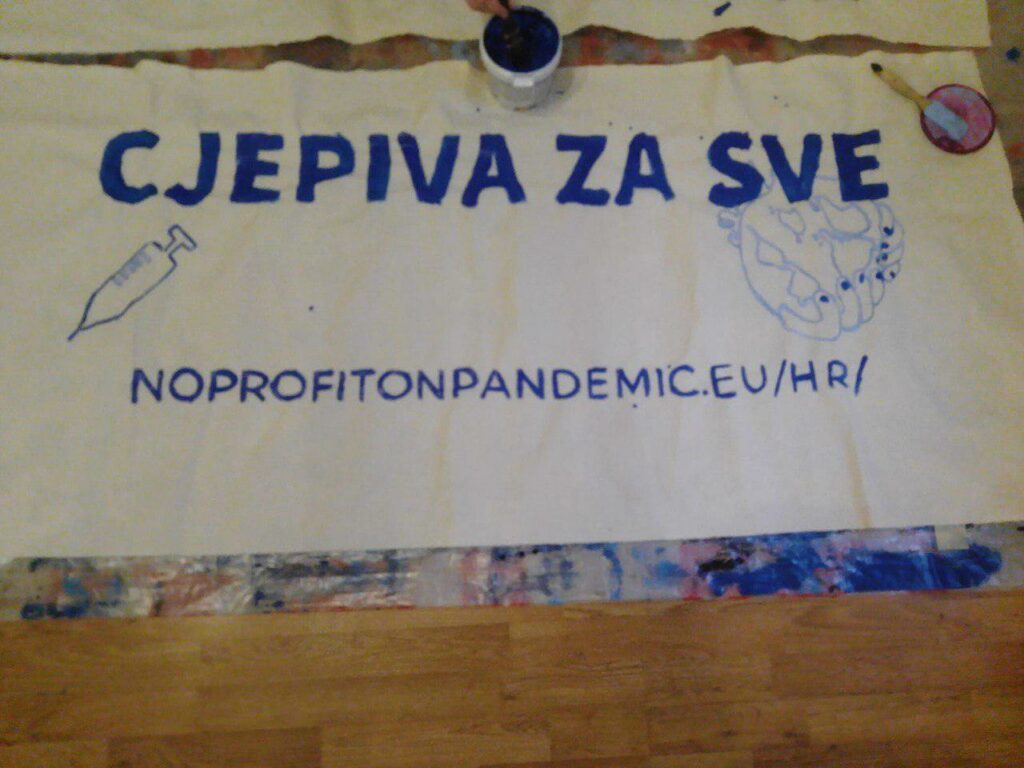 "Health Workers and Fragile Health Systems during COVID-19" was the title of the online event that was organised on April 7 2021, as part of the Day of Action Against Commercialisation of Health, by the Organisation of Workers' Initiative and Democratisation (OWID/BRID), Здружение ЕСЕ and სოლიდარობის ქსელი / Solidarity Network. The event brought together trade unions and associations representing healthcare workers from South East Europe and the Caucasus. As the organisers stressed, the link between health systems weakened by austerity and public services cuts, and the outcomes of the pandemic response in the region has not been adequately underlined. During the webinar, trade unionists, organisers, and civil society representatives met to illustrate the similarities among working conditions during the pandemic in Bulgaria, Georgia, North Macedonia, Romania, and Serbia, and discussed what is needed for rebuilding fairer health systems and ensuring adequate working conditions in healthcare.
The event's moderator was Miloš Vlaisavljević from the European Federation of Public Services Union (EPSU). As an organising and campaign officer at EPSU – a European trade union federation of more than 270 affiliated unions in public services – he also used the opportunity to call attention to the union's support campaign for the initiative No Profit On Pandemic. Additionally, Miloš Vlaisavljević invited everyone to join EPSU for a day of protest and action on the 23rd of June celebrating the work done by public service workers.
Healthcare workers: risking their lives, facing death
By this year's World Health Day, April 7th, trade union representatives reported that hundreds of medical doctors, nurses, healthcare assistants, emergency personnel, and ambulance car drivers have been infected with Covid-19 in Bulgaria, Georgia, North Macedonia, Romania and Serbia; many of whom have died since March 2020. Some trade unions collected data on the numbers of physicians who died such as Trade Union of Physicians and Pharmacists of Serbia, as reported by Gorica Đokić. Altogether participants felt that authorities not only expressed insufficient concern over protecting the health of those in charge of curing and nursing members of the society, but also did not adequately commemorate or acknowledge the lives lost. A partial exception was the case of Romania where official statistical queries were conducted. However, the union felt that important facts and data are still left uncovered. Zoran Ilić from the trade union Nezavisnost noted that, in addition to issues surrounding the collection of data on infected medical workers, trade unions had to incessantly fight to secure basic rights for Covid-19 infected members, including sick pay and the treatment of Covid-19 as a workplace-related health hazard.
"We are just workers who do not have rights", was the bitter summary provided by Gorica Đokić, who described healthcare workers as stripped of their rights to dignity, safety, being sick, being single parents and seeing their children, and to having personal rights. Subsequently, the event's moderator, Miloš Vlaisavljević, called attention to research conducted by the EPSU-affiliated organization Kommunal in Sweden that found that health and safety risks increase with more intensive working hours. The statement received further confirmation from the participants.
"Work is a gift we should always provide"
A common issue for all participants was the intensified workload for healthcare workers during Covid; a natural consequence of the fact that the ratio of patients per nurses is extremely high, and rising further with the third wave in all countries.
Razvan Gae from the Sanitas Trade Union reported that in Romania hospitals face a huge lack of personnel. Not only are the day-to-day tasks multiplying, but there is also a lack of professional staff dedicated to intensive care. The government is trying to cope with the situation through PR statements about increasing the number of intensive care unit beds which does not address the problem fully. "We say the problem is not beds, but getting specially trained healthcare personnel to provide [care] appropriately."
In North Macedonia, Bulgaria, and Georgia the situation is more alarming. In Georgia, there were 11 patients per nurse before the pandemic, and during Covid the ratio increased to 23 to 1. This meant that in practice, nurses worked 72, sometimes 90 working hours per week. It was not uncommon for nurses to break down at work. In North Macedonia, as Gordana Beshliovska from the Association of Nurses pointed out, there are devastating personal stories circulating among nurses in the country, coping with extreme workload, exhaustion after long working hours, and insufficient protection, which places their health and safety under extreme threat. Nurses in North Macedonia must also cope with lack of respect, which was due to the fact that their profession is not fully regulated.
"In the biggest emergency hospital 1 person looks after 50 people. It's a real nightmare,"
said Krasimira Mehandzhiyska, a representative of the Trade union of Bulgarian nurses.
Another key issue facing healthcare workers is the inadequate quality of personal protective equipment (PPE) and the use of protective gear for long hours. According to Gorica Đokić from the Trade Union of Physicians and Pharmacists of Serbia, "You treat thousands and thousands of people and you stay entire shifts continuously in your personal protection gear for 9 hours" which the workers feel might have serious consequences for their health.
In less regulated environments the situation was even more acute. In Georgia, as Sopo Japaridze from the Solidarity Network Workers' Centre reported, healthcare workers and nurses were among the first to experience problems with vaccines. A nurse died after receiving a dose of the vaccine, which caused many nurses to refuse to take it. The question of mutual impact was raised, including the effect of vaccines on overworked, tired human organisms. Ironically, nurses cannot afford healthy food and lack vitamins, calories, and nutrients due to their low salaries. Work was a generous self-sacrificing gift; a joint sentiment felt by healthcare workers and nurses in Georgia. Regardless of irregularly paid low wages, and worsening working conditions, workers are expected to perform their work even in instances when the public transportation broke down. In the words of Sopo Japaridze:
"In the first months of Covid, under lockdown, even transportation was a problem. You either take a cab, or you have to walk to work. More recently, healthcare facilities started to organise buses and marshrutkas. But then these were extremely overcrowded, with people sometimes standing, sometimes as if in sardine cans!"
Gorica Đokić related to the issue of transportation as she reported that in Serbia Covid-specialized hospitals are typically spread across the country, and are often placed tens to hundreds of kilometers away from the healthcare workers' residences. Therefore, transport to and from work is an additional burden.
Before the pandemic: Roots of healthcare erosion
As discussed earlier, public healthcare systems across Eastern Europe and globally were systematically weakened using budgetary cuts over decades of austerity. Lack of respect, erosion of the profession, as well as emigration also paved the way for weakened and understaffed healthcare establishments and capacities. Razvan Rae called attention to austerity state budgets for the public sector in Romania which trade unions had to cope with and fight against for years.
Krasimira Mehandzhiyska reported that already 2 years ago their union called on authorities to pay attention to nurses, as about every second healthcare worker in Bulgaria emigrated from the country. Those who left were rather young, and those who stayed were from older generations, on average 50 years old. Therefore, many pensioners returned to work in the healthcare sector, only to leave again when the pandemic began.
Sopo Japaridze stated that alarming issues affecting healthcare workers and nurses in Georgia were ignored in the whole country for years. No one paid attention to nurses and their problems. Massive privatisation, deregulation, and horrible working conditions all played a role. The officials addressed organically-produced labour shortages artificially through launching PR propaganda films about this noble profession – and without addressing the roots of the problem, or improving working conditions and regulating remuneration.
Privatize profits – redistribute risks – socialise costs?
Privatisation of healthcare services varies across the participating countries. Since March 2020, the limited participation of private providers in fighting the pandemic seems to be a trend across all countries except in Georgia where healthcare is privatized. Moreover, in Georgia, working conditions and wages differ markedly across, and perhaps also within establishments. In North Macedonia, as Gordana Beshliovska stated, there is an extreme lack of resources in public healthcare that contrasts starkly to treatments and expensive tests in private wards. The private sector has increased prices for its services, rendering them unaffordable to most citizens. After protests from the Chamber, the Government stated that it cannot influence or regulate costs in private healthcare institutions. In contrast, in public establishments, patients have no right to choose where they will be treated even though some of these establishments are crowded.
In Bulgaria, private establishments initially did not establish Covid wards, but the government tried to push them to admit some patients, which is a relatively recent development. Vaccines are free, but tests – including especially PCR tests – are not free and are expensive.
Razvan Gae said that the share of private establishments in Romania is relatively small, but well equipped. However, they are not really participating in the fight against the pandemic because establishing intensive care units is not profitable.
"The critical question is, how to manage surgical treatments in the public sector? The general population is afraid of the public sector because of the risk to get Covid. … while in private establishments a negative test is a condition to take patients for treatment".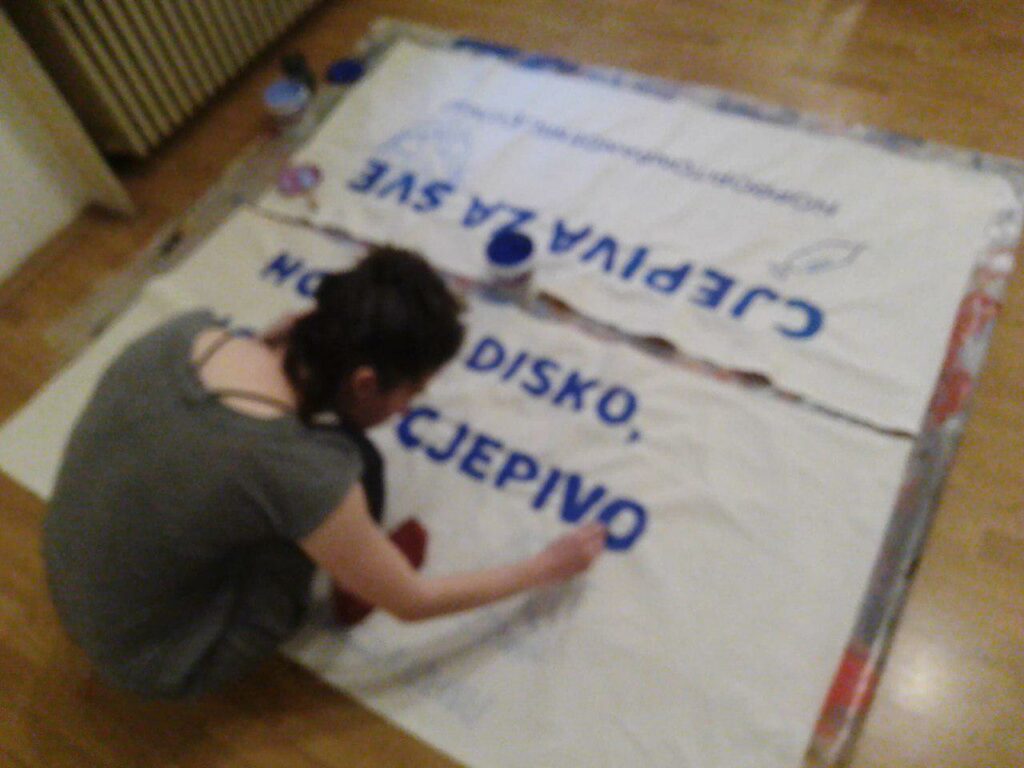 Initiatives, actions and next steps
In all countries, including North Macedonia and Georgia, worker representatives were engaged in campaigns to increase social awareness, but also targeted governments for better regulation of the work of healthcare workers. In some cases, more assertive actions took place.
Krasimira Mehandzhiyska reported that:
"Two days ago, in a hospital, in a Bulgarian ward, all nurses left, they quit. They left because they were paid minimum wages and did not receive the extra bonus that was promised to them. They decided to leave the ward. It was a final action, which sometimes is necessary to take."
As a result, the Trade union of Bulgarian nurses started to attract more attention from the society, which was sufficient to target the officials:
"After an appointment and unsuccessful discussion at the Ministry of Health, five of our union members entered the building and refused to leave it, so that they had to be taken away by the police. Due to the action and rising public pressure we got some improvements in working conditions and some increase in remuneration for the workers on the first line. We hope the newly elected government will improve our situation further."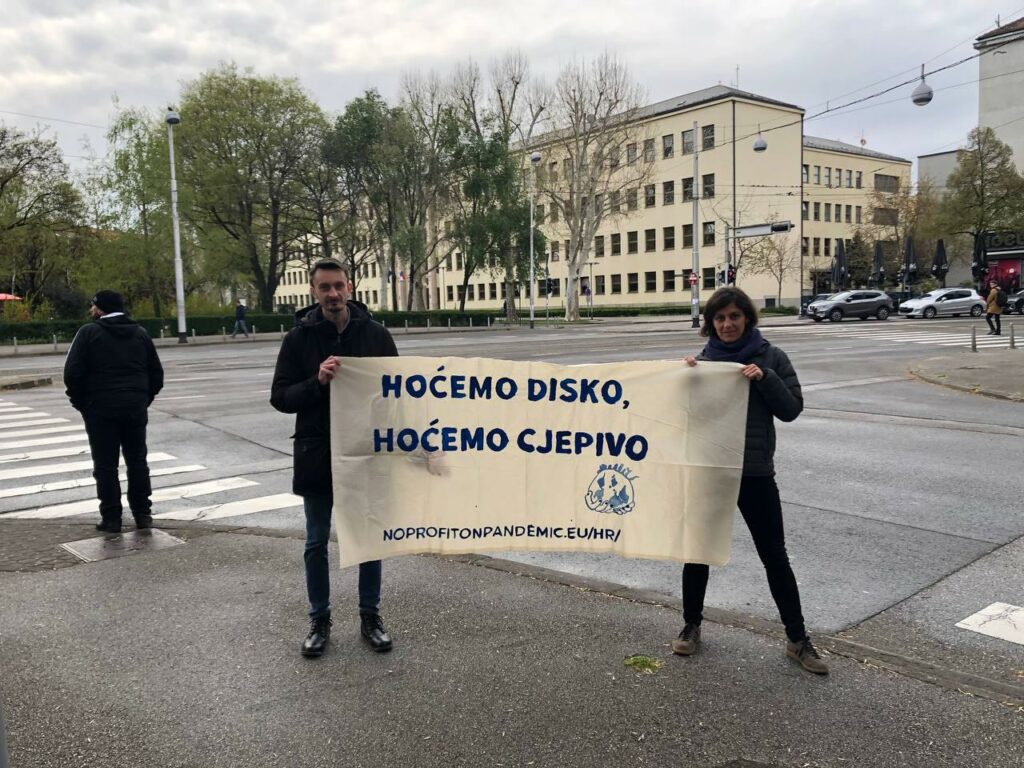 Zoran Ilić and Čedanka Andrić from Nezavisnost reported that the trade union concentrated on the activity of providing informed suggestions and recommendations to the government related to healthcare workers working conditions and remuneration, out of which some were accepted. A major success for the union was a signed collective agreement, according to which infected healthcare workers receive 100 percent of their salary during sick leave. In case of the death of a healthcare worker, the healthcare institution is obliged to provide financial assistance to the children for their entire period of schooling. Nezavisnost is also backing collective actions, such as 10 minutes work stoppage, in order to raise social awareness on the difficult work of healthcare workers.
Positive developments such as strengthening solidarity were reported by Razvan Gae. Trade unions in Romania succeeded in organizing a joint solidarity action with other trade unions to negotiate benefits for healthcare workers standing on the front lines of the fight against the pandemic by pressuring the government. Most importantly, the legislation was changed, and healthcare workers who work with COVID-19 patients will receive a significant bonus, the exact sum of which will be negotiated during collective bargaining at the establishment and hospital levels.
Authors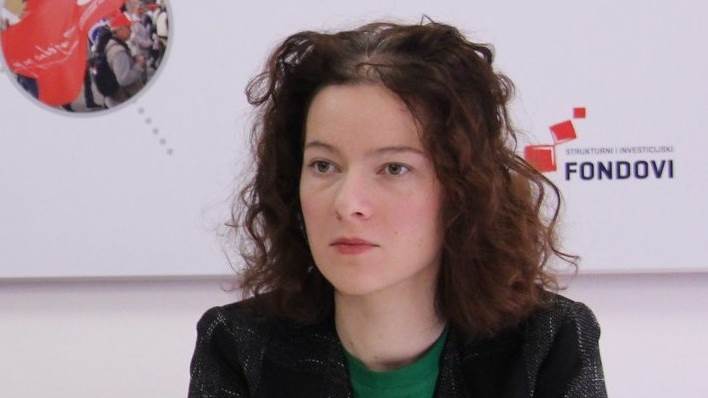 Ana Vračar is the regional coordinator for People's Health Movement, and works as programme coordinator at Organisation for Workers' Initiative and Democratisation (OWID). In both organisations, her focus is on impacts of commercialisation on people's health, and working conditions in the health sector.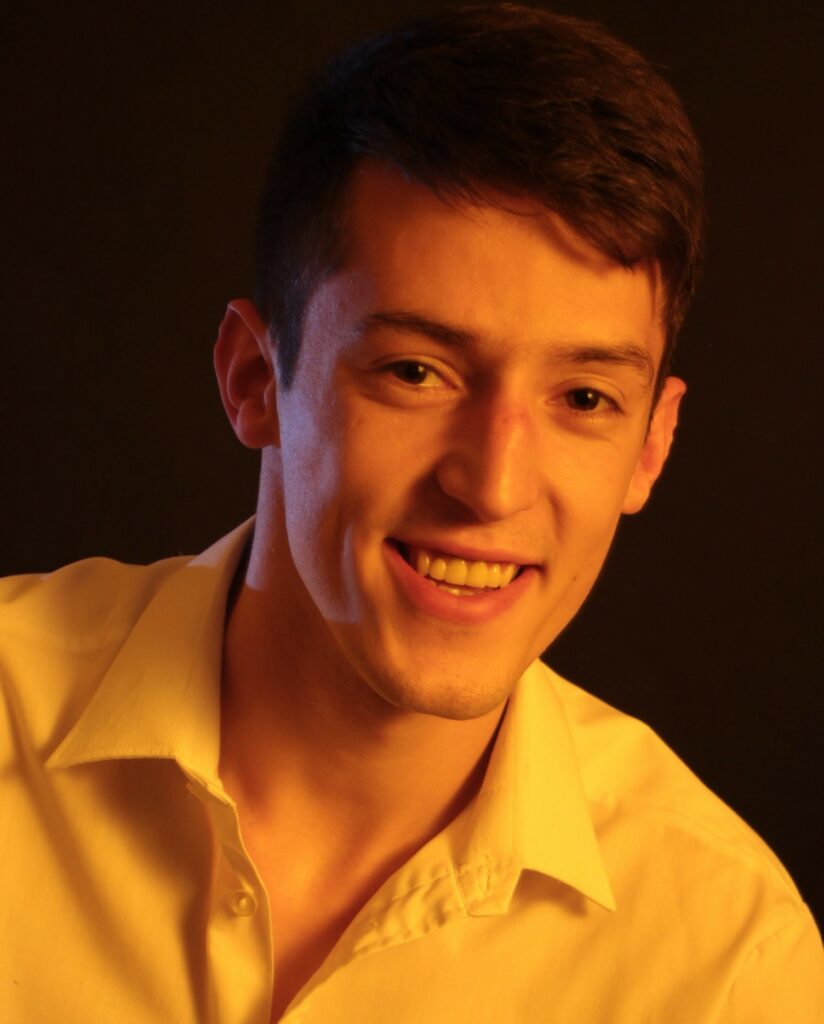 Miloš Vlaisavljević is organising and campaigns officer working in European Federation of Public Service Unions. His work, and the work of EPSU R&O Team, are focused on creating an active and organizing unions across Central and Eastern Europe.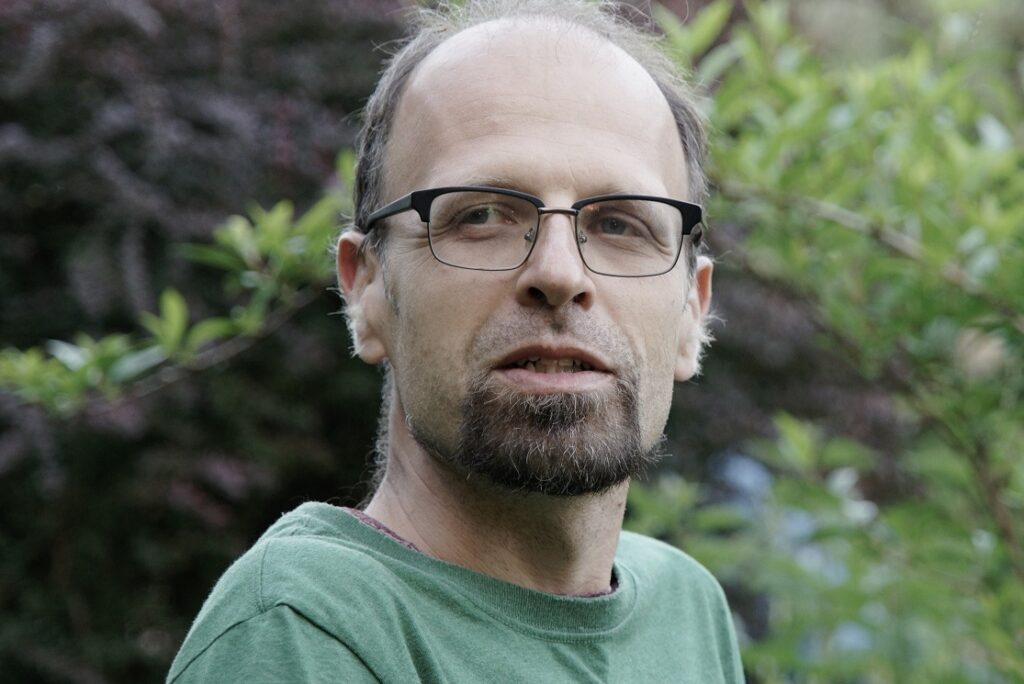 Tibor T. Meszmann is a researcher at the Central European Labor Studies Institute, and member of Public Sociology Working Group "Helyzet", Budapest. He specialized in trade union politics, and follows especially the world of labor in the metal industry, and more recently, platform work.