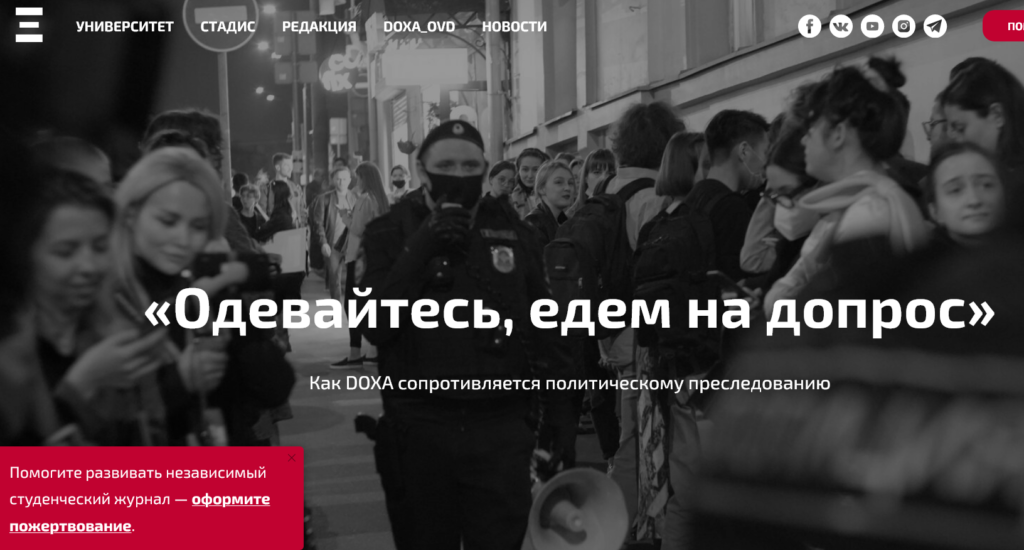 In the early morning of April 14th, 2021, the four editors of the journal DOXA were arrested by Russian authorities. Armen Aramyan, Natasha Tyshkevich, Volodya Metelkin and Alla Gutnikova appeared in court later that day. The purpose of the charges were made clear by the judge – to silence critics – who ordered the editors to house arrest and has restricted them from all electronic communication.
DOXA is a Russian student-run popular journal dedicated to critiques of the modern university. They have served as a clearinghouse for disseminating radical philosophy, especially feminist, Marxist, and anarchist voices. It also hosts editorials about the sprawling Russian university system, highlights student protests, and organizes solidarity for students harassed for speaking out.
The charges against the editors are preposterous. DOXA had posted a rather innocent video urging others to protest without fear and that expelling students for political reasons was unlawful. In response, the Russian communications authority Roskomnadzor demanded they remove the video. DOXA complied and removed the video. Even then, the editors were charged under Article 151.2 of Russian law ("involvement of youth in activities that can be harmful to them").
Perhaps there is some honor to being charged with the same crime as Socrates? Yet it is remarkable to suggest that university students need protection from DOXA. Only one who uses education to manufacture obedience outlaws critical thinking as self-harm. And it is no coincidence that laws like these are also used against social critics, queers, and migrants.
More information:
1) https://doxajournal.ru/ (in Russian)
2) Chronology of Events (in English) https://open-assembly.calarts.edu/index.php/2021/04/14/doxa-chronology-of-events/
We, the undersigned, urge all charges to be dropped against the DOXA editors and that all harassment of students immediately cease.
Andrew Culp, Professor of Media History and Theory, California Institute of the Arts
Slavoj Žižek, Senior Researcher at the Institute for Sociology and Philosophy, University of Ljubljana
Dr. Jordan B. Kinder, Postdoctoral Fellow, McGill University
Emanuela Bianchi, Associate Professor, New York University
Etienne R. Balibar, Anniversary Chair of Modern European Philosophy, Kingston University, London
Tiziana Terranova, Associate Professor Sociology of Communication and Culture, Dipartimento di Scienze Umane e Sociali, Università di Napoli L'Orientale, Italy
Judith Butler, Professor of Comparative Literature, University of California, Berkeley
Aleksandra Skowronska
John Michael Colón, Journalist
Geert Lovink, internet critic, Institute of Network Cultures
Kristiine Kikas, Junior Research Fellow
Bonnie Honig, Nancy Duke Lewis Professor, Brown University
Philosophy Now
Jodi Dean, Professor, Hobart and William Smith Colleges
Albena Azmanova, Associate Professor of Politics, University of Kent
Lori Marso, Union College
James Martel, Professor, San Francisco State University
Brian Massumi, Professor of Communication (Retired), Université de Montréal
Fred Moten, Professor of Performance Studies, New York University
(This is the list of signatories as of April 15, 2021 19.35 Central European Summer Time)