by Caoimhe Butterly, source facebook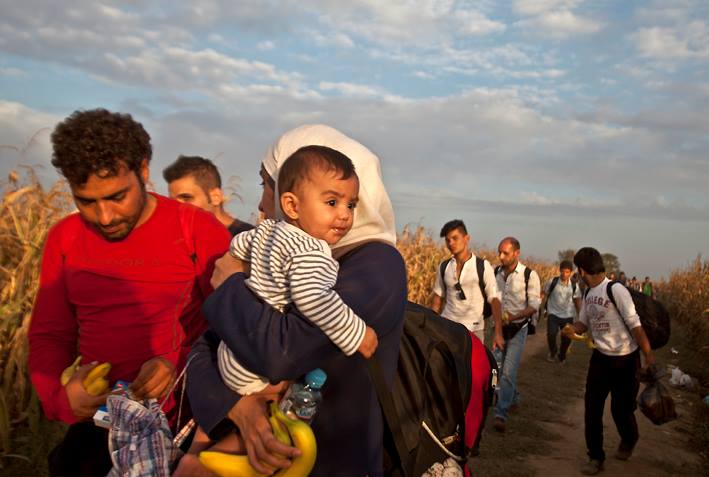 A few kilometres away from the small Serbian border town of Sid, a dirt track through corn and turnip fields serves as passage to tens of thousands of women, men and children seeking refuge and lives of more possibility. The unofficial border crossing between Serbia and Croatia is surrounded by sun-lit verdant fields, apple orchards in the distance and a calm that brings temporary respite to those who have been on the road for weeks or months. The threat of militarised borders and recent memory of dehumanising conditions along the way is temporarily kept at bay as those walking stop to drink freshly pressed apple cider handed out by a local farmer, chat and rest before they continue on.

Small children are carried in the arms of parents, toddlers on hips, rucksacks with what has been salvaged from lives interrupted, on backs. Narin, a teacher from Mosul, hesitates as her group of survivors, Iraqi Yazidis and Kurds, approach the lone border police car stationed as a corn field in Serbia a few metres onwards becomes a corn field in Croatia. "Every step away from Iraq, from the massacres of our people and those we left behind, has been so difficult" she says. "This seems too easy- we've forgotten what it is like to feel safe".
Fatima, pregnant with her third child, arrives exhausted but despite the heat, dust and distance, reminisces about family excursions to her parents village in Syria. Mohammed Ali, her three year old son, runs ahead in flip-flops, shorts and an over-sized vest, dragging behind him a blue over-stuffed unicorn given to him by volunteers at another border crossing. "He never lets go of that unicorn" Fatima comments "he feeds it and sleeps next to it and tells it stories about our journey".
Mahmoud, a Palestinian student from Yarmouk refugee camp in Damascus, holds the hand of a young nephew and states "this is our fate- we are experiencing what our grandparents and parents experienced. But with each generation, each exile, we are being scattered further away from home". Later, during the seven hours spent waiting in the heat for their names to be registered by comparatively engaging Croatian border police, he sings songs of loss, struggle and love to those sitting around him.
From sunrise onwards the buses arrive, bringing an ongoing flow of resilient survivors and travellers from a multitude of contexts of war, persecution and precarity. A constant amongst all, however, is the sense of dislocation and often vulnerability expressed in words and questions and sought reassurances, in the tensing of shoulders and tightly inhaled breath as painful memories of the past, and present, are recalled.
Kamaal and Sabiha, a middle-aged Kurdish couple from Mosul are accompanied by their cousin, the dignified Jamaal, who struggles down the dirt road on crutches. Kamaal had been in hospital recovering from a heart attack when Mosul was taken over by ISIS/Daesh over a year ago. He, Sabiha and their eldest son rushed home to find their home ransacked and their four teenage children gone, including their thirteen year old daughter. They stayed on in Iraq searching for them for almost a year before leaving in the hopes that perhaps they will be more effective in their search from outside. As we walk, Sabiha begins to cry and her husband puts his arms around her, his own shoulders heaving. They cross the border later, arms linked, Jamaal limping beside them.
The young, the much older, those in wheelchairs carried by friends and family, the wounded, families and those on their own, young couples holding hands disembark buses in one quiet border town in Serbia and walk the kilometres ahead into another in Croatia. From there, in the weather-exposed, degrading and exhausting chaos of the Tovarnik train station, the more effectively-organised and welcoming solidarity volunteer-run rest-camp next to it and in a recently established government-run processing camp, they will wait difficult days for transport that will hopefully take them a step closer to their final destinations- and the extended family, friends or support networks that await some of them there.
Later, as night begins to fall, apprehensions and doubts are voiced. The path unmarked except for the presence of a handful of volunteers, those arriving now seek reassurance that the path and surroundings really have been de-mined, that they will not be detained, that they will not face the possibility of police violence, accounts of which have filtered back from those who were stranded in Horgos and Roszke at the Hungarian border.
Beneath a star-filled, striking night sky, Khalid – a 77-year old Circassian great-grandfather from Quneitra- is accompanied by his extended family. He walks with a walking stick and politely refuses our offers of help with the large bag he carries on his back. "Continue to trust yourselves and each other" he advises fellow travellers "we are strong and will face whatever difficulties lie ahead of us as we have faced everything else on this journey".
A group of Eritrean women students and a lone traveller from Congo share a bag of oranges between them. Mariam, a 22-year old nursing student, says "we have travelled from further away and are more used to the hardships of travelling and to walking long distances. We are young and strong but it is so difficult to see how all these children suffer".
As we speak a young Iraqi boy pleads with his father- already carrying his younger brother and luggage- to carry him. His feet, like those of many others, are blistered and raw, every step painful. He sobs and begs and then cries silently as his father apologetically pulls him onwards, worried that the border might close, leaving them stranded. We take him to the medical tent and hurriedly dress and bandage his feet before they continue on into the night.
Zaynab and Mustafa, two children who are both wheelchair-users, are ferried through the fields with their families in the van of volunteers. Mustafa's mother speaks of the difficulties they've faced over the past weeks. She had to convince others in the over-crowded rubber dinghy they travelled in across the Aegean sea to Lesvos, not to throw Mustafa's heavy wheel-chair overboard. The over-weighted dinghy had begun to sink and those on board tried to keep it afloat for the final hundreds of metres to shore by getting rid of whatever excess weight they could. Sleeping on the streets and in temporary, degrading camps makes keeping him bathed and clean impossible. "I feel like I am failing him- I cannot change or bathe him regularly- and he feels very embarrassed when I have to do so without privacy" she says.
Rima, a young law student from Aleppo and a mother herself, accompanies 8-year old Hiba, recently orphaned. Hiba's remaining family live in Sweden and are awaiting her. She looks around, wide-eyed, at the hundreds of people walking with them through the fields. The stars above and thin crescent moon are insufficient to light up the path and those walking rely on the lights of mobile phones to stay together when family member slow down, exhausted by the journey behind them and the hundreds of kilometres many of them have already covered on foot.
The journeys of many of those making the crossing are far from over, and there is acute awareness of the increasingly securitised borders to be crossed, and the humiliating conditions still to endure. The resilience, courage and strength of those walking through the fields, down the roads and through the borders that will take them to hoped-for possibilities of re-building lives of dignity, however, cannot be over-emphasised. It is a journey, and struggle, that all of us need to more urgently- and effectively- accompany, learn from and amplify.