Reviving the Spirit of Liberation Amidst Rainbow Capitalism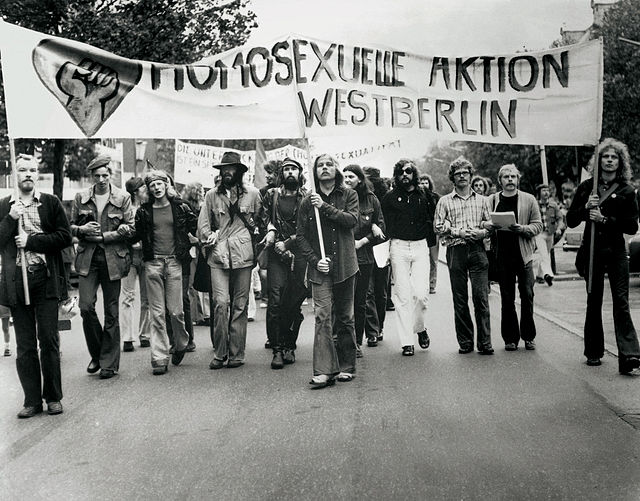 Purple is a merely rainbow color, sisters. The color of revolution is red!

Egmont Fassbinder
This quote from the 1970s is from the last correspondence I had with Egmont Fassbinder. Fassbinder, a cousin of Rainer Werner Fassbinder, one of the pioneers and catalysts of the New German Cinema movement, was a key figure in the German gay liberation movement of the 1960s and 1970s, passed away earlier this year at the age of 77 in Berlin. It is important to remember Fassbinder's contributions to the queer movement and reflect on the evolution of its discourse from anti-capitalist "liberation" to the "integration" and "equality" focus of today. This article explores Fassbinder's involvement in the queer movement in Germany, his impact on the development of gay culture and identity, and the challenges faced by the queer community amidst the rise of rainbow capitalism, also called homocapitalism.
A Pioneer in Gay Emancipation and Literary Activism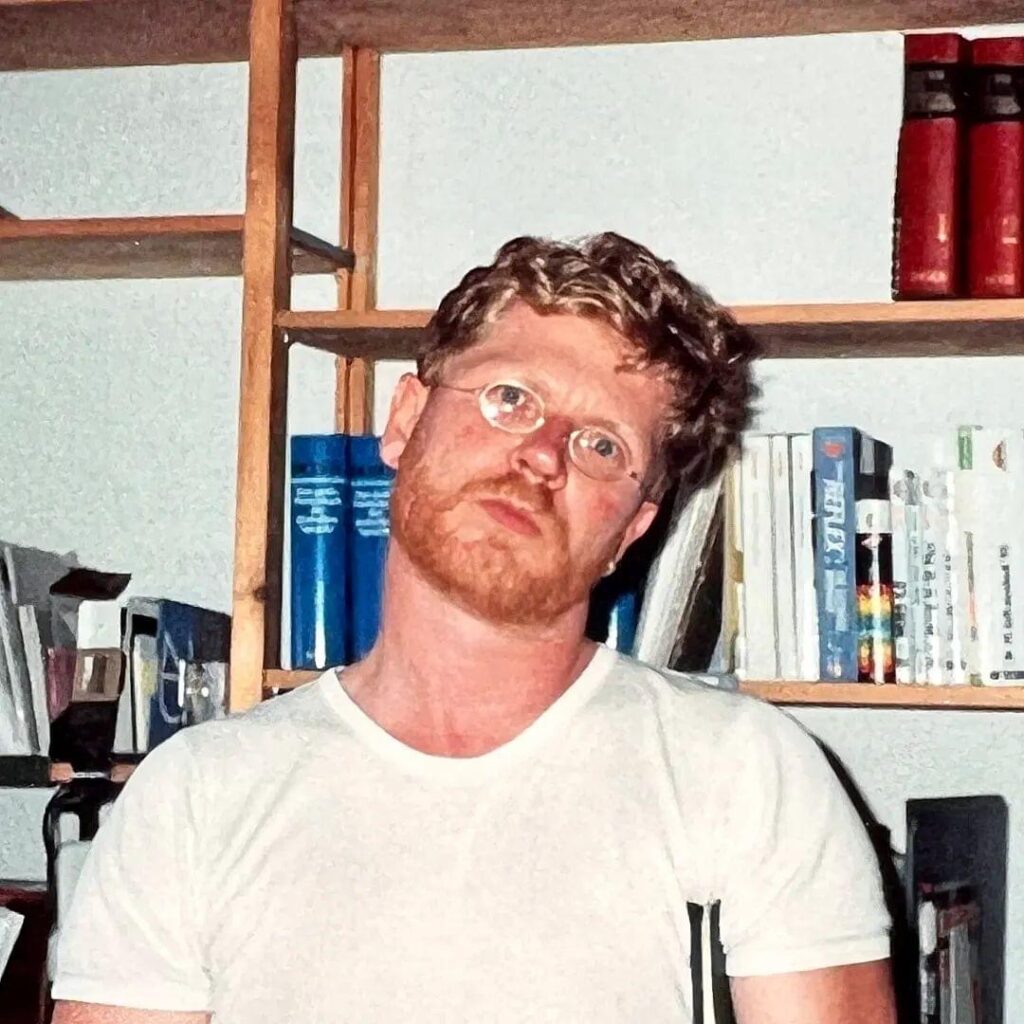 Egmont Fassbinder was a founding member of Homosexuelle Aktion Westberlin (HAW), the first organization dedicated to the gay and lesbian movement in modern Germany (West Germany, specifically). He also headed Rosa Winkel, the first post-war publishing house in the German-speaking world dedicated to gay issues. Rosa Winkel played a significant role in publishing historically important works and promoting self-confidence and self-esteem among queer persons. Through his literature, Fassbinder sought to emancipate "gay men" and give them an identity. It is precisely in this way that his generation's politics reflect this history. Applying new terms like "LGBTQIA+"[1] or "queer" will not accurately describe their politics at the time. There is a need to remember that during the generation of Fassbinder, the entire field and activism was termed "gay history," and shortly thereafter re-termed "gay and lesbian history;" Regina Kunzel reminds us that it was not until well into the twentieth century that people regularly identified themselves using the terms associated with LGBT.[2] 
In Jochen Hick's documentary "Mein wunderbares West-Berlin", along with many other members of his generation, Egmont Fassbinder is portrayed as a protagonist, preserving the memory of a man who contributed to the development of Germany's "Schwulenbewegung" politics of memory. In his explanation of the choice of "rosa Winkel" for the publishing house, Fassbinder elaborated: "whoever wears the Rosa Winkel displays with it: I do not allow myself to be pushed out of the public eye, I out myself; I am gay, lesbian, or bisexual and fight opposition to my identity." In 1998 he would vividly recall the time he founded the publishing house at the Rosa Courage Award, "my aim has always been to emancipate gays: taking away their fear and creating an identity for them. It worked after all, as you can see today. There are gays everywhere. My pink triangle is still on my body. I am outrageously lucky to still be alive!"
HAW's Transnationalism
Fassbinder extended transnationally, beyond Germany. A group of Homosexual Action West Berlin (HAW) gay activists from Berlin visited the Soviet Union (USSR) in 1978, where homosexuality was decriminalized shortly after the Bolshevik Revolution. Under Stalin's rule, a conservative backlash occurred, and traditional family values were promoted. Among the HAW's active members were a few white US Americans, including the historian James Steakley. He was one of the links between the Gay Liberation Front (GLF) and HAW at the time. Following the 1978 Frankfurt Book Fair, Fassbinder flew to the United States to learn about gay magazines, publishers, and gay bookstores in North America. He brought these experiences back to Verlag Rosa Winkel. Steakley, who returned to the United States, connected him with many US gay activists and organizations in the US Gay Liberation movement. While the trip to the USSR was not associated with any active transnational activism, the trip to the US was an indication of transnational transatlantic queer solidarity between Germany and the United States in the 1970s, although mostly by and for white cis men.
About a year ago, around this time, shortly before the Pride/CSD on both sides of the Atlantic, I met Fassbinder on Nollendorfplatz, a square in the central Schöneberg district of Berlin known as the Gay Village. As part of my ongoing PhD research, I have also been in touch with Fassbinder to inquire about the presence of queer people of color (QPoC) in HAW, which had, after all, pioneered the gay and lesbian movement in modern Germany by applying radical anticolonial and anti-imperialist principles.
The new terminology and categories have always been confusing to him, "the prospect of having a friend who is about my age and 'still' has sexual needs would be pleasant. Nevertheless, such a person appears to exist only underground. I do not consider myself to be transgender or queer, I simply consider myself gay. Other people, sometimes even sensible ones, refer to me as an old 'cis man'. I am not bothered by it…" Fassbinder did not know of any QPoC members who had taken part in HAW or the first international homosexual meeting held by Homolulu in Frankfurt am Main in 1979.
Despite the presence of anticolonial and anti-imperialist slogans in HAW's archival records, the Global South/"The Third World"' remains largely invisible, both because transnational engagement with these regions was lacking. On top of that, people from these regions were not active in gay and lesbian organizations in Germany that define themselves as anti-colonial and anti-imperialist. Due to the lack of transnational engagement with the Global South, this organization appears to focus on issues within the hegemonic center. Fassbinder reminded me, "In post-war Germany, we had to deal with the legacy of fascism, resulting in a lot of problems…" As one example, the HAW illustrates how genuine anti-imperialist solidarity within the new left generation of gay and lesbian movements in the hegemonic center could not transcend the framework of "visibility." This historical continuity in promoting "visibility" and "coming out" remains relevant despite significant differences between that era and today. This narrow focus restricts our understanding of queer experiences worldwide and hinders our efforts to address the unique challenges LGBTQIA+ individuals face in a variety of cultural, social, and political contexts, different rainbows, and Third World queer liberation movements.
It is also noteworthy that the absence of active involvement by members of the Global South within these organizations suggests an exclusionary dynamic. While LGBTQIA+ Germans faced marginalization within society, even the more radical factions overlooked their own periphery, the marginalized diaspora communities. It appeared as though the "gay and lesbian issue" was primarily associated with white Germans, neglecting the presence and struggles of LGBTQIA+ individuals from the Global South or Third World, particularly those known as the children of "guest workers." The fact that it was always taboo for many leftists to talk about non-heterosexuality, including in the Global South/the Third World diaspora, also contributes to this neglect. Therefore, it may not be a reasonable expectation that leftist anti-imperialist diaspora activists from the Global South/Third World would actively participate in the gay and lesbian liberation movement in the hegemonic center. Nevertheless, it is possible that organizations like HAW, even if they identified themselves as anti-colonial and anti-imperialist, may have failed to adequately acknowledge and include marginalized communities, especially if they are primarily composed of white individuals. The omission of acknowledging LGBTQIA+ diaspora communities in the 1970s perpetuated a power imbalance and reinforced a hierarchical dynamic. This omission led to a colonial-like dichotomy where some individuals were seen as saviors, while others were viewed as victims. This dynamic became more pronounced in the 1980s, with the shift from a focus on "liberation" to a discourse centered around "rights" and assimilation within the LGBTQIA+ movement, known as the "Schwulenbewegung" of the 1980s. This shift further contributed to the marginalization of LGBTQIA+ individuals from the Global South or Third World and hindered their representation and recognition within the broader movement.
Berlin's Gayborhood, Schöneberg
Schöneberg was Fassbinder's favorite neighborhood, where he lived for many years with his partner. He witnessed the changes in the gay scene over the decades, starting with the vibrant queer culture of the 1920s followed by the oppression and violence imposed by the Nazis. In his memoirs, he recalls how the Nazis began to eradicate the gay scene after 1933, leading to the closure of Schöneberg pubs and the persecution of LGBTQ+ individuals. Fassbinder's reminiscences provide a vivid picture of the transformation of the neighborhood and the struggles faced by the LGBTQ+ community during different periods.
During our meeting in Berlin's famous gayborhood, we delved into the long history of Schöneberg. We discussed its significance, from the Queer Club Eldorado in the last years of the Weimar Republic in the 1930s to the establishment of Eisenherz Germany's first gay bookstore, in 1978, and the presence of various sex clubs that have since disappeared. Fassbinder's personal experiences and reflections shed light on the vibrant queer culture that once thrived in Schöneberg and the subsequent challenges faced by the LGBTQIA+ community. In his essay, "Mein schönes (schwules) Schöneberg", Fassbinder states, "I was pretty early on aware that I was more attracted to men than to women sexually… It was primarily left-wing gay students who formed the HAW as it grew steadily. He acknowledges the efforts of left-wing gay students who formed the HAW (Homosexual Action West Berlin), their involvement in promoting the film "It Is Not the Homosexual Who Is Perverse, But the Society in Which He Lives" (1971), and the establishment of a center in Dennewitzstraße by Rosa von Praunheim, an early pioneer of the German gay liberation movement.
Today, Schöneberg has evolved into an area predominantly inhabited by upper-middle-class white LGBTQIA+ Germans and people of color who can afford high rents. While Berlin as a whole was considered a model of successful social housing in the 1990s, the neighborhood has a limited number of rent-stabilized social housing units. Gentrification has made Schöneberg an attractive tourist destination, particularly for gay men from around the world. Gay identity was not only the result of gay residents and nightlife denizens in the area at the end of the 1980s. It was also part of the area's commerce, with more gay-owned and gay-oriented businesses emerging. As Christina Hanhardt characterized "the White Ghetto", in a neoliberal city, this is how it maintained its "sexual deviancy." [3]
Notably, Schöneberg's appeal stems from the presence of unique sex clubs like the Bull and the old-fashioned Scheune, which are increasingly rare in other LGBTQIA+ cultural hubs like New York City due to factors such as privatization and the impact of the AIDS epidemic. Nevertheless, in comparison to many other "cool queer spaces" found across the city, this neighborhood may appear old-fashioned ("'the traditional gay village") to younger generations. The historical significance of Schöneberg, as seen through Fassbinder's lens, serves as a reminder of the neighborhood's dynamic past and its enduring importance to the LGBTQ+ community.
It is ironic that, despite their opposition to capitalist culture and the objectification of the gay and lesbian community, German gay radicals in the HAW eventually opened up a gay club in the early 1980s. SchwuZ, which was founded in 1979, played an important role in organizing the first CSD in West Berlin. Despite being a part of the gay subculture, it distinguished itself from profit-driven gay bars. As a meeting place for gay people, SchwuZ was considered a space where they could meet, communicate, work together, experience tenderness, plan actions, gain understanding and intimacy, listen to differing perspectives, and find a sense of belonging. From the long-gentrified Bergmannkiez in West Kreuzberg, Berlin's oldest gay club has moved to the edgy Rollbergkiez in blue-collar Neukölln in 2013. This process of 'Gaytrifizierung' ('gay-ntrification') is what Neukölln underwent, a primarily immigrant-based neighborhood and the neighborhood for Hartz-IV social assistance ("a problem Bezirk")
The First Christopher Street Day (CSD) in West Berlin: A Transatlantic Import and Its Impact on Anti-Imperialist Pursuits
West Berlin celebrated its first Christopher Street Day (CSD) in 1979 [4], the same year as the Iranian and Nicaraguan Revolutions. Queerness emerges as a multifaceted aspect, challenging conventional Western narratives and interpretations of revolution and resistance movements. The Western gaze on the Nicaraguan Revolution, especially in reaction to the presence of queerness among the Sandinistas in Nicaragua, reflects the complexity of identity and activism, forcing us to question preconceived notions and stereotypes.
Furthermore, the Iranian Revolution significantly influenced how masculinity and exoticism were perceived in the Western context. As the revolution faced challenges and Islamist governance took precedence, Western narratives emphasized a dichotomy between white saviors and brown victims. This perspective was not limited to the Iranian case but often applied to other revolutionary movements in the Global South or Third World. Over the years of struggle, Iranian Marxists became entangled with the Shah regime, which came into power through a CIA-backed coup in 1953. They also found themselves entangled with political Islam, which was utilized as an anti-communist strategy, Zbigniew Brzezinski's "the Green Belt Theory," during the final years of the Cold War. Whether aligning with the Non-Capitalist Way of Development (NCWD) under Moscow's influence or opposing Khomeini's regime from its inception, all these Marxist factions attempted to combat counterrevolutionary forces, each with its own approach and strategy. This conflict resulted in a tragic and bloody sequence of events. This led to untold stories of mass graves of these anti-imperialist revolutionary forces in Khavaran and various locations throughout the country. Simultaneously, the debate in the West revolved around the idea of former colonial subjects assuming control over the "European" homeland. This was rather than concerns about Islam's potential colonization. The exotic body of "Middle Eastern Muslim men" maintained its exotic value for the white colonial gaze, despite becoming an enemy within, neither entirely foreign nor completely integrated. According to Joan Wallach Scott in the case of France, there was controversy during the 1970s over the sources of immigrant poverty: "Is it their "culture" that makes them poor, or is it discrimination that causes them to become poor?" According to her, the Iranian Revolution in 1979 altered the terms of these discussions, "drawing attention away from economic and social influences to religion–to Islam as a dangerous presence on French soil." [5]
In West Germany as the most important puppets, the client state of the US imperialism in the post-war era in Europe, and as one of the hubs of LGBTQIA+ spaces in the hegemonic center, this period marked a transition from a discourse of "liberation" to one of "equality". The Western public sphere however, transformed the masculinity of Middle Eastern men, since their exotic bodies were associated with "terrorism". We were now in the era of "saving women" and "saving gays", with their rescue narratives and their dis/continuities. Along with other factors, the import of US commodities, such as CSD, has contributed to the decline of militancy in the broader political spectrum of the Global North. Fassbinder and his radical generation of the 1970s became "moderate integrationists" by the 1980s who prioritized visibility rather than anti-imperialism and liberation discourse. The "colorful gay demonstration" on the Ku'damm was the first export of New York's Christopher Street Day (CSD) to West Berlin, commemorating LGBTQIA+ working-class resistance against police assaults on June 27 and 28. The event aimed to showcase the possibility of a "diverse" LGBTQIA+ life in Berlin.
Over the years, CSD has evolved into a summer "event" or party that attracts thousands of tourists to Berlin annually, with a diminished focus on its semi-"radical" aspects since 1979. Fassbinder, along with other pioneers of CSD in 1979, were confronted with one of the major events of the 1980s—the AIDS crisis. It has been said that the crisis "re-politicized" the community after a period of relative inaction since the early 1980s. Fassbinder argues that the establishment of AIDS-Hilfe, which later split into Deutsche AIDS-Hilfe and Berliner AIDS-Hilfe, was a result of efforts by the gay and lesbian movement. During this time, there was an alarming number of AIDS victims, and strong stigmatization of the community. In contrast to the development of Act Up in New York, state intervention in West Berlin, which injected funds into the public sphere to combat AIDS had the effect of depoliticizing the movement. Fassbinder recounts his experiences with the AIDS pandemic in Berlin, "AIDS had eaten into the scene like an ulcer," and he continues: "Even today, as I cycle through my neighborhood, through Schöneberg, I think that this is where Ulrich lived, and Dieter lived. Here I met Michael once again. The disease had already severely affected him." [6]
Fassbinder, along with other members of Berliner AIDS-Hilfe, remained unaware or literally uninterested in the stories of queer people of color (QPoC) during this period, particularly those who engaged in precarious sexual work in Berlin's Tiergarten, which was the city's most popular gay cruising park. It is not uncommon for QPoC voices to be overlooked or omitted in white West German history.
From Motzstraße to Afghanistan
In the past few decades, fresh decolonial and anti-capitalist voices have emerged in queer studies of Modern Germany, particularly as they attempt to shed light on Fassbinder's favorite street in Berlin, Motzstraße, situated between Nollendorfplatz and Martin-Luther-Strasse, the center of the mainstream gay area. In the last decade critical queer studies, and leftist queer activists and publishers, including Koray Yilmaz-Günay, who is a second-generation child of Turkish "guest workers", have shifted the focus of white Schöneberg as "gay Berlin" to the Global South/the Third World perspective. In 2014, Yilmaz-Günay edited a book called Career of a Constructed Contrast: Ten Years of Muslims versus Gays, which collected articles written by critical queer activists and academics such as Hilal Sezgin, Jin Haritaworn, Georg Klauda, Esra Erdem, Salih Alexander Wolter, Zülfukar Cetin, and Markus Bernhardt. According to the book, racism has always existed in Germany, and the entire German public sphere has been dominated by Western imaginaries of Islam developed since colonialism. Additionally, "Gays versus Muslims" is a dominant narrative in the post-9/11 era. There remains a "völkisch" sediment in laws, institutions, and the minds of the population that will occupy us for many years to come, from the concept of a "Volksgemeinschaft" (national/racial community), which is based essentially on blood and soil. According to the editor, old-fashioned racism will persist as long as German colonialism is not addressed, as long as the Shoa is seen primarily as an obstacle to free national self-confidence, as long as the children and children's children of the "guest workers" are regarded as "non-German Herkun." As a result of arguments regarding gender and sexuality, western states have dismantled basic democratic rights and declared war on marginalized communities. This book travels clearly between the Fassbinder generation, which fought for liberation and against imperialism, and the time of identity politics and homonationalism. The subtitle and intro "From Motzstrasse to Afghanistan and back." (page 11, 12) Yilmaz-Günay illustrates how the change from liberation to recognition has served the neoliberal European City and Fatima El-Tayeb's "Gays who cannot properly be gay." [7] From the queer nation building movement in Berlin-Schöneberg by the long-time radical queer activist Salih Alexander Wolter to Jin Haritaworn's Queer Imperialism, an intervention in the debate about "Muslim homophobia" and many other chapters the book illustrates the consequences of the shift that occurred in the gay liberation movement in Germany after the terrorist attacks of 9/11.
Decolonizing the Rainbow Flag: Moving Beyond Performative Action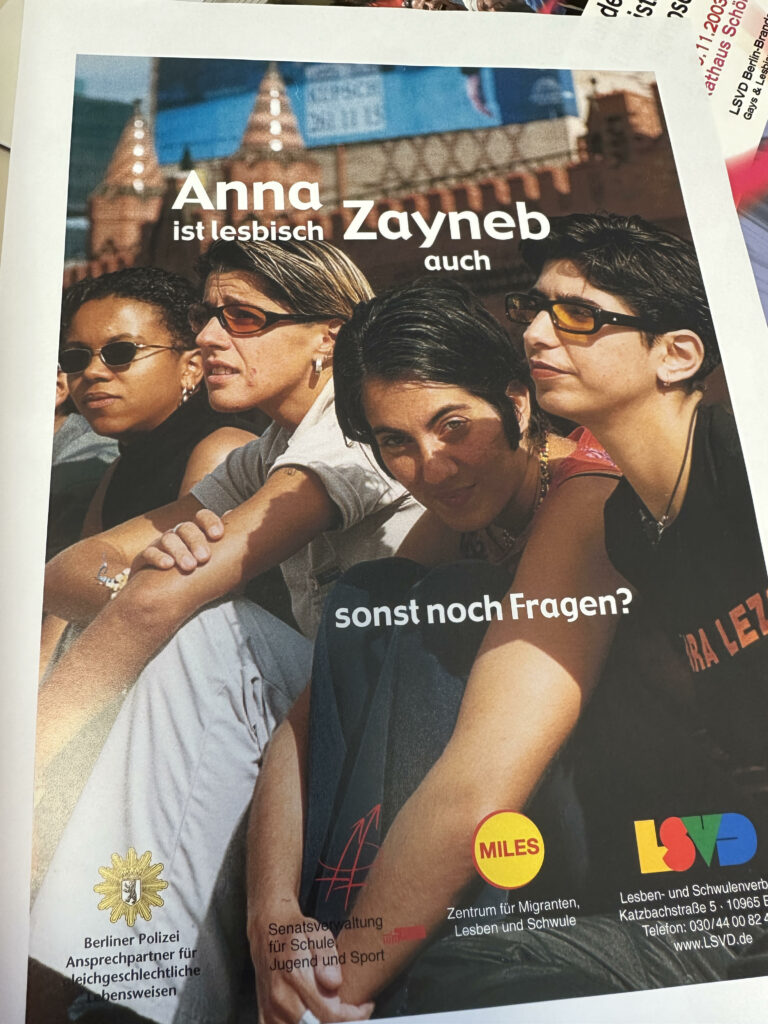 Fassbinder always answered my questions promptly, attaching music or poetry to his emails, but at a certain point he had not responded for several weeks. It wasn't until a scholar friend in New York informed me about his passing that I heard of him again. The legacy he left behind with Verlag Rosa Winkel is still relevant today. The publisher noted, "our publishing house has established itself as a platform for preserving the lives and loves of homosexuals from oblivion… As part of our mission, we publish documents pertaining to same-sex life, promote self-confidence and courage among homosexuals, and assist them in discovering their identity."
An interview with Fassbinder in the edited volume Westberlin – A Sexual Portrait by Heinz-Jürgen Voß (2021) provides insight into his everyday life towards the end of a heterosexual relationship. He discusses his first male lover: "In the beginning, he always recommended I practice with carrots! For such 'invasive' desires, I had a wife. The idea that someone wanted to penetrate me was completely foreign to me. Plugs and sockets. We had nothing to do with it! Despite this, I was completely in love with him. It was the first homosexual with whom I had the opportunity to speak. His preferred authors were Heidegger and Hesse, whereas mine were Marx, Freud, Brecht, and Enzensberger. It did not seem to fit together. Despite this, I was totally in love with him." [8]
There is also a significant gap between the social existence of the gay liberation movement pioneers in the hegemonic center. This is whether they are still militant anti-capitalists or integrationists, and the ongoing knowledge production on queer studies. Due to the aging of most of these activists, they lack the exchange value in the "queer market" and appear outdated according to the current situation. Fassbinder's eyes clearly showed the isolation and pride he felt for the rainbow flags present everywhere in Berlin's gentrified gayborhood. I reminded him of his presence in two recent dissertations that became a book, Ronald Van Cleef's A Tale of Two Movements? Gay Radicalism in West Germany, 1969-1989 and Craig Griffiths's The Ambivalence of Gay Liberation: Male Homosexual Politics in 1970s West Germany. "No, my English is not so fluent that I could easily read a dissertation. I am reading an upcoming book about gay cabaret artist Paul O'Montis, whom I love to hear about. He escaped in the wrong direction during the Nazi era and perished in Sachsenhausen." It was among our last correspondences.
Bank of America, Goldman Sachs, and the State Department waved rainbow flags in June in the Village, the queer "space" which is the legacy of QPoC anti-capitalist activists Marsha P. Johnson, Sylvia Rivera, and Juan Carlos Vidal from the Third World Gay Revolution (TWGR), organized by Black and Latino members of the Gay Liberation Front in the summer of 1970, a generation of gay liberation fronts (GLFs). On the other side of the Atlantic, in Berlin, in July, Deutsche Bank and the pro-NATO German foreign minister, Annalena Baerbock and her warmonger Green Party and other actors of finance capital and German militarism waved the flag of "diversity", called it "The Homo Nation Pride Event," to market the legacy of the gay liberation struggle of the 1970s in queer space cultivated by Egmont Fassbinder's and Martin Dannecker's generation. The biggest ever NATO air exercise was held in Germany, proving it was the most "loyal ally" in US foreign policy. Each year, a second "alternative" transgender demonstration is held in Berlin, whose slogan is "reclaiming pride" when rainbow flags and Boycott, Divestment, Sanctions (BDS) are woven together and dozens of brutal German cops are paid overtime to suppress pro-Palestinian forces. Apart from the question of representation, visibility, and performance in the Global North, what is at stake is the question of strategy to combat the power of capitalist commodification and to decolonize the rainbow flags.
The journey has been long, but regardless of whether most of the Fassbinder and Dannecker's generation in HAW and RotZSchwul (Red cell gay) or on the other side of the Atlantic in the GLF stopped engaging in anti-capitalist and anti-imperialist struggles, the quest for emancipation remains intact, as does the power of capitalist commodification. Aside from the fact that German gay liberation cannot be reduced to a simple story of generational conflict between "reformist" or "integrationist" homophiles and "leftist" or "radical" homosexuals, this is where decolonization can take on a deeper meaning beyond its mere performance. As El-Tayeb (2003) and Haritaworn (2005) have pointed out, the forgotten reality of decolonization of the rainbow flag demonstrates that the assimilation of queer people (and often queer of color) into white-dominated academics in Europe has not impeded the perception of racialized people as inferior, deficient and disentitled to life opportunities as a result of their failed masculinities, femininities, and heterosexualities. The greater increase in criminalization, pathologization, displacement, and/or spatial confinement of racialized populations is in harmony with this trend.
The transition from anti-capitalist "gay and lesbian" activism to integrationist activism, as embodied by Fassbinder's legacy, is reflected in the changing dynamics of Berlin's LGBTQIA+/"queer" community. After the "alternative" CSD with its "radical" lifestyle performance, apparently independent of state funding in the city dependent on shrinking welfare state systems, is concluded, and those who seek intersectional queer liberation at Berlin's new "Internationalist Pride" are satisfied with a one-day performance, posing their selfies on social media in celebration of communicative capitalism's "emancipatory" self-branding, it is time to cruise Kreuzberg and Neukölln. Meanwhile, Hasenheide's cruising park faces dozens of "expats" and queer studies folks alongside hipsters and other kinds of gentrifiers across the globe enjoying FKK (nudism) and public sex in bushes with Butler's Gender Trouble in backpacks, a second, third and fourth generation of same-sex desiring children of Turkish and Arab "guest workers" ("Brüder") in Rosengarten's Humboldthain park, who are in "heterosexual" relationships and are exotic subjects for white Germans, they are hiding and cruising in the dark to escape the dominant discourse of "rainbow flag" and its rights discourse within the Western regime of sexuality in the neighborhood referred to as the "Red Wedding."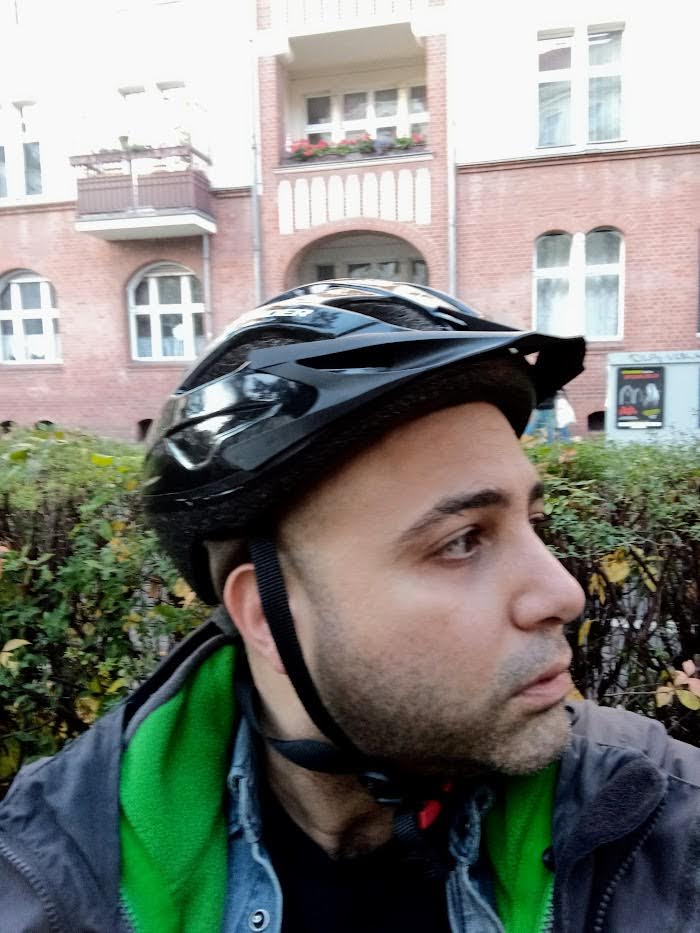 Soheil Asefi is an independent journalist and scholar. Following his imprisonment at the notorious Evin prison in Tehran, mostly in solitary confinement, and being temporarily released on bail, he left Iran for Germany as the PEN Center's writer in exile. He studied political science at The New School for Social Research (NSSR) and is currently pursuing a PhD in history at the Graduate Center of the City University of New York (CUNY). Considering his transatlantic life between Berlin and New York, he is interested in political agency, diaspora, and anti-capitalist and anti-imperialist transnational solidarity. He examines transnational anti-imperialist queer diaspora (QPoC) solidarity with the Global South/the Third World in Berlin and New York City (1970s-1990s) in his PhD dissertation.
Endnotes:
[1] The acronym stands for lesbian, gay, bisexual, transgender, queer, questioning, intersex, asexual, and the + holds space for the expanding and new understanding of different parts of the very diverse gender and sexual identities.
[2] The use of "gay" by same-sex-desiring men in the 1940s, originally as a coded insiders' term, later as a term to distinguish them from gender-variant fairies and queers, is documented by George Chauncey. Chauncey, George. Gay New York: Gender, Urban Culture, and the Making of the Gay Male World, 1890–1940 (New York, 1994), 14–21.
[3] Hanhardt, Christina B. Safe Space : Gay Neighborhood History and the Politics of Violence. Durham: Duke University Press, 2013.
[4] It is a national celebration of LGBTQ+ rights and a demonstration held in various cities across Europe that advocates for LGBTQ+ people's rights as well as against discrimination. The CSD is held in memory of the Stonewall riots, the first major uprising of LGBT people against police abuse which took place at the Stonewall Inn, a bar on Manhattan's Christopher Street in the district of Greenwich Village on June 28, 1969.
[5] Scott, Joan Wallach. "RACISM." In The Politics of the Veil, 42–89. Princeton University Press, 2007.
[6] Ibid, 162.
[7] Tayeb, Fatima El. "'Gays Who Cannot Properly Be Gay': Queer Muslims in the Neoliberal European City." The European journal of women's studies 19, no. 1 (2012): 79–95.
[8] Voß, Heinz-Jürgen. West-Berlin – ein sexuelles Porträt. Psychosozial-Verlag. 2021. P. 158.
References:
Baker, Jim. "Zum Tod von Egmont Fassbinder: Warmherziges Unikat." Siegessäule, May 17.2023.
Bacchetta, Paola, Fatima El-Tayeb, and Jin Haritaworn. "Queer of Colour Formations and Translocal Spaces in Europe." Environment and planning. D, Society & space 33, no. 5 (2015): 769–778.
Bracke, Sarah. "From 'saving Women' to 'saving Gays': Rescue Narratives and Their Dis/continuities." The European journal of women's studies 19, no. 2 (2012): 237–252.
Chauncey, George. Gay New York: Gender, Urban Culture, and the Making of the Gay Male World, 1890–1940 (New York, 1994), 14–21.
Drucker, Peter Ferdinand. Different Rainbows, Millivres-Prowler Group,2001.
Fassbinder, Egmont: "Mein schönes 'schwules' Schöneberg"; in: "Berlin-Schöneberg. Blicke ins Quartier 1949–2000", Jaron-Verlag, Berlin 2001, S. 153–160.
Flakin, Nathaniel."Red Wedding: The Communist history of Berlin's reddest district." ExBerliner.19.09.2022.
Lange, Nadine. "Verleger und Schwulenaktivist:Egmont Fassbinder ist tot" Tagesspigel, 17.05.2023.
Griffiths, Craig. The Ambivalence of Gay Liberation: Male Homosexual Politics in 1970s West Germany. Oxford: Oxford University Press, Incorporated, 2021.
Kunzel, Regina. "The Power of Queer History." The American historical review123, no. 5 (2018): 1560–1582.
Panhuis, Erwin In het ."40 Jahre 'Homolulu' Ein "lauwarmes Lüftchen" in den Siebzigern". Queer.de. 23. Juli 2019.
Puar, Jasbir K. Terrorist Assemblages: Homonationalism in Queer Times. Tenth anniversary expanded edition. Durham: Duke University Press, 2017.
Ross, Alex. "Berlin Story." New Yorker, Jan 19, 2015.
Scott, Joan Wallach. The Politics of the Veil. STU – Student edition. Vol. 7. Princeton, N.J: Princeton University Press, 2009.
Tayeb, Fatima El. "'Gays Who Cannot Properly Be Gay': Queer Muslims in the Neoliberal European City." The European journal of women's studies 19, no. 1 (2012): 79–95.
Yılmaz-Günay,Koray. Karriere eines konstruierten Gegensatzes: Zehn Jahre "Muslime versus Schwule": Sexualpolitiken seit dem 11. September 2001.Edition assemblage.2014.
Vachedin,Dmitry. "How gay activists from Berlin visited the USSR" DW, 12/15/2018.
Van Cleef, Ronald. "A Tale of Two Movements? Gay Liberation and the Left in West Germany, 1969-1989" Metropol Verlag, 2022.
Voß, Heinz-Jürgen. Westberlin – ein sexuelles Porträt. Psychosozial-Verlag. 2021.