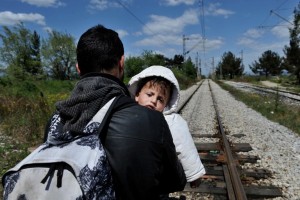 Note from editors: This article has been translated from the Serbo­-Croatian web portal Bilten.Org. Late on Thursday night, near the city of Veles in Macedonia, at least 14 refugees were run over and killed by a train. News agencies have reported that they were fleeing war ­torn countries, such as Afghanistan, Somalia and Syria. The driver of the fast international train, said that when he noticed the group of 50-­100 people it was already too late to be able to pull over. It is assumed that the group was walking over the rail track at night to help them with orientation and to avoid the attention of the repressive apparatus. The  rail line, is connecting Greece in the south, with Serbia and is leading to Western Europe, the ­  likely the destination of the group. On the same rail track, at least 20 other refugees have been killed in recent years.
Although according to international protocols refugees from war torn countries have the right to be protected when they are abroad, the Western European countries, within the framework of the so-called "Fortress Europe" policies, act in order to prevent the crossing of their boarders which would formally oblige them to offer help and support for the refugees. As a result, the political pressure placed on 'transit' countries, such as Macedonia, Bulgaria and Serbia, is enormous; their repressive apparatus work together to 'protect' the Schengen zone, which does not have internal border controls. The policies which prevent the movement of refugees lead to huge humanitarian disasters, such as the drowning of 1200 refugees in the Mediterranean earlier this month.
The cause and the consequences
Although the Western European countries participate, either directly or indirectly, in the wars from which the refugees are fleeing, the politics of refused entry are justified with excuses such as the large numbers of refugees, as well as the possibilities for 'abuses' of the protections offered. It is indicative that during the 20 years long war in Somalia, the countries from Western Europe, have accepted all in all 100 thousand refugees from this country, while neighboring Kenya, Ethiopia and Yemen (which since recently has its own war) have accepted over a million.
At the same time, out of the 4 million Syrian refugees, the whole of the EU has accepted barely 100 thousand. The remaining numbers have ended up in Turkey, Jordan, Lebanon and Iraq. It is a paradox that in spite of the mass murder by negligence on the borders of the EU, the entire political scene in Western Europe is in fact being radicalized through the rhetoric of the 'siege' and the "invasion' of those who should 'remain in their homes'. It really does take centuries of colonial ideology and entrenched racism, to be able to call attackers those human beings whom you bombed until recently, in Syria, Libya, Afghanistan, Somalia….
Published on 24.04.2015,  editorial board of Bilten.org