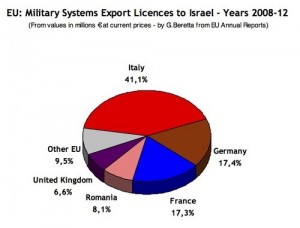 During a recent visit to Israel, Romanian President Traian Basescu stressed that the Romanian-Israeli military cooperation has not been harmed by the tragic accident three and a half years ago in which six Israeli and one Romanian military lost their lives when their CH-53 Sikorsky helicopter crashed in Romania, probably due to weather conditions. It was this accident that revealed the secret military agreements between Israel and Romania, whose Carpathian mountains were found by the Israeli military similar to parts of Iran. "Our military will cooperate with yours in any way possible," Basescu further assured the Israeli press. "We understand the advantages we gain through this unique cooperation."  Tel Aviv, of course, pays to be able to train its troops in the Carpathians.
Romania is not only a training ground for but also the fourth largest European arms exporter to Israel in the period 2008-2012, according to the most recent available figures in the annual EU report of conventional arms transfers.Romania exports not so much complete systems but primarily components and spare parts.
Most of Romania's arms export goes to the US. Apart from components and spare parts, the US also imports Romanian fire arms. The Netherlands was the second Romanian arms export destination in 2012. Dutch naval shipyard Damen has a plant in Galati, Romania and has been building two patrol vessels for the Dutch navy there.Israel is the 3th largest client of Romania's arms export in 2012. While other export destinations decreased in volume, as all European arms export decreased due to the economic crisis, Israel continued to be a good custumer of the Romanian arms industry. It continued buying components for air-to-air missiles, military ground vehicles, and testing equipment for military planes.
According to the data provided by the Ministry of Foreign Affairs of Romania, Department for Export Controls (ANCEX), the value of arms exports from Romania to Israel is showing a strong growth, more than quadrupling between 2003 and 20010. By 2012, the total export value of Romanian arms to Israel in 2012 was worth €11,360,000, according to ANCEX. The European Union reported a slightly different figure in the annual report on arms export, namely €11,901,672. Such differences in reporting on national and European level are not uncommon and may be due to technical causes.  The table below is based on ANCEX figures.
| | | |
| --- | --- | --- |
| Year | Arms export to Israel | Total Romanian arms export |
| 2003 | 2511003 | 91595214 |
| 2004 | 3154943 | 37016935 |
| 2005 | 3395240 | 36975053 |
| 2006 | 6809454 | 79325334 |
| 2007 | 7631156 | 61166239 |
| 2008 | 11255428 | 82997057 |
| 2009 | 11876559 | 97753615 |
| 2010 | 11204755 | 122871810 |
| 2011 | 4979621 | 47851022 |
Table: Values in euros, of Romanian arms exports to Israel between 2003 and 2011.
As most European military partners of Israel, Romania is not only exporting arms but also profiting from advanced Israeli military technology. Most remarkable is the extensive presence of Israeli military company Elbit in the country. Elbit has four wholly Romanian-owned subsidiaries: Elbit System S.A., A-E Electronics S.A, Elmet International SRL and Simultec SRL. In 2011 Elbit was awarded a contract valued at approximately $18.6 million to upgrade the Romanian Air Forces' C-130 transport aircraft. The project is to be completed over the next four years in cooperation with local Romanian companies led by the Romanian Aeronautical Industries.
As in all EU countries, arms exports are regulated by a license system. Before a license is approved an export is checked against eight criteria concerning human rights, internal and international conflict and poverty in the country of destination. Regarding the issue of approved arms export licenses, in the case of Israel, Romania never denied any license in the above period, although these exports conflict with export criterion #3 "Member States shall deny an export license for military technology or equipment which would provoke or prolong armed conflicts or aggravate existing tensions or conflicts in the country of final destination" and #4 "Member States shall deny an export license if there is a clear risk that the intended recipient would use the military technology or equipment to be exported aggressively against another country (…)" – probably applicable in this case as Romania has recognized Palestine as an independent state.
Although the European arms sales and collaboration with Israel are small compared to that of the US, they make the EU complicit in the human rights violations in Gaza. Ending those exchanges will send a clear message that Europe does not support the actions of the Israeli government. Europe should use its influence to promote reconciliation, not fuel the cycle of war and conflict.
Sources:
HARTA clienţilor de armament ai României. Cum au evoluat exporturile militare româneşti în ultimii ani:
Israel trains in Romania, thinking about Teheran:
European Union common position on arms export:
Rete Disarmo rinnova la sua richiesta: fermare le forniture militari ad Israele: http://www.disarmo.org/rete/a/40479.html
Romania arms export to Israel:
---