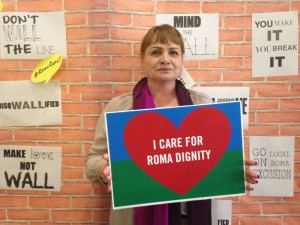 Ismael Cortes interviews MEP Soraya Post, on behalf of LeftEast.
On the occasion of the International Romani Day, 8th April, the European Parliament hosted the Roma Week in collaboration with different civic organizations. A year has passed since 15th April 2015, when the European Parliament adopted the resolution on anti-Gypsyism and established the European Roma Holocaust Memorial Day (2nd August). In this framework, the chairs of the political groups in the European Parliament gathered to discuss the need to combat anti-gypsyism and how to take forward the resolution into practice: "words into actions". The Roma-Swedish MEP Soraya Post (Feminist Initiative, S&D) was one of the most active participants during the Roma Week and LeftEast had the opportunity to conduct this interview with her about her personal commitment to the defense of Human Rights.
When did you start to commit yourself to the defense of Human Rights?
Already when I was a child I used to hide under the table, in order to listen to my parents and my family talking about politics, and when I disagreed on something I shouted: 'this is not like that…' I wanted to know the reasons behind a statement, not to take anything for granted… At that time my father liked to call me 'my little lawyer' (laughs). But it was when I became a mother, at the age of 22, that I decided to be a Human Rights activist. At that moment I was seized by the idea of making the world a safer place for my children and grandchildren… I did not want for them a life marked by racial discrimination as mine has been. Then, I decided to be a first class citizen and to demand that mainstream society  acknowledge what they have done to my Roma people.
Which actions did you carry out in your years of activism?
Exhibitions on Roma art and culture, conferences about Roma history in high schools and universities, teaching in institutions for adult education, giving interviews to the media, participating in public debates… After a long journey, these activities led me to be part of the regional Justice and Equality Committee, in Gothenburg, as an expert on national minorities. Later on, around 2000, I was part of the International Roma Women Network, and after that I became a member of the bureau that founded the European Roma and Travellers Forum in 2004. So, I gradually moved from raising public awareness to being part of different advisory bodies at national and international institutions. For me, this path was very important because it enabled me to witness the functioning of politics from the grassroots to the level where policies are made.
Why did you decide to become a politician?
I think that I did it just because I felt that it was the right time to do it. I was fifty–seven years old when I decided to stand for the European elections, and I made this decision because I believed in the program of my party, the Feminist Initiative, and the party believed in my leadership. Before the European elections, the party's congress voted for me as the first on the list, and then, in May 2014, the Feminist Initiative won a seat in the European Parliament and I took it, being part of the Progressive Alliance of Socialists & Democrats. I would not join any other political party; indeed, I have been asked several times to join other parties and I always said no. But when I read the political program of the Feminist Initiative, I thought: 'I could have written this program myself'. My personal ideology was completely reflected in that program.
What does your current position as an MEP add to your prior career as a Human Rights activist?
First of all, I want to say that now I am more convinced of the value of democratic institutions than I was two years ago, when I ran for the elections to the European Parliament. From my point of view, those who fight for Human Rights should not refuse the opportunity to have a place where decisions are taken. In my case, now I have the chance to express my ideas on a par with other politicians, not as an expert or advisor, but as someone who has been elected by the people, and this gives me democratic legitimacy. As a politician I can propose new lines of action and new programs, and I can advocate for Human Rights face to face with my parliamentarian colleagues. I use my time to convince them about the importance of respect for Human Rights. I take this opportunity to revitalize democracy because I do not believe in a democracy which is not founded on respect for Human Rights.
Which issues are you working on within the European subcommittee on Human Rights?
I am working on Human Rights abuses outside the European Union: asylum seekers, migrants, refugees, stateless people… I am also working on violations of the Human Rights of indigenous peoples in Central American countries. Within the EU, I am one of the founding members of the European Parliament Anti-racism and Diversity Intergroup, where I focus on trying to stop Human Rights abuses directed against members of national, ethnic, religious or sexual minorities. In this intergroup, I work also for Gender Equality. In all these fields, my mission is to empower individuals or communities that are usually called 'vulnerable' or 'weak'. Actually, as a feminist I am aware that semantics matter a lot, therefore, I do not like to talk about 'weak peoples', I prefer to talk about 'weak structures' / 'weak institutions' which are not capable of dealing with people's needs.
You openly declare yourself Roma. Incidentally, the Roma people is the minority most discriminated against  in Europe, according to the reports filed by the European Fundamental Rights Agency over the last five years. What is  the European subcommittee on Human Rights doing to combat anti-gypsyism?
I am working especially hard on pushing the topic of antigypsyism into the EU political agenda as a priority. The EU Strategy for Roma Integration (2011 up to 2020) aims to improve the living conditions of the Roma through access to education and jobs. However, this will never happen if we do not attack the root cause of Roma exclusion from majority society, which is anti-gypsyism. Anti-gypsyism is a systemic type of discrimination against the Roma that inundates different areas of society: labor market, education, the media, the police force, political parties… And the most critical aspect of all of this is that anti-gypsyism is not something new, but has been present in Europe since the Middle Ages. The primary obstacle to efficiently fighting against anti-gypsyism is permanent institutional denial. Last year, finally, the EU adopted its resolution on anti-gypsyism and established the European Roma Holocaust Memorial Day. However, prior to this resolution, the EU had been working on Roma integration while ignoring dramatic episodes of Europe's history that still must be illuminated. For me it is very important that Europe acknowledge that the current situation of Roma exclusion has historical and cultural roots. Taking as example the Swedish case, the White Paper on abuses and rights violations of Roma during the 1900s, the EU should establish a Committee on Truth on Roma issues regarding historical episodes of anti-Roma laws, slavery, genocide, forced sterilizations, pogroms… and the historical construction of a vast repertoire of stereotypes and prejudices that have been used to justify the brutal treatment of the Roma regarded as a second class of human beings.
Between 4-8 April the European Parliament has hosted a series of conferences to celebrate the International Romani Day. What does the 'Roma Nation' mean for you '?
The symbolic declaration of the Roma Nation on 8th April in 1971, in London, expressed that the Roma Nation is in the heart of all those who belong to the Roma people. Therefore, the Roma Nation is not located in any single country: we are indeed a Nation founded on the richness of our own diversity. I can identify myself with the Roma from Romania, with the Roma from Greece, with the Roma from Spain or wherever… because we shared a common history and we shared a common language based on Sanskrit, although there are different dialects. I feel safe when I am with my Roma people… I feel that I have something in common with them, a common code… But politically speaking, I do not feel responsibility only towards the Roma people, I mean, if someone is suffering I do not look at her ethnicity. I feel responsibility towards the entire society and towards the future of the world. I think that we, the Roma, should lay claim on our capacity to influence the society we live in, because as citizens we have duties and responsibilities to accomplish.
What is your message for the younger generation of Human Rights activists?
To value their own capacity and take full responsibility for their own lives and for other persons' lives. Also, I would ask them to be humble and constant in their work. And especially, to respect their own vision of a better future, for if they do not believe and respect their own vision and values, they cannot expect someone else to do it for them.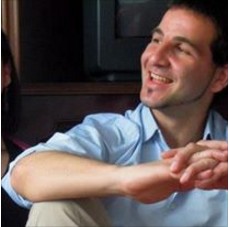 Ismael Cortés is a Roma activist and philosopher, a member of the UNESCO Institute of Philosophy for Peace (Universitat Jaume I – Universität Insbruck). His research focuses on the life trajectories of Roma leaders in the process of Roma rights recognition in Europe. Currently he is working for the Roma Initiatives – Open Society Foundations as a Junior Fellow. In addition, he is an op-ed columnist for the Spanish edition of The Huffington Post and has collaborated with different media, including Le Monde Diplomatique and El País among others.