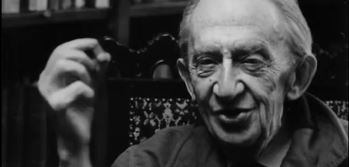 Note from LeftEast editors: We are happy to share the trailer of Georg, a documentary about Marxist philosopher György Lukács which will be released in April 2019. Beyond the merits of the philosopher's work, the movie's appearance also bears witness on two different levels. On the one hand, it comes in the year when the Left in Hungary celebrates the anniversary of the 1919 revolution and the rise of the short-lived but immensely inspiring Hungarian Soviet Republic, during which Lukács was a People's Commissar for Education and Culture. On the other hand, it is a powerful if sad reminder, that György Lukács has more recently become one of the figures of twentieth century Hungarian history that has fallen under the attack of Viktor Orban's aggressive politics of erasure of political memory. The recent attacks waged by the Hungarian Fidesz government on independent media outlets, NGOs, or academic institutions, has been accompanied by a violent attempt to erase the memory of socialist alternatives. The removal of George Lukács' statue, and the closure of his archives are just part of this conservative revolution and its new Kulturkampf. Follow developments on the film's facebook page.
Georg is a documentart about the Hungarian Marxist philosopher, aesthetician, literary historian, and critic, György Lukács based on an idea of Sotiris Bekas and the research of Cody J. Inglis, Agnes Kelemen, Jordan Skinner.
The music of the film is composed by Sofia Labropoulou and Yannis Saxonis. The film features interviews with Agnes Heller (Széchenyi Prize-winnier Philosopher, Professor of aesthetics and member of the Hungarian Academy of Sciences), Janos (Jimmy) Kelemen (Széchenyi Prize winner Hungarian Philosopher, Professor of Philosophy and member of Hungarian Academy of Sciences), Vasilis Vasilikos (Author and Diplomat / Greece), Székely Mária and Mesterházi Miklós (Lukacs Archive), Jacques Ranciere (Philosopher and Professor of Philosophy / France), Michael Löwy (Research Director of Sociology at the Centre national de la recherché scientifique /Brasil), Judit Bardos (Professor of Film Aesthetics, Institute for Art Theory and Media Studies, Eötvös Loránd University), Adam Takacs (Eötvös Loránd University), Nikolaos Vlahakis (Press and Communication Counsellor, Diplomat / Greece) amongst others.