Mary N. Taylor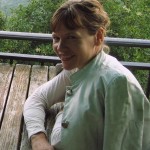 I've just come back to New York from Sofia, Bulgaria, where there have been daily protests gatherings and marches, punctuated by chants of "step down" and, less frequently, yet consistently, "red garbage" and "mafia out of parliament", accompanied by the sound of a three whistle march step. A general assembly has met fairly regularly, and small tent city in front of Parliament makes the protest appear to resemble Occupy Wall Street and others in the wave of protests around the world.
On the 40th day of the protest, July 23rd things took a new twist.  Protesters surrounded the Parliament, trapping lawmakers inside for over eight hours, and building barricades around the area; replacing the tacit pact between protesters and police with the first violence of the protest. A minority of the 2,500-3,00 protesters threw stones and the police reacted, some with passionate zeal.
All this comes nearly two months after Premier Plamen Oresharski's Cabinet took office after so-called "anti-austerity protests", particularly regarding electricity prices, in February 2103 (nearly exactly 6 years after joining the EU) forced the government led by the party Citizens for the Democratic Development of Bulgaria, or GERB (headed by Boyko Borissov) to step down. This round of protests began with the appointment of media executive Delyan Peevski on June 14 as head of the State Agency for National Security. Demonstrations across the nation forced Peevski, a media mogul with interests in tobacco and banking to back off from the appointment.
Debate was scheduled to start on July 24th regarding the budget revision approved by parliament's budget and finance committee on the 23rd, which they claimed would to cover increased spending on social benefits, reimbursement of value-added tax receipts and payment for public services to companies.   If the package were to be approved, the deficit would widen to 2 percent from the earlier1.3 percent of economic output and raise the debt sale limit to 1 billion lev ($676 million).
The current "center-left" coalition is made up of the Bulgarian Socialist Party (BSP) and the Movement for Rights and Liberties –supported by Bulgaria's Turkish minority.  This government commands only 120 seats in the 240-seat Parliament and has to rely on the participation of  "ultranationalist" party, Ataka, to keep parliament functioning.
According to UK's The Guardian,
The protests comprise part of wave of street campaigning that has shaken the paternalistic establishment across the Balkans, with tens of thousands challenging the government of Turkey in the centre of Istanbul and a public rebellion in the Bosnian capital Sarajevo fuelled by frustration at a bickering elite paralysed and rarely capable of taking any decisions…
The protests in Istanbul, Sofia and Sarajevo have displayed novel features – the unusual mobilisation of young articulate urban middle-class people not previously noted for their political activism, but fed up with governments seen as high-handed and out of touch. But the response of the governments has varied greatly. (http://www.guardian.co.uk/world/2013/jul/24/bulgarian-protesters-siege-parliament-sofia)
The language that has emerged to describe the protesters suggests that they are the beautiful middle class, put upon by corrupt government policy. (For a take on the class issue, see Mariya Ivancheva's article:  http://www.guardian.co.uk/commentisfree/2013/jul/26/bulgaria-class-war-protest-soros-oids).  Leftists I have spoken with have described being marginalized for their use of social language, critiques of the widely held opinion that there should be an education requirement tied to voting rights. They have heard people say that if someone was at the February protests then s/he is a communist.
Having been in Sofia between July 13-25 discussing the situation with critical thinkers, I'd like to take the opportunity to ask these friends to analyze the protests from a critical leftist view.  Below I ask friends of Lefteast to answer some questions to help us develop a critical analysis of the government actions and the protests. To that end, offer some questions below.
1) Can you tell us a bit about the government coalition that is being protested? What are the parties in terms of ideology and practice? What does their coalition represent?
2) My understanding is that the protesters are being identified as middle class. From where does this interpretation come? What role does the media play in this? Do you think that middle class is the proper term for this group?
3) Is this middle class identity in contrast to that used to characterize the February protests and what does this mean?
4) What other categories is middle class being opposed to?
5) Some people have told me that they have witnessed a silencing of social or leftist language in protest contexts. Can you explain how that happens?
6) Can you tell us a bit how this protest can be compared with that in Istanbul, Occupy Wall Street, or the Protests that happened in February in Bulgaria…?
7) My understanding is that, as in many parts in the post socialist polities, in Bulgaria the term (epithet) Communist can refer to many qualities of the old regime, as well as qualities associated with those in power in the old regime who took advantage of the privatization process (so called political capitalists). Can you explain which oppositions are in play here and how the protest is articulated with them?  What are you seeing in terms of the possibilities for a Left political language to take hold given the situation?
8) Do you think there is a shared ethos/demand among the protests? Is there across this and the earlier protests?  Across the spectrum of those said by the media, and by individuals encountered, what do you think is the shared desire/symbol/demand?  How does this demand articulate with those in the international protest waves. Which techniques seem to be shared? Which demands or ideologies appear shared?
9) Can you explain how  "the IMF- and EU-inspired austerity and privatisation agendas – embraced by all Bulgarian governments – that led to mass unemployment and dismantled the welfare institutions of the socialist state" were imposed and according to what ideologies and why there is no critique of it formulated at the protests, according to Mariya Ivancheva?
Mary N. Taylor is adjunct assistant professor at Hunter College and the Cooper Union for the Advancement of Science and Art, and part time instructor of Urban Ecologies at Parsons School of Design. She received her Ph.D in anthropology from the Graduate Center of the City University of New York and was postdoctoral fellow in radical urbanism at the Center for Place, Culture, and Politics (Graduate Center, City University of New York) in 2009-2011. Her research focuses on sites, technologies and politics of civic cultivation, social movement, and cultural management; the relationship of ethics and aesthetics to nationalism, cultural differentiation, and people's movements in socialist and post-socialist East-Central Europe and the United States. She specializes in studying, theorizing, and organizing radical and alternative pedagogical activities under different conditions of urbanization.