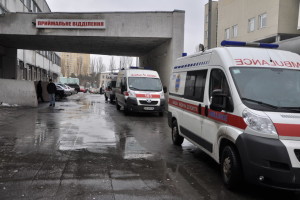 A group of people armed with knives has attacked Stanislav Sergienko, activist of "Social Movement" and student of Kyiv-Mohyla academy on the 20th of April in Kyiv. Stanislav has been stabbed multiple times and is currently being treated in the hospital. There are strong reasons to conclude that ultra-rightists committed this crime.
On the April 20, 2017 at about 4 pm Stanislav Sergienko, activist of the platform "Start" and the civil organization "Social Movement", was attacked and stabbed by two unknown people near the entrance to his home. Now Stas is in the hospital, where he has had urgent surgery.
The attack is a politically motivated act of intimidation because:
the attackers did not steal anything;
one of them was filming the attack;
Stas received threats from ultra-rightists before.
After the May Day demonstration in 2016 Stas was attacked by ultra-rightists as well. Police still hampers the investigation of this case. Moreover, on March 2017 Stas was threatened by some "activists", whom he happened to meet in the center of Kyiv. They tried to make him leave the country. The conflict was about to grow into a fight, but Stas avoided the escalation.
Stanislav takes an active part in protests that aim to protect Ukrainians' social rights. He supported Kyivpastrans starving workers and members of the trade union. His activities are always public and peaceful. After he took part in a protest against the cancellation of scholarships for students on August 30, 2016, Stas received a wave of threats on social networks.
'There is a real danger for people whose political views differ from those of nationalists, pro-governmentalists and pro-war Ukrainians. Ultra-right violence has become systematic and unpunishable in Ukraine. That is why an encroachment on the life of a student and activist has happened. We require law enforcement agencies (The Ministry of Internal Affairs of Ukraine and Prosecutor's Office) to investigate an encroachment on life of Stas Serhienko and to find the attackers. Social Movement (CSO) claims that the fight for civil and social rights cannot be stopped by violence or threats.', Ukrainian left activists stressed.
Stanislav's current health condition is stable now. But he clearly needs some financial support in order to get medical and legal assistance. We kindly ask all those concerned to send money to one of bank accounts listed below. Platform 'Start' and Social Movement (CSO) guarantee that all money are to be used to help Stanislav.
Contact number: +38-095-864-93-35 [a], Alona Liasheva