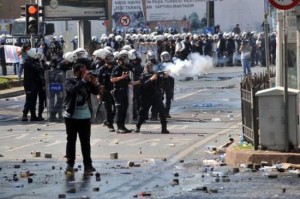 Interview of the Bulgarian web portal BezLogo (NoLogo) with a participant in the Turkish events S.B. Original English version of the translation into Bulgarian which is to be found here"
A few days ago we witnessed one of the most drastic scenes of antagonism between the Turkish workers and protesters on May Day. Can you tell me a bit more about the tradition of this day in the country? Where does its significance come from?
What happened in May Day in Turkey has brought the same questions and raised the traditional antagonism between workers and the Turkish state since 1977 May Day called as 'Bloody May Day'. 34 people were killed by the state and fascist Grey Wolves together, the youth branch of fascist Nationalist Action Party. May Day celebrations were banned in Taksim Square due to security reasons since then as if the workers were responsible. Hence, the Taksim Square has become the place of May Day resistence every year and faced with the repressive state apparatuses there every year as well. "The struggle of man against power is the struggle of memory against forgetting". We did not forget what happened in 1977 and Taksim Square.
This year?
This year, AKP government as a continuation of all political parties in Turkey beared the tradition of state violence once again. Even banning public transportation in order to stop workers to arrive in Taksim Square shows that the government sees public transportation as a gift that they can stop whenever they want, not as a right. This 'Pharaoh' or 'Leviathan'ish attitude of the state was expected though since it's been the internalized part of its nature. AKP did not ban May Day in Taksim Square due to the pits that could have created security problems but AKP did ban May Day in Taksim Square just because its political cost. Mustafa Sarigul, the Mayor of Sisli in Istanbul explained quite well: 'Could have been solved if pits were covered weight-resistent planks.' The cost of planks could have been cheaper compared to the cost of pepper gas, public transportation ban, etc but AKP did not want to bear the political cost of May Day. It resulted in hundreds of wounded including 17 year old Dilan hit by pepper gas can that police aimed to her head.
There are people, as usual, who blamed it on the protesters, what would you say about that?
I'm not going to answer the question of 'Celebrating May Day peacefully' discourse or neither expect liberal telling as if it is a natural option or a right-wing operating as a potent stick but there is a discourse of 'violence' in Turkey. Walter Benjamin directly argues 'violence' without evaluating what its aims/ends are. Violence is also a thing that is capable of force someone. While even the most peaceful law is coercive, the actions of police including using teargas and batons was more than violence in Istanbul, since the existence of police in public sphere as a coercive mean just near us also contains violence. The operation of Turkish state not producing laws aiming to prevent violating human rights, devaluating the labour and submissing the women is violence. Inactivity is violence and always created politics in public sphere in Turkey and that violence sooner or later establishes something political.
If the working class in Turkey struggle accordingly with the bliss of liberals or coercive laws of the state, people who are swearing the workers that have tried to reach Taksim Square could have not had the knowledge about the rhetoric of 'celebrating May Day peacefully'. So, I'm saying that people blaming Turkish workers for the sake of 'celebrating peacefully': You are sitting on the acquisitions resulted from struggles of workers. Camus says 'There is no conscious out of streets, because history is only in streets.' Just because of that thousands of people clashed in Istanbul and it was a righful cause against AKP government and the state.
We will not forget May Day 2013 either.
Can you give us other examples of repressions by the state against the resistance?
Police has always been using disaproportionate force against protesters in Turkey although the mayors and politicians always claim it is being absolutely proportionate. Not so long ago, just before 2011 elections, while AKP was being protested in Hopa due to the government's plans to hydroelectricity station damaging environment, retired teacher Metin Lokumcu was killed by the police using gas. Government-led police basically doesn't hesitate to use any kind of violence against people opposed the government including Kemalists.
What are the traditional groups opposing the terror of the state?
There are couple of resistences organized in Turkish society: left-wing student movements mainly Stalinist, trade unions specially DISK (revolutionary confederation of trade unions), anarchists, Kemalists but has a little power or less and kurdish movement under BDP. To be honest, the main direct challenge against power is the Kurdish movement itself. Even after 1980 coup d'etat vanishing left-wing movements harshly, Kurdish movement stood alone against the repression. This May Day showed that Turkish Communist Party (Stalinist and currently doing propaganda against Syrian refugees in Turkey) that was supposed to be against AKP, literally ran away from clashing police in Taksim and went to Asian side to celebrate.