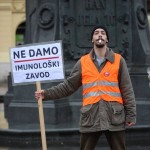 "The Workers' Front is the only party that challenges the capitalist system in Croatia, and our exposure to the wider public has risen since the elections in Greece. That gave us an opportunity to present our position to many people, and now it's up to us to translate this publicity into a concrete and strong movement that can effectively challenge the status quo. We have a lot of work to do!"
Marko Milošević is a political activist from Zagreb and a founding member of the Workers' Front
1. What would it take for you to consider Syriza a success?
Since their program isn't really socialist or anti-capitalist, my expectations are of course more moderate. What I hope to see from Syriza's government is success in their confrontation with the Troika – and that means reducing the debt burden while rejecting austerity. Along this primary goal, I expect them to see through their promises on changing the structure of the government – more transparency, horizontalism, etc. Even such a relatively moderate concession would open wide the gates for a similar (and even more radical) forces throughout Europe. This has long ago stopped being merely a Greek issue – that's why so much is at stake.
2. And what would make you consider it a failure?
Conversely, the main point of Syriza's possible defeat would be their capitulation to the conditions of the memorandum with the Troika – austerity, financial dependence on foreign loans, no significant reduction of the debt burden. The Left hadn't been "this close" to a real and concrete victory in Europe in decades – the hopes of comrades across the continent (and further, even) would be crushed. At this point however it seems unlikely this will happen: massive protests in support for Syriza are constant in Greece, and international solidarity is also rising. This is their best hope for success – not to remain isolated from the mass of people in Greece, or from like-minded comrades worldwide.
3. What do you think will actually happen?
I wouldn't predict an outcome yet. Syriza so far seems unwilling to compromise on the issue of the debt burden, and that is the main point of contention and the main reason for panic among the European elites. The outcome will be determined by the amount of pressure each side will be able to mobilize – so in a way, it will also depend on the actions of all of us.
4. What does the victory of Syriza mean for your country/local context and for the Left in your country?
Well since my organization called itself "Croatian Syriza" on our posters and leaflets since our beginning, as a way to connect our political position (a more radical one than the dominant current in Syriza, to be honest) with an established party that people have heard about, their victory has obviously meant a lot. Aside from a few traditional socialist and communist parties with no influence, the Workers' Front is the only party that challenges the capitalist system in Croatia, and our exposure to the wider public has risen since the elections in Greece. That gave us an opportunity to present our position to many people, and now it's up to us to translate this publicity into a concrete and strong movement that can effectively challenge the status quo. We have a lot of work to do!
5. How do you imagine your organization cooperating with Syriza?
Well the Workers' Front has some concrete plans for future cooperation with Syriza, as well as other similar parties on the European Left. We will organize several panels on this year's Subversive Festival in Zagreb with comrades from Syriza as well as Podemos and the Initiative for Democratic Socialism from Slovenia, where we hope to discuss cooperation, mutual solidarity and support in future struggles, both politically and "on the ground".