Note from LeftEast editors: We republish this from the Croatian portal Bilten, where it originally appeared.
Bulgaria has some of the lowest wages and lowest productivity rates in Europe, and, not surprisingly, some of the highest rates of out-migration. Employees and employers agree on that, but on little else. Yet with the country's economy growing and EU accession in 2007 giving it access to the common market, employment is up and in some industries labour shortages have started to cause problems. Workers and bosses are divided over both the causes of the shortage, as well as the solutions, with Bulgarian big business and politicians blaming lazy workers who allegedly exploit lax sick leave laws to skip work and relax or work elsewhere, rather than commit to one employer. Crushingly low wages and unsafe working conditions mean that for many workers moving to Germany is much more appealing, and practical, than trying to make ends meet in their home country.
Conflicts between employers and employees over wage levels manifest themselves differently. The Bulgarian government and big businesses came up with "innovative" ways to address the presumed nationwide labour shortage. Some entrepreneurs have tried to boost birth rates by giving newborns the gift of a free baptism service and celebrity godparents. The government, the largest trade union confederation CITUB and businesses suggested importing half a million workers from abroad to take low-paid jobs. At a public forum titled "Let's Make Success Famous," the Bulgarian Industrial Capital Association (BICA) blamed the media for painting a grim picture of the country's economy, which supposedly discouraged Bulgarian emigrants from returning to the country. They dismissed people's legitimate concerns over the state of the economy as the result of disinformation and as backwards.
These ill-aimed attempts at solving labour shortages often face popular ridicule. But undoubtedly, the main drivers of emigration from Bulgaria are the lowest wages, and pensions, in the EU. This, coupled with an aging population, have left the Bulgarian National Social Security Institute (NSSI), which receives pensions and social security contributions, underfunded. The NSSI cannot support the rising numbers of longer sick leaves. This is why 33% of sick leave payouts are funded through tax contributions.
BICA and the Confederation of Employers and Industrialists (KRIB) have been trying to reduce employers' spending on sick leave for years. In September the Minister of Labour and Social Policy rejected businesses' proposals to leave workers without pay for the first three days as "extreme" and "socially unacceptable". However, just two months later the government announced that the first day will be at the expense of the worker – i.e. not covered by the employer, nor the NSSI. The government backtracked after trade unions objected to the idea and suggested that instead of 3 days, employers should pay the first 5 days of sick leave at a regular rate. Offended, business associations took the radical step to leave the Council for Tripartite Cooperation.
Mounting income inequalities contribute to labour shortages and lead to the underfunding of all welfare systems. Back in 2015 a Ministry of Labour and Social Policy strategy suggested tackling the shrinking social security funds, resulting from low contributions, by disenfranchising the few workers who have still not emigrated. The strategy set out to limit opportunities for early retirement, where one would receive a slightly lower pension at first. The Ministry set out to increase the retirement age to 65 by 2037.
Social security contributions are made to the NSSI every month, amounting to only 3.5% of the employee's salary and are shared between the employer and employee. This insurance does not include healthcare services. They are covered by the National Health Insurance Fund to which workers contribute a fixed sum every month. Since 2010, the employer pays out 70% of the regular daily pay rate for the first three days of sick leaves (instead of 90% for the first day, as was previously the case). However, taxes and social security payments are deducted from that sum so the worker gets a net value of less than 70% of their regular pay rate. The NSSI pays out 80% of the regular daily pay rate of the said employee.
Business associations have been trying to force the debate over sick leave pay onto the agenda since 2015. A series of right-wing governments and the underfunding of the NSSI were a good soil for employers to push for measures which would deprive workers of their rights. Back in 2016 the NSSI announced that over the previous 5 years there had been a 12% hike (which amounted to a rise of 100 mln BGN) in people taking sick leaves. BICA immediately took up this data to justify their proposal that workers should not be compensated for the first 2,3 or 4 days of their sick leave.
In 2017 the NSSI proposed that employers pay 20% less for the first three days, i.e. 50% of the regular pay, but after trade unions' protests the suggestion was abandoned. The spectre of "fake" sick leaves and disability payments issued by corrupt doctors has been haunting the establishment and masking the conflicts over low pay in Bulgaria. This led some capitalists to denounce the welfare system in general as "corrupt and eroded".
Businesses and politicians have argued that sick leaves are abused by workers who engage in seasonal agricultural work. This summer, prompted by the PM's accusations against doctors for issuing "fake sick leaves" to allow seasonal work, the business associations rang the alarm again. They claimed that workers take sick leaves instead of vacation days in order to make the vacation periods around national holidays longer. At a meeting with the Prosecutor General and his Deputy, businesses discussed "the most widespread theft" in the country – sick pay abuses.
We should not be debating whether 1 or 2 or 3 days of sick leave payments are covered by employers, or if sick leaves are the crimes plaguing Bulgaria, but rather low wages. Even if workers do take sick leave when they are not actually ill, they do need to take part in other economic activities, often in order to be able to afford heating in the winter. Getting fake sick leaves is tricky – doctors can sanctioned, they are sometimes pressured by business owners not to issue sick notes to their workers at all. Such scams can be easily uncovered – disturbingly, employers have the right to check whether their employees follow doctor's instructions during sick leave, and the NSSI has access to information related to travel abroad.

The impudence of both government and business organisations was dressed as the manifestation of politicians' conscience. The far-right vice prime minister in 2018 and business owner Valeri Simeonov was reluctant to agree to calls to raise the maximum monthly insurance cap to 3000 BGN on the grounds that he would disappoint those who elected him on a mandate not to raise taxes. Conflating social security contributions (insurance) and tax is purposeful and is a rhetorical tool to appeal to businesses and people with higher incomes.  The prime minister sarcastically suggested that the only ones who might protest the restriction of workers' rights to sick leave are Greek hotel owners who will have less clients, as many Bulgarians go on vacation in Greece. All these statements contradict data showing that sick leaves that last 1 to 3 days of sick leaves are an insignificant proportion of all sick leaves.
Employers complain of low productivity levels which they blame on workers and have mocked Bulgarian workers' claims to "European pay". The far-right vice prime minister Krasimir Karakachanov added fuel to the fire by claiming workers in Bulgaria and Albania are lazy and undeserving of "German" pay. According to the establishment, not only do workers in Bulgaria work less than Western European workers, but they are also thieves who have the audacity to pretend to be ill to get "unneeded" vacation. A German employer in Gotse Delchev bragged about organising a draw for employees who had not taken any sick leaves – if they had an impeccable attendance record, they had the amazing chance to win 100 BGN. However, the entrepreneur was unpleasantly surprised that this was not motivation enough for workers to stop "pretending to be ill", so he abandoned that idea.
It is not simply that employers consciously lie about fake sick leave. They do not understand the toll that hard work takes on people's physical and mental health. Conversely, workers themselves hold that going to work while ill should be forbidden, too. It is this incommensurability in perspectives that in part feeds professional politicians and employers' imaginaries of the lavish lives workers live.
The consensus between the government and businesses on the diagnosis and the remedy led trade unionists to presume that they negotiate "behind the scenes", thus making the tripartite council effectively pointless. The issue is not transparency. It is the political context in which workers' rights are painted as privileges granted to spoiled, lazy workers, but businesses' welfare is central. Policies like the cuts to sick leave pay follow from such assumptions about who produces value and wealth and who does not. They need not be agreed upon in secret meetings between ministers and capitalists. While businesses have unlimited access to media and have the power to influence policy makers, workers have few avenues available to do so.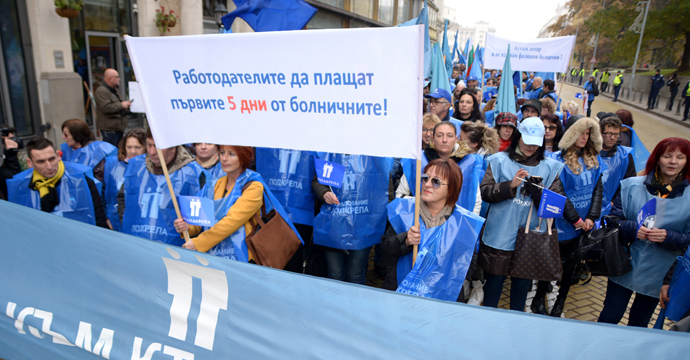 Despite the prime minister backtracking and his subsequent commitment to not deprive workers of their paid sick leaves, the union Podkrepa held a protest "Sick workers are not criminals" on November 27. It defied suggestions that workers are lazy, scheming scroungers. In addition to demands that employers pay for the first 5 days of workers' sick leaves, the union asked for a raise in the pay for night working hours, restrictions on the application of the summed calculation of working time only to enterprises with continuous production system, and that minimum wages are not taxed. Trade unionists saw the attempt to take away their right to paid sick leave as "mockery with the Bulgarian people".
Sick leaves prove to be not only means of survival allowing further self-exploitation. They are also a way for workers to claim what is rightfully theirs – a fair pay for their work and an often otherwise restricted vacation. It was back in 2017 that trade unions countered the NSSI proposals for lower sick pay with demands for wage increases. And despite the fact that the same trade union confederation refused to join protests against capital's attempts to weasel out of paying for sick leaves, two years ago they had a good hunch – low pay is the real issue to which struggles over the meagre sick leave payments point.
Until labour relations improve dramatically in the country, workers will continue to migrate West and take advantage of sick days to win back a bit of what is rightfully theirs. This cycle can only be stopped by a reassertion of workers' rights by the trade unions.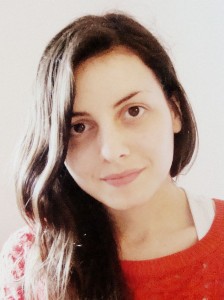 Madlen Nikolova is a PhD candidate at the Department of Politics, University of Sheffield, and a member of the Collective for Social Interventions (KOI) in Sofia. Together with Jana Tsoneva and Georgi Medarov, she co-authored Exploitation & Resistance: Labour in Three Subcontracting Sectors(2019), and Politics without Politics [in Bulgarian] (2014). This interview was conducted for the Rosa-Luxemburg-Stiftung by Loren Balhorn.