Note from LeftEast editors. We reprint Saša Dragojlo's pathbreaking investigative piece, originally published on December 9, 2021 at Balkan Investigative Reporting Network – BIRN
BIRN has identified a handful of self-proclaimed 'expert' security organisations in Serbia that promote the police, military and right-wing tropes while enjoying ties to the country's ruling party.
In October, a notice was published in the obituaries section of the Serbian newspaper Politika that read, 'Last greetings to my friend and comrade-in-arms, Stevo Djokic.' It was signed 'Aleksandar Vucic.'
Vucic is president of Serbia. Stevan Djokic, a so-called security expert and a pundit on pro-government television, was "the first man of the order"of the Orthodox Military Order of Knights Templar, an obscure collection of hardline Serbian Orthodox nationalists that, oddly, takes its name from a 12th century Catholic military order and vows to protect Christian 'family values' from the LGBT community, drug dealers, paedophiles and migrants from Islamic countries.
"They've known each other since ancient times," Dusan Ivkovic, a member of the organisation, said of Vucic and Djokic, who died aged 44 after contracting COVID-19.
But an 'ancient' personal friendship is not the only link between Serbia's ruling elite and an array of right-wing organisations that have become increasingly visible since Vucic's conservative Progressive Party took power in 2012 having broken ranks with the ultranationalist Radical Party of convicted war criminal Vojislav Seselj.
One of those links is the Centre for Security, Investigations and Defence, DBA, founded by Djokic and registered at the same Belgrade address as the Knights Templar.
Djokic and the organisations he led had good relations with a number of notorious Serbian extremist groups, including anti-migrant vigilantes Leviathan and People's Patrols as well as Serbian Right, a fixture of the far-right scene. It also counts among its members a husband of the mayor of Nis and a member of the main board of Vucic's Progressive Party, and close ties to another, Vladimir Djukanovic, a member of the party's presidency and main board, an MP and head of the parliamentary justice committee.
Besides DBA, BIRN has identified at least five other right-wing organisations that claim expertise in the security sector to promote the Serbian police, military and right-wing tropes, while enjoying the sympathies of Serbia's ruling party.
With names that ring of reputable security bodies [International Police Organisation, World Police Counter-Terrorism Organisation, European Police Organisation, Global Police Association], analysts say they represent a simulation of civil society, controlled by the government, and a means of recruiting young right-wing Serbs lured by the badges, the oaths of honour and the camaraderie.
"They are definitely dangerous," said Predrag Petrovic, programme director at the Belgrade Centre for Security Policy, an independent think-tank, describing them as part of a "parallel NGO world and para-police world."
"It is clear that they are all linked and created from one centre," Petrovic told BIRN. "They are drawing [people] in through their activities, especially young men. That way they can control people who can be problematic for the ruling regime and recruit many new ones as a base of support."
Right-wing groups see state as ally
The right-wing in Serbia has morphed since the 1990s, when Yugoslavia was coming apart in war, and early 2000s, when Serbian nationalism was strictly anti-Western, pro-Russian and critical of the pro-European parties that took power with the fall of late Serbian strongman Slobodan Milosevic 21 years ago.
Animosity was directed against ethnic foes in the former Yugoslavia, whereas today the perceived enemies are more likely to be migrants, human rights activists and the LGBT community, while links are forged with like-minded groups across Europe.
Importantly, such groups now see the authorities, too, as an ally and the security apparatus something to be praised. Rather than fighting the forces of the state on the streets, as they did in the first decade of this century, right-wing groups in Serbia appear to be working hand-in-glove with authorities under the Progressive Party.
The DBA is at the nexus of this relationship.
With a badge and membership card that mimic those of the Serbian police, the organisation claims to work on the "development and advancement of the sectors of security, investigation and defence", primarily in the private sector but "also through cooperation with state institutions".
Its site advertises courses in self-defence, "secret tracking" and the dangers of "sects". It also features a press release on the DBA's participation in a working group on Serbia's draft Law on Police, organised by the interior ministry at the end of September.
Civil society and security experts have criticised the draft law, arguing that it undermines privacy protections and the democratic control of police. One of the proposed changes under the draft would give the interior minister the power in certain situations to declare certain organisations part of the police, which critics said risked legitimising vigilantes operating in Serbia under the guise of 'civil patrols'.
In the course of this investigation, BIRN identified a network of self-proclaimed 'security' associations close to Djokic and the Orthodox Military Order of the Knights Templar.
The last few years have seen a proliferation of such para-police and citizen security organisations, with names that often borrow from those of international security bodies and badges that are strikingly similar to those used by the real police and Serbian security agencies.
Six of these organisations count Progressive Party officials among their members; other members have criminal backgrounds, while one is currently the subject of an Interpol Red Notice and sought by neighbouring Montenegro.
Despite having little in the way of genuine expertise, representatives of such organisations often appear as guest experts in pro-government media, commenting on security and crime issues, praising the police, military and Vucic, while sometimes criticising the opposition.
Calling them 'GONGOS' – Government-Organised Non-Governmental Organisations created or sponsored by the government to further its interests – Petrovic said such groups were "trying to present themselves as legitimate organisations."
To recruit, they do humanitarian work, provide training in martial arts and preach of the dangers of religious sects, bullying, drugs and paedophilia.
"They use some of the 'popular' topics for which everybody would sign up for in order to recruit people," said Petrovic. "They are drawing them in through their activities, especially young people."
'Swarm of migrants'
The Orthodox Military Order of the Knights Templar was registered in 2019, with, according to its website, the aim of defending Orthodox tradition and faith. The group advocates an economic and military alliance of Orthodox countries, the reinstatement of compulsory military service and the protection of Serbian Orthodox holy sites in the former southern Serbian province of Kosovo as well as in neighbouring Montenegro and North Macedonia.
Family should be the central pillar of society, the group says. It is hostile towards LGBT rights and the "swarm of migrants" crossing Serbia and its members call for harsh penalties for drug addicts and death sentences for paedophiles.
Among the group's posts on its Facebook page is a photo of armed Serbs – who call themselves Chetniks after the World War Two royalist guerrilla movement – fighting alongside Russian-backed separatists in eastern Ukraine in 2014.
The group has a clear military hierarchy, but Ivkovic said it is not armed.
On social media, they claim that some of its members are also part of People's Patrols, which began as a right-wing group hostile to the migrants and refugees crossing Serbia en route to Western Europe but more recently has taken up the 'anti-vaxxer' rallying cry in Serbia.
Asked about the anti-migrant and anti-Islamic content on the group's Facebook page, as well as the links to People's Patrols, Ivkovic replied, "Everybody deserves to live together".
"I cannot really answer directly to those questions since Stevan's death distracted us so much. He was the key person."
A fellow member of the Order is 48-year-old Nemanja Ristic, who in 2020 was sentenced in absentia in Montenegro to seven years in prison for involvement in what the Montenegrin government at the time said was a Russian-backed coup attempt in 2016.
Ristic was previously found guilty by a Belgrade court in 2015 of threatening Veran Matic, co-founder of the iconic Belgrade radio station B92, former US ambassador Michael Kirby and Public Prosecutor Zagorka Dolovac. He remains on an Interpol Red Notice, effectively a request by Montenegro for police anywhere in the world to provisionally arrest him pending possible extradition, something Serbia has not done. Ristic frequently appears in public, occasionally alongside military officials.
Anthropologist Ivan Djordjevic, who studies right-wing movements, said the Order was typical of nationalist groups today.
"In essence, nationalism has internationalised," he told BIRN. "Through this 'Templar' order, several flies are killed: there is mystical pastoral care [a secret order known to inspire various conspiracy theories], military hierarchy (for fans of 'firm discipline'), but also inevitable motifs such as Christianity, family and patriotic spirit."
"We also have here some populist ingredients that are part of the European mainstream such as big words about migrants, paedophiles and drug addicts. Thus you get the 'perfect' right wing organisation that thinks globally and acts locally."
Ruling party members part of para-police organisations
Along with Djokic before his death, Ristic, Ivkovic are part of a larger group of people joined within a network of para-police citizens groups which share members and collaborate.
Beside the Knights Templar, there is the DBA; the International Police Organisation, IPO; the World's Police Counter-Terrorism Organization; the European Police Organisation; and the Global Police Organisation.
Most of the leaders of these organisations have no security or police background besides having completed various courses in security, but they frequently appear in pro-government media as experts in security, migration, domestic violence, people trafficking, religious sects and drug addiction.
The DBA has clear links to the ruling Progressive Party, counting among its members Nikola Sotirovski, the husband of the Progressive mayor of the southern city of Nis, Dragana Sotirovski. Nikola Sotirovski is also a member of the IPO. Despite not having any background whatsoever in policing or security, Sotirovski is listed by the IPO as a 'security expert' with the rank of 'High Officer'.
The DBA website, meanwhile, carries an advert for the legal practice of Djukanovic, one of the most influential members of the Progressive Party and an ex officio member of Serbia's High Judicial Council and State Council of Prosecutors, both senior judicial bodies. Asked about Djukanovic, the DBA said he was not a member, but a partner, despite a blog post on its site describing a person with the same name as such.
Djukanovic, sources say, is a friend of Djokic and is representing Predrag Koluvija in a trial concerning the discovery of a sprawling illicit cannabis farm which reportedly enjoyed the protection of elements of the Serbian security services.
Djukanovic's legal practice told BIRN he was unavailable for comment.
Ivkovic, who is also a senior member of the DBA, confirmed the organisation's ties with Djukanovic, describing his legal practice as one of DBA's "partners".
The DBA has publicly defended Koluvija, saying the entire affair was manufactured to incriminate President Vucic. Asked about the affair and the group's support for the Progressive Party, Ivkovic told BIRN: "Everybody has a right to their political opinion. We are for the truth and for security."
Presence in parliament
The IPO Serbia was founded in 2018 by Progressive Party MP Ilija Zivotic.
Headquartered in Milan, Italy, it claims to have branches in 25 countries in Europe and 10 in Africa and lists among its members a number of former and serving members of the Serbian, Bulgarian, Italian and French police.
Zivotic, IPO's 'Chief Officer', has no apparent experience within the police but did finish Serbia's Higher School of Internal Affairs, as part of which he received military-police training from the Serbian interior ministry at its camp in Mitrovo Polje. He also claims to have a postgraduate degree in 'terrorism, organised crime and security' from the University of Belgrade and to have published "many scientific papers in renowned professional magazines."
The IPO says it is a member of the Committee for the Fight against Drugs at the United Nations and the Alliance for the Fight against Corruption, which also works under the auspices of the UN.
Last year, Zivotic gave a speech at an UN-organised conference in Vienna on the UN Convention against Transnational Organised Crime, where he talked about a deadly turf war between rival Montenegrin drug gangs that has claimed dozens of lives.
Zivotic is a member of the Serbian parliamentary body tasked with monitoring the work of the security services. BIRN was unable to reach him for comment on this story.
The Serbian parliament has at least once turned to the DBA and IPO for their 'expertise'. On March 30 this year, at the founding meeting of the Parliamentary Network for Digital Security, Ivkovic was present as a representative of both organisations, though he was at a loss to explain how.
"Stevan [Djokic] told me we were invited but I'm not sure how," he said. "Our organisation became important because of him."
'World's counter-terrorism police'
The obscurely-named World's Police Counter-Terrorism Organisation is led by a 25-year-old Serbian man called Dragan Pantic. Again, Pantic has no apparent background in policing or security, but claims to have educated himself in the field of security since he was 14.
"I went to several training courses in the field of security… I have a certificate for secret surveillance, a certificate for juvenile delinquency, for drug addiction, forensics and trainings in those fields," Pantic told BIRN.
He said his organisation has some 300 members, mainly in Serbia but also elsewhere in the former Yugoslavia and Western Europe. He claimed to be among the founders of the DBA, from which came the idea, he said, to establish a new organisation to work at the "European level."
"We thought we could give lectures to people abroad through the zoom application, or here in Serbia to hold training for foreigners," Pantic said. "That's why it's called 'The World's Police Counter-Terrorism Organisation' and because we have members all over Europe."
Besides donating masks to the police and fire service, Pantic said his organisation has collaborated unofficially with the interior ministry thanks to personal ties, but nothing "on paper."
"In Serbia we are connected with people from the interior ministry and also some of our members are from the ministry. We have a lot of people from that world," he said.
Again, Ristic is a member. "He's a member everywhere," said Pantic. "You can also join our organisation and we have no right to ask if someone has been detained or convicted."
'We will support our state'
In August last year, Pantic signed a cooperation agreement with another organisation in this group – the European Police Organization, EPO.
EPO is led by 28-year-old Vuk Mentovic, who sits on the local council of Belgrade's Zvezdara municipality as a member of the Progressive Party.
Mentovic's 'security' background is similar to that of Pantic.
"We had the idea of calling ourselves the European Police Organisation because Serbia is territorially in Europe and we wanted to network and share our experiences with people from other countries," Mentovic told BIRN. "We aim primarily to attract young people and to guide them on the right track through seminars and educational courses, so they can understand the dangers […] such as Internet data theft, school violence and in general everything related to youth and security."
Both Mentovic and Pantic express faith in the Serbian state. "If the state says it's like that, then it's like that. It cannot be different," said Pantic. "Of course, we will support our state in certain cases."
The Global Police Association, GPA, was formed in 2019 by aikido trainer and bodyguard instructor Slobodan Jovanovic, who is also a member of the EPA and the International Police Association, IPA. Jovanovic also claims to be vice president for sport at the Union Organisation of the Gendarmerie, Serbia's special police unit. Jovanovic told BIRN he "generally" supports those in power, but complained about a lack of official backing for a push by organisations like his own for so-called 'civic patrols' with the power to carry out civic arrests.
"We are all connected and we know a lot of people from parliament too… And we're friends privately," he told BIRN. "The only thing I don't like is that they didn't support us."
"My goal is for us to succeed in contributing to our civil security sector so that people feel freer."
The use of badges similar to those used by the police is a particularly sensitive issue in Serbia, where members of a crime gang involved in the assassination of reformist Prime Minister Zoran Djindjic in 2003 were found to have honorary badges of the then police union that were identical in form to official police badges.
Petrovic, of the Belgrade Centre for Security Policy, said such organisations were "dangerous".
"They have names and badges like the official state security institutions, which is obviously tolerated by the state, and are forming a parallel NGO-world and para-police world at the same time, thus acting in both fields and influencing the state and society."
"They present themselves as protectors of the security profession and do not care so much about democratic control and supervision," he said. "They advocate the strengthening of security institutions, not realising that strengthening institutions does not mean reducing control and supervision over them."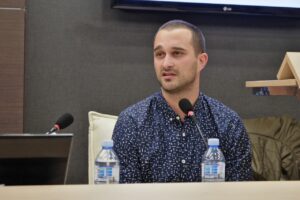 Saša Dragojlo is a Serbian journalist working for BIRN, Balkan Investigative Reporting Network, in Belgrade, Serbia. He has also worked for Insajder, a Serbian investigative media portal and a television show in Belgrade. As a member of the Insajder team, he worked on documentaries on political corruption, financial crime and social and workers' rights. In 2021, Saša was among the very few journalists who won the EU Awards for Investigative Journalism in both Montenegro and Serbia, for two different stories.