Note of the LeftEast editors: The present text, which we co-publish together with TSS is part of a series of publications and webinars on the topics of social reproduction, (women's) labour and migration in East-Central Europe and beyond. The video from the first webinar Responses to Covid19 and (post)pandemic: social reproduction, migrants and women in Central/Eastern Europe and beyond, where this text was first presented can be seen here. The aim of the series is to raise awareness about struggles for labour, reproduction and migrant rights, as well as of the condition of women in society and how these have been impacted by the COVID-19 pandemic outbreak. The publications and webinars are coordinated in cooperation between the Bulgarian Left feminist collective LevFem and the platform Transnational Social Strike, and sponsored by Friedrich Ebert Stiftung – Bulgaria. Most of the participants in the series are part of the newly emergent network EAST (Essential Autonomous Struggles Transnational), which unites activists and workers in/from East-Central Europe. For more information about the network you can contact them at essentialstruggles [at] gmail.com. Reposting articles from this series is allowed with the condition of referring to the original publication source.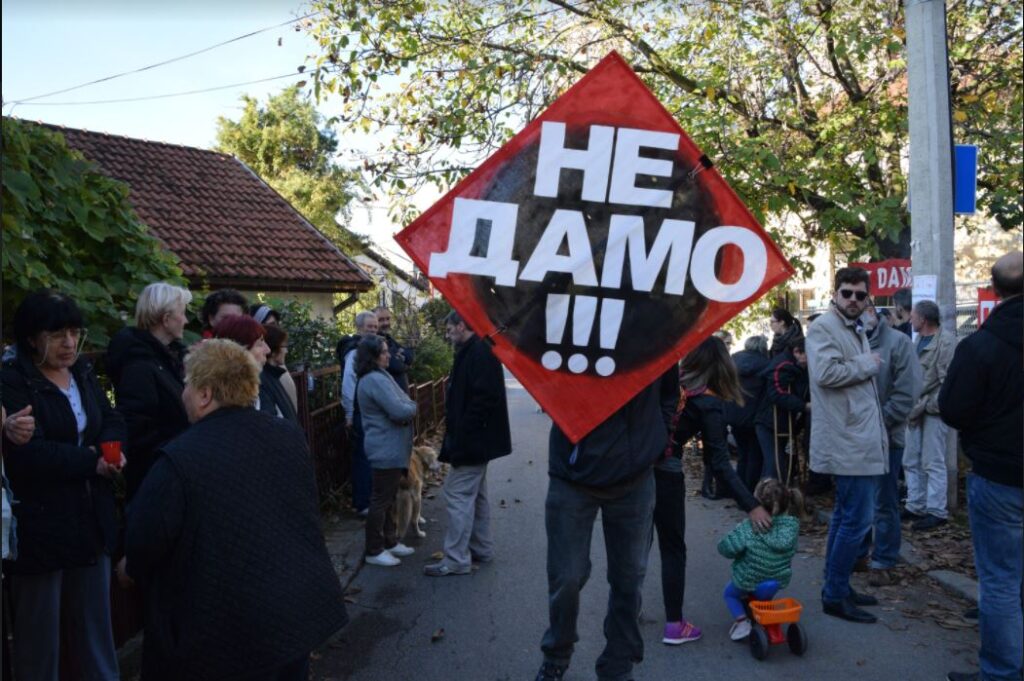 Housing as a basic means of social reproduction came into focus during the Covid-19 crisis in an unprecedented way in Serbia as well as everywhere else. The "stay at home" instruction exposed existing housing injustices resulting from privatization, restitution, housing financialization, social housing residualization, homelessness, and gender-based violence and racism against Roma and migrants. Those living in collective centers, but also in informal, insecure, unsafe and unhealthy conditions, found themselves hyper-exposed to risks not only from infection but also from further impoverishment, and from the violence of quarantine managers. Those privileged enough to be staying-at-home have been facing the hyper-exploitation of domestic space, alongside the continued expectation of free reproductive labour. Homes became schools, day cares for our children, our offices, but also hospitals where we are supposed to care for sick family members or for ourselves. This situation provoked organised reactions throughout society including a grassroots answer from the housing movement. Housing struggles during the pandemic in Serbia could be roughly talked about as going through three phases starting from march 2020; organising militant aid during lockdown, struggles against state repression during the mass protests, and ongoing struggles not to return to normal.
Organising militant aid during lockdown
After the initial ridiculing of the virus by state officials at the beginning of the pandemic, a state of exception was imposed in Serbia on March 15th in response to the declared Covid-19 pandemic. Two headquarters were formed after the Serbian president publicly declared 'the war on virus': Headquarters for health, and headquarters for the economy, with an aim to eliminate the consequences of crises for the economy. During this short period, two main measures directly related to housing were introduced. These were the moratorium on mortgage payments in the form of a three-month break on the payment of the installment that was made possible by the National Bank of Serbia, and a recommendation to the Chamber of Public Bailiffs by the Ministry of Justice that paused evictions during the state of exception. Though these measures had some effect on easing hardships, their key role was to maintainthe basic infrastructure that allows for the exchange value of housing to be a pivotal axis of capitalist circulation. The social problems that emerged or which have been exacerbated during lockdown were not addressed by the state measures. The majority of the people have been left to their own devices to deal with the pandemic. Under the quarantine regime, many have been unable to work and provide food and personal hygiene items for their families, because of the restriction of movement, job losses and poverty. Those without a roof over their heads and those living in informal settlements, who mostly live from street work, started earning less due to physical distancing measures and curfew.
The anti-eviction organization The Roof, working in three cities in Serbia, has changed its focus from preventing evictions that were now paused, to organizing aid for the forgotten quarantine residents and unhoused. As part of the "No one hungry, no one thirsty, no one without a roof" campaign, the organization collected more than a million dinars and provided food and hygiene products for more than 1000 people in Belgrade, Novi Sad and Subotica. This action was financed mainly by the citizens themselves through personal donations. At the beginning, help was delivered to families who had previously cooperated with the organization in the defense of their homes, but soon calls began to arrive from others, from those who are struggling to survive in quarantine. As an answer to this social disaster the Roof organized grassroots "Social headquarters" (to contrast with the government's "Emergency headquarters") in order to show failure of the state to deal with the pandemic. The Roof demanded that the state and institutions provide housing and medical care to all, as well as water and electricity, to all those who had no access to this essential infrastructure. In parallel, the Solidarity Kitchen was formed in Belgrade, with the active support of the Roof. It was created spontaneously by a group of friends, after they learned that many in the city could not access basic necessities.
At the same time The Roof encountered several difficult situations emerging from numerous unhealthy homes that exist in Serbia. Due to the new way health institutions functioned in the quarantine regime, many patients were sent for home treatment. Home treatment implies certain conditions, that a significant number of people in Serbia do not have. While distributing aid in Dalmatinska Street, inhabited with people under threat of eviction due to restitution, activists found a 72-year-old man who had been sent for home treatment living by himself with infected wounds from third degree flash burns in a room unsuitable for human life.
In Serbia during the lockdown migrants were seen as the biggest threat to health for Serbian citizens. At the beginning of the pandemic, the police evicted all self-organized squats, and their perimeters were guarded by the army and the police. Most people were taken to already overcrowded accommodation facilities while others were illegally pushed-back to neighboring countries. From March 16th on, asylum centers and reception centers have been guarded by armed soldiers. Officials stated that the aim of these measures was to prevent the spread of the coronavirus among the migrant population. The military was authorized to use firearms if the situation requires so.
The lockdown phase ended officially on May 6th. Transition to the next phase was marked with the action of a right-wing activist that was broadcasted live on Facebook. With the car, he smashed into the fence of a migrant camp in Obrenovac that was closely watched by police and military, yelling: "I don't want my girlfriend to be attacked by migrants. I do not want my army to protect migrants. I do not want a Muslim state, I do not want to suffer this, the punishment will be great."
Struggles against state repression during the protests
The full lockdown phase was followed by a short new pre-election 'normality'. The government manipulated the death tolls and infection numbers until the elections in June. The ruling party won easily, with the opposition boycotting the elections even before the pandemic. After the elections, the dire nature of the situation quickly became apparent. Serbia's crumbling public healthcare infrastructure was overwhelmed. The introduction to a wave of spontaneous protests occurred on the evening of July 2nd, in response to the declaration of increased security measures, including the eviction of students from their dormitories. Many students gathered in front of the House of the National Assembly building, together with a group of right-wing protesters. During the protest, conflict emerged when the group of students demanded the right-wing banner to be removed. In the following days, these students were subjected to threats of rape and murder from online right-wing trolls.
After another round of curfews had been announced as a prescribed punishment for 'irresponsible behavior' of mass protests gathered in front of the House of the National Assembly. There is no doubt that the protests started spontaneously. People were frustrated because of the contradictory information they were fed, the collapse of the social and healthcare systems, and the fabrication of truth. Protesters of different provenances, from liberals to leftists to anarchists, to orthodox fanatics, fascists, and football hooligans have been competing for the narative that will determine the future of the movement. The fact is that the right-wing triumphed in this protests. Members of the right-wing groups and political parties were there because, to them, Vučić has betrayed his far-right origin. He "sold out Kosovo" and start working in the interests of the European Union, George Soros, NATO, migrants, 5G, the USA etc. Well trained, they used violence in the protest environment toward their own goals. Although others also took part in destroying property and in attacks on the police, the right wing had control. The police responded with violence; they tear-gassed everyone who find themselves nearby including bystanders and those passing by.
At the protest in Belgrade, the activists of the Roof were violently attacked by the right-wing activists, while many of the former were arrested in clashes with the police and convicted. This is how one of the arrested activists of the Roof described the situation: "After being severely beaten and having my phone stolen, they threw me into the basement of the House of the National Assembly, and ordered me to lie on my stomach. We were all lying down, and a policeman with a white button was walking above us, threatening that if we looked up, he would beat us in the head." In Novi Sad, where the situation was slightly different, another activist of the Roof was arrested under false charges while president Vučić proclaimed an attempt of protesters to block a highway to be "pure terrorism."
In the light of these events the Roof started a campaign for the liberation of all political prisoners. For the Roof it was clear that the arrests were a part of push against its activists that had begun before the pandemic. The new amendments to the law on public-private bailiffs already contributed to further criminalisation of solidarity and as a result to the prosecution of and high penalties for, activists resisting evictions. Arrests became a symbol of a broader trend of the regime to reckon with activists, but also as part of austerity politics, class stratification and putting public institutions at the service of private interests – banks, public-private bailiffs and, finally, political parties and individuals in power. In front of the central prison in Belgrade, the Roof demanded the liberation of all arrested. At the protests we could listen to analyses of the prison system that revealed its class and racialized character, something that cannot be heard often in Serbia.
The Struggle not to return to normal
Finally, during August and September, we have been forced in Serbia to inhabit an attempt to live the new normal, while new and old forms of dispossession, privatization and financialization have been consolidating in the shadows. Behind the competing narratives about the pandemic, a new housing crisis, augmenting the one that that we already inhabit, has been emerging, threatening to affect an increasing number of people. In the current phase, violent evictions have restarted with full force after a short pause during lockdown. Private-public bailiffs are collecting debts in many cases by selling people's only homes out from under them. Many are coming out of the quarantine with increased debts, their savings spent, and having taken new micro loans with which they try to bridge the absence of state support and loss of jobs. Many are facing evictions due to inability to pay rent, and many others are facing poverty. In the first period of pandemic alone, around 200 000 people lost their jobs in this country of 7 million. While people are dying in Serbia because there are not enough emergency medical vehicles, evictions due to restitution, privatization, the loan-shark debt, mortgage foreclosures, frauds, are happening with the full support of paramedics, fire department and police. In this situation, the housing movement in Serbia continues to organize direct actions, militant aid, legal support and emotional support, as well as new strategic alliances and public campaigns.
At the moment the Roof is involved in an ongoing campaign in collaboration with the mainstream news portal Nova.rs. The goal of this campaign is to spread the word about solidarity and struggle and send the message to all those facing hardships with housing in Serbia that they are not alone. The campaign consists of fifteen stories told by those living under siege, those experiencing eviction, and those in struggle for home. This is one of them:
"No, I wasn't born on the street," says A. and waves her hand, almost with a smile. I lived in a house in Zvezdara, a small family house, made of mud, and then the neighbor next to us decided to take it, because he wanted to expand, to build a big house, maybe a hotel, and he already has one hotel. He first offered to buy it from my father, who was already seriously ill at the time, and then he started reporting us to the police and the inspection office, because allegedly branches were crossing from our garden to his.
The first fine was 200,000, the next even more.
When those reports and fines started to arrive, I got into debt, and then the interest rate went up, and then the interest rate on the interest rate, and it turned out to be a huge amount. The police have been coming constantly, the neighbor has been threatening, they enter at night, tear down our fence, my father was lying sick, he didn't know where he was. I didn't know where I was going; go to A&E, go to Zvezdara hospital, from hospital to hospital… They enter, cut, urinate – a doom one cannot imagine. That's how it goes with the loan-shark debt, especially when the loan-sharks are working with those who are taking your house, and the police won't do anything, the banks are interfering…. and so goes the house!
No, I'm not feeling well. I am 61 years old, and I have always been in poor health, but my condition has just gotten worse. I worked as a nurse, and after I fell, when the analyzes showed that it was systemic sclerosis, with hypertension and anemia, I retired after 27 years of work. Homeless and in debt, at first I slept with colleagues at work, but I was careful not to be with anyone for too long, maybe a shorter period, but I could not stay six months, that's a lot, people have their families… And then the terrible problems arose.
No, the state didn't help me. Neither the lawyers nor the others helped. I wanted to go to the monastery, no matter what, you can't enter, there is no speech. Then I found a job through the church, to live with an elderly man, they say: he is alone, ill, he has no income; he is mobile, but he needs care. But, when I came! I realized that he has nothing to pay me with, but there was no accommodation either. At least it was an apartment. He put me to sleep in the hallway, there was nothing, no water, so I went for water twice a day at the fountain, I carried stuff there to wash, there was no electricity, I was cooking on gas, and he still treats me as if I was a slave, as if he possessed me.
I slept like that in the hallway in front of the door, dressed, because it's really cold in winter, and across the street some neighbors wanted to hurt him, so they call the police to chase me away… And the patrol when they came, they treat me like I'm the biggest criminal; they hit me, the three of them on the woman, and then they pushed me down the stairs… That was really hard. I stayed there a little longer, and then, when the pandemic began, that guy kicked me out in the street, literally throwing me out to die.
I used to squat like that, so I look where there are more people with children, it seems safer, but again, you have to change the place, my legs hurt, my back hurts, they force you, or there is someone always teasing you. Some old people were looking for sex, they come and offer something, they want to take me to their apartment, one said, as if I were living with him. Come on! I just turned around and left. And then they shout all sorts of things at you, they immediately insult you. A drug dealer who works with another woman from Belgrade once approached me and said: 'You will come to my place, there will be no going out to the city, you just go on assignments, I will give you accommodation, but you have to get food yourself.'
How do I get food if you don't let me out? And he wanted me to be his slave, and I don't know what would have happened if I had gone to him, if he would have beaten me. I can't, I think, I won't let anyone beat me again. These are all kinds of jokes, and you take shelter every time it's dangerous, and then you run away, you run away all the time… You have nowhere to bathe, all the fountains are closed during corona, and to get to the lake Ada you have to walk far, you heat bottled water there, yes you just wash yourself a little. What can I tell you, it is very difficult. It's like a job, that life on the street, you work all day, you manage, and you still have to save yourself.
I didn't dare to meet anyone anymore, I was mostly alone, until I met people from the Roof. And the apartment they found for me is good, it's beautiful, of course, it also has hot water. You know what it means to me to be able to wash! Only the rent is high and heating is expensive, how can that be paid? I don't know what to expect, I can't say anything, it's uncertain… It's good that at least for this period I could calm my nerves a little, but it's not over, something more permanent must be found… When you have your home you still have security, you also have mental health. It's no small thing. And everyone – everyone has the right to it." (An excerpt from the interview with A. by Irena Ristić for the Roof)
Some questions
The questions that have emerged from the struggles during the pandemic are more or less the same questions that we have been asking ourselves before the pandemic started. Nevertheless, these questions have been amplified with the new experiences that reminded us how quickly our life's can became disposable, how far is the state ready to go to protect the interests of capital and what is 'essential' for our lives. Some of those questions are:
Pandemic regime(s) have made very clear what the essential activities and infrastructures are that sustain and reproduce our lives. This sudden and unexpected change of focus from profit to life opened the portal. The doors of the portal that have briefly opened during the pandemic are most definitely closed now and the new normal is pressing in. This new normal is nothing to look forward to. One of the questions emerging from this experience is how to imagine (and practice) together the new paradigm outside of the borders and regimes of the new normality, and how to amplify the ideas and practices that are already out there (like for instance: the universal right to housing, moratorium on evictions, housing not profit, non-capitalist self-menagement, occupations of land and housing, etc.)?
The crisis has shown very clearly that the struggle for housing is directly related to the fight against gender-based violence, patriarchy, racism, labor struggles, health related struggles and state and police violence. The question is how to connect our movements (locally, nationally and transnationally) better and how to deal with problems, conflicts and political differences in our movements in militant but also creative and joyful ways.
Solidarity mobilizations in times of Covid-crises has made issues related to poverty, at least temporarily, a common problem; perhaps not for all of us, but certainly for a significant number of people in Serbia that have shared with others that little that they had. How do we sustain this energy in the long struggle against the new normality that is taking shape ahead of us? and how do we create and sustain alternative housing infrastructures?
These lessons from 'disaster capitalism' teach us that one of the ways to normalize political movements and militant solidarity is by restructuring the movements from a militant to a humanitarian mode of functioning. The question is how do we resist these tendencies in our own struggles? This is by no means a simple question partly because they make us deal with complicated issues about morality, ethics and politics and sometimes even choosing between helping one person and doing something that is relevant for the collective.
The struggles for the articulation of the protests in Serbia described here have shown that the mass protests have to also be seen as the struggles for the right to organise our own reproduction in the way we see it suitable. In this light, the burning question remains how to prevent the right wing from dominating clashes with the authorities and how to create strong and mass movements that will show that the right-wing actually doesn't have anything to offer to us besides hatred?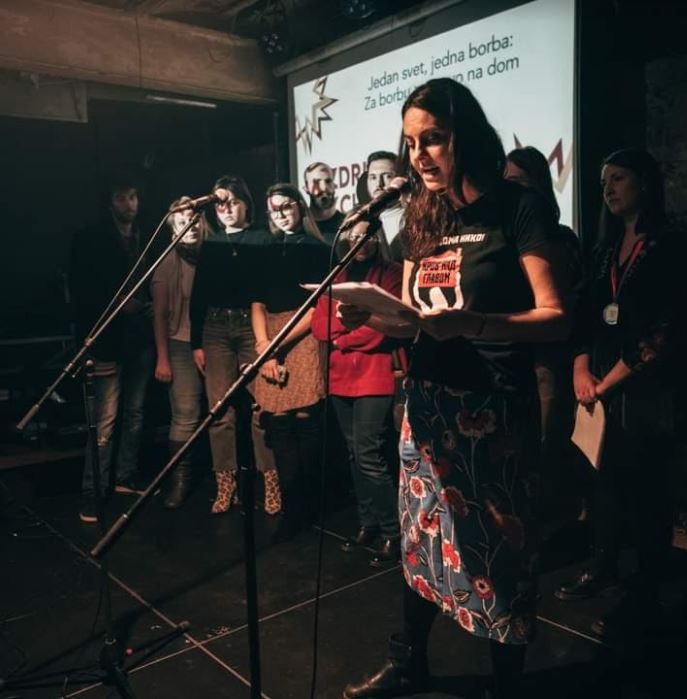 Ana Vilenica is a member of the Roof an anti-eviction organisation from Serbia, the Radical Housing Journal collective, editorial collective for Central and East Europe of the Interface a Journal for and about Social Movements and the EAST-Essential Autonomous Struggles Transnational.