Report by: Mary N. Taylor, Mariya Ivancheva, Adela Gjorgjioska, Veda Popovici 
Over the last seven years, members of the LeftEast collective have co-organised  encounters in collaboration with other collectives and comrades in the Eastern and Southern peripheries of Europe. This year, our late summer encounter took place in the Macedonian capital Skopje, hosted by Social Center Dunja, and co-organized with Solidarnost. In Macedonia, the new left political party "Levica" has been facing severe obstructions, from formation to its continuous functioning. Various other left initiatives and formations (struggle to) exist, such as Social Center Dunja and Solidarnost. Meanwhile, old and new grassroots initiatives rise and fall in response to various cases of dispossession regarding the natural and built environment and with regard to public services. A strong and effective left praxis in Macedonia and the region as a whole is desperately needed, but what this means remains somewhat unclear. We came together to ask what lessons can be communicated from the experiences of grassroots, media and party projects already existing in the region. Looking at the advances and challenges faced by these initiatives and organisations, we wanted to consider the bigger question of if, and to what extent, party formation processes can be a useful form of organising within our current predicament, and what the limitations might be.
Having made the decision to meet in Skopje we knew from the outset: we were meeting at an anxious time, both for Macedonia and for the South-Eastern periphery of Europe. Across the region the cause of economic and political crises, poverty, unemployment, grave class divisions, and widespread dispossession, continues to be ascribed not to the workings of global capitalism but to corrupt elites gone rogue. The neoliberal capitalist hegemony remains solidly entrenched. The left in the region – systematically marginalized since the declared failure of state socialism in the 1990s – attempts to challenge this hegemony in different ways. Yet, while a number of left movements and campaigns mobilised between 2008 and 2014, these protest waves, seen from outside as proof that the much praised 'civil society' was finally coming to life, were all but generative for the left. Despite the ever deepening crisis, the hegemony of anti-communism and of the self-colonising aspirational beliefs in the civilisational power of old colonial Europe (under its new avatar the EU legal acquis, restructuring programs and trade agreements) have proven resilient. And whereas the region has remained a periphery within the continent, characterized by the extraction of cheap migrant, local labour, and of resources wrought from privatised and dismantled economies, its people have still been caught in the false consciousness of belonging to the core. This has played out in the perverse and violent redrawing of the borders of Europe, in which those dispossessed by neo-colonial plundering have been pitted against those dispossessed and exiled by neocolonial wars. A buffer zone created to shield the West from its own crisis (and to reproduce the shaky legitimacy of its associated liberalism), and marked by the triumphant rise and normalised involvement of the extreme right in mainstream politics, the region has become an ever more difficult and dangerous terrain for the local left to navigate.
Beyond this shared predicament that we met to discuss in Skopje, it became clear that although the parallels in terms of exploitation, dispossession and antagonization throughout the region are obvious, the modes of cooperation and solidarity action needed to address them are not so apparent. Comparing situations from specific national, regional, and city-level situations and challenges went – in this context – far beyond a mere exchange of information. After all, the meeting was attended by comrades from countries and contexts as disparate as Macedonia, Turkey, Bulgaria, Serbia, Albania, Croatia, Romania, Slovenia, Ukraine, Bosnia, Greece, Israel, USA and Hungary. As such, we understand the analogies and complementarities of our experiences as a coming together of visions of regional solidarity. We have in mind a horizon of interlinked subjectivization that restores agency, dignity and autonomy in material resources for Eastern Europe.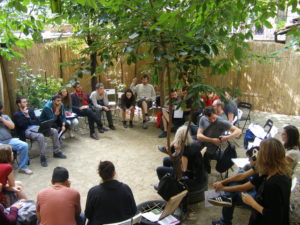 The struggle over cities and natural resources
After our warm welcome at Social Center Dunja with dinner and a party on Saturday night (9/23), we started our work together on Sunday (9/24). Two areas in which struggles are acute and apparent, cutting to the core of capitalist accumulation through dispossession are the urban/ municipal/ local and the environment/natural resources. The first day was dedicated to discussions of what shapes are taken and what strategies and tactics are taken up by activists in the region, and what are the limitations they have encountered. The aggressive expansion of capital in the post socialist European periphery has brought about devastating human, social and environmental consequences. Common resources, whether public goods and services or nature, have been enclosed through processes of privatization. Urban, natural, and rural spaces are being converted into profit making enterprises. Factories that formed the basis of the Socialist economy have been closed, privatized, and transformed. In this process, neoliberal states have acted as a loyal partner and enabler of capital. They have also played a role in propagating the neoliberal economic model as the only rational solution to growth in the region. These processes have intensified not only the need for strong resistance, but also the tactics and strategies for political mobilization, and the search for alternative discourses and models of development and solidarity. Thought together, struggles over cities and natural resources ask questions about what kinds of regional approaches can be taken and how alternative and solidarity economies might be built at different scales across them.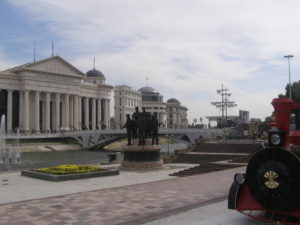 We began with a walking tour led by Nikola of Alternative Tours Skopje a new initiative aimed at contributing to the financial sustainability of Social Center Dunja. The insights offered by Nikola and other comrades from Skopje helped to reveal the deeper political and economic processes at work while our bodies experienced spatially the Disneyland-like central Skopje brought about by VMRO-DPMNE politicians as part of the Skopje 2014 project. The question of how to roll back the effects of Skopje 2014, as a symbol of nationalism, of the squandering of public money, and of the dynamics neoliberal capitalism and corruption, remains debated under the new conditions. At the same time, the grim and aesthetically aggressive view of the new city layer of neoclassical buildings and pompous statues, positioned to cover up the social fabric, was softened by peculiar sites in the city that revealed an alternative history whose layers can still be read: in the Woman-Warrior Park still holding the monument of Nevena Geogrieva – Dunja, the partisan woman whose name the social center bears; in the socialist era Central Trading shopping mall (GTC), with its traditions of free-entry and no consumption required; and in the old bazaar reminding of Ottoman era and present day divisions and encounters the city still deals with, despite its pompous promise of ethnic togetherness. We also witnessed the monument of the 'Thessaloniki Boatmen' being incorporated into the message of nationalist pride. This monument reminded us as well, however, of the anarchist tradition in the Balkans, which – if misread today – was profoundly internationalist and anti-capitalist. The 'Boatmen' were also the harbingers of a collectivist and disruptive strategy. Eclectic in their alliances, they were uncompromising in their analyses and goals when it came to the strategy of struggle. These were issues we would come back to over the following days.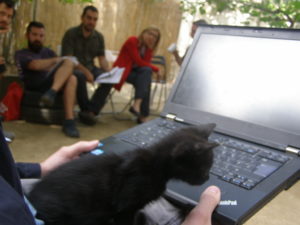 After the tour, we arrived to Dunja's sunny and cat-filled courtyard to begin our discussions. In the first part, participants discussed their experience organizing on the level of the city/ urban/ neighborhood/ local, sharing the forms the urban struggle is taking, as diverse as the common front for housing in Bucharest, the municipal platform "Zagreb je Nas", Skopje's "In defense of Debar Maalo" Movement, to an array of social centers, as well as the challenges they face. We discussed what political/ideological demands are being made; the level of cooperation/(dis)unity among the various "urban movements"; and tensions and relations among movements and political representatives. We also discussed how movements on this scale succeeded or failed to identify, locate, expose, or analyse the contradictions of neoliberal capitalism.
Coalitions with liberals (and smaller or bigger NGOs) and their pitfalls emerged as a central concern not only of this first set of discussions, but also of the encounter as a whole. This was presented with regard to the problem of the class aspects of the struggle, which remained outside the framing and analysis of liberal groups. Some argued that without a clear anti-capitalist position that attends to class movements can end up collaborating with the radical right. Others argued that there was strategic possibility in coalitions with liberals. One such case is "Zagreb je Nas", which is now in the municipal assembly with 4 (out of 51) seats. The platform was offered as a positive result of NGOization, with the biggest challenge, instead, being how to maintain the coalition and develop methods to sustain participation and counter the logic of the concentration of power in representatives.
Broader coalitions remain a vital element of concern and strategic projection for all movements. The question of cross-class alliances is at the core of this issue and – as was argued – it comes down to creating alliances with and across dispossessed and underprivileged classes and groups and how to put experiences at the crossroad of various oppression processes at the forefront of movements. This results in a different framing of the economy of labor in a movement – as a shift from trying to drag liberals onto our side to understanding how to create discourses and practices that are based upon the experiences of the most dispossessed. In the context of urban struggles for resources and the city this is even more obvious because on the one hand of the presence of liberals in big cities, and on the other hand, the evident and accelerated processes of gentrification and financialisation these contexts undergo in the region.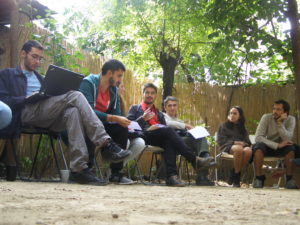 Another aspect of this same discussion was the issue of how radical elements of movements may be tamed through militarization or heritagisation (both having been used to undermine the inspiring movements of the Kurdish cities in Turkey). Heritagisation here functioned as an adjunct of gentrification. The built environment, once turned into heritage, becomes too expensive for the people who would have lived there. Often, the heritage approach means especially affirming and reproducing the aspirational civilisational discourse that is a big part of the problem: defining resources and regions as part of European legacy of culture and history in order to save them from the violence of capitalist dispossession is a contradictory and short-termed strategy. It is also an approach that is never at hand, imposing on the organization of a movement's resources and midterm planning to obtain it. In other words – some argued – it is a resource-consuming strategy that in the long term is unstable and can backfire by feeding the auto-colonizing discourses of anti-corruption that so often obscure neo-colonial interventions, and depoliticisation through culturalisation.
The discourse of job creation was discussed as a device that could obscure the real processes of dispossession over the long term. This was particularly relevant in the discussion on natural resources, which pivoted around struggles related to mining in the region. The question of the problem of caring for the health/mental health of people in the movement had come up in the earlier discussion on urban movements. It arose again here regarding the way that the praise of jobs (usually too little and too little paid) obscured the long term health impact of both working in the mines and also regarding the dismantling of the local agricultural production that has been so essential to people living in the mining regions. Organizing autonomously inspired by older local ways of social reproduction against or parallel to the state structures and the market was discussed as one of the key aspects that can be developed more in the region and that mark the difference between our movements and those based on liberal-NGO structures on the level of perception, as well as on the level of practice. The question remains as to how to develop a "sustainable" local economy based on these agricultural practices, and how to link it on broader scales. This discussion also brought us closer to questions of class formation in the region, both in terms of the (im)possibility of current class alliances (as discussed in the previous session) and to the question of the local past. In our societies with strong agricultural traditions, practices of self-sustaining kinship-level production had reemerged in the late socialist period. The larger question of decolonial praxis might require us to investigate and reimagine some of these traditions which capitalism and state socialism alike obliterated, if in different ways and to different aims.
Solidarity around migration and anti-racism
On Sunday evening, we gathered to discuss the topic of Balkan cooperation and transregional solidarities around migration and mobilization against the extreme right during the European border crisis. Perhaps the most inspiring example we discussed was the occupation of the City Plaza Hotel in Athens as housing for migrants. Because there was simply not too much to fight about, this sustained action met it's potential to bring different fractions of the left together, thus ensuring an abundance of human resources. Linking directly with agricultural producers and organizers of markets, they were able to feed 400 people a day for a year and a half, providing electric, water, and other basic amenities. Participants shared their horizon of and attempts to aid refugees in their own self organization and challenges thereof. The question of how migrant solidarity has or could link people and movements in the region remained unanswered. Other big questions touched on that evening related to the issues of how our collectives – in terms of social fabric and built environment alike – function, and how demands of emergent solidarity enter already complex terrains of inter- and intra-group interactions. The issue of the visibility of certain types of migrant struggles, movements, and groups to others was also discussed, with a view to the question of how 'refugees' are pitted against 'economic migrants' – but also to how rural and urban cases retain different mobilizing potentials and challenges. Another subject remained the (re)production of the prevalence of extreme right anti-migrant narratives among the majority populations in most countries but Greece, and the challenge of pursuing solidarities based on shared histories of migration due to dispossession and war, to which people in the region, and especially the Balkans, have been subject as well.
Left strategy: media, politics, (counter)hegemony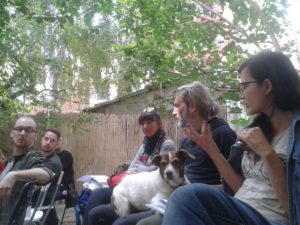 On Monday (9/25) we held two conversations: one dedicated to media strategies, and another one to political parties. While they were separated in time, the two sessions organically flowed into each other. The session on media followed from a previous discussion on the subject in which some of us had taken part in Belgrade in the preceding days, during the conference Dialoguing between the Posts'. With this reference in mind, we had initially framed the discussion around the question of building (counter)hegemony in a public sphere hostile to the left and egalitarian ideas. We asked: what are the obstacles in the local terrain, and what are the ways we try to deal with them in our movements and community/left media? Who do we see as main antagonists and main allies? How do we sustain left media under the dire circumstances of underfunding and hostile hegemonies that we face in our media work? Members from collectives with diverse histories and experiences were present – from a student radio with traditional format but left-wing programs and progressive music choice, to national and international web portals with news and analyses, to more theoretical print media, to publications attempting to mainstream left ideas or promote them through engagement with mainstream media. On the politics question, discussion revolved around the different groups we encounter and coalitions we are finding important, yet hard to form.
The question of media quickly developed from the broader theme of hegemony into more practical, material concerns. The question of sustaining our projects and the related question of financial strategy was what concerned most people working in media or trying to do so. Comrades working in cooperatives in the region shared insights about the strategies they take in order to be self-sustaining. The issue was discussed in two ways. On the one hand, there was significant debate about the question of creating commercial content and marketing strategy, or trying to mimic mainstream media business models (at least partially) while keeping the content uncompromised. The question of these strategies which different media in the region have been experimenting with, came along with the question of formats and language: how to write for and appeal to a broader audience; which type of reporting has been more successful or has gone viral; and what limitations arise from working without a commercial business model or without one.
The question of foundations (especially German left foundations sponsoring the Left – Friedrich Ebert, Rosa Luxembourg, and Heinrich Boell) operating in the region came quickly to the forefront. Coming with a genuine wish to help develop the movements on the ground, and often hiring and/or helping via projects and/or the appointment of comrades, these foundations have had a role in solidifying certain Left visions and spaces in the region. Yet many expressed that the challenges have been more significant than the advancements. The VIP events and free print publication formats mostly supported by the foundations have not helped movements develop ways to be self-sustainable in the long run. Division between salaried project staff and other members have caused frictions in many organisations (for further discussion see Vladimir Unkovski-Korica's article on this subject). The fact that benevolent comrades are sitting on the other side of the process has made our own self-monitoring and prudence much higher than it would be with other types of funding sources . This has accompanied a disappointment in these foundations by a part of the movement on the left because their interest in the region has often been seen as focused on promoting party structures rather than fostering movements. Additionally and significantly, the dynamics with these funders maintain and deepen a dependency and subordinate positionality already at work in hegemonic spaces. There is an urgent need for an egalitarian distribution of resources: one that makes justice to the historical dispossession of Eastern Europe and that does not mirror neo-colonial imposition of Western norms, even if these norms are in the realm of emancipatory politics.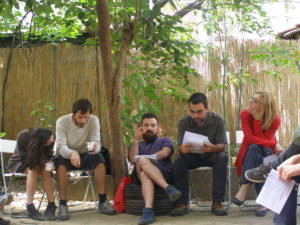 Beyond organizational models, the conversation on antagonist and protagonist outlets often revolved once more around the broader category of 'liberals' – a generic group that by then we all recognized to a larger extent to signify the members of the post-1989 'civil society'. The latter have defended certain anti-corruption, anti-discrimination, environmental and media freedom causes, while keeping strict anti-communist views, lacking analyses of class analysis and capitalism, and uncritical, or even strongly in favour of, free market economy. Their aspirational assimilationist narratives have prioritised 'Europe' (understood as Western Europe and generally the Western World) over regional alliance strategies and have seen Eastern European elites as belonging to the core of Europe, in contrast to their 'backward' populations, who delay their allegedly deserved ascent into the desired 'full integration'. The frustration shared by many was similar: whereas these groups were sympathetic to certain causes and in general sensitive to the rise of the extreme right, their framing of issues have often been counterproductive and alliances with such groups have ended in huge reversals for the left. At the same time, it was a shared reality for many that alliances of this sort at least initially appeared to make more logistical sense because of the narrow social distance between our groups and 'liberals,' who often shared middle class urban origins or adopted life-styles with us, are often in our own friendship circles, and often have media-savvy and possess institutional relations and knowledge close to the state apparatus unparalleled by other groups.
At the same time, the question of alliances with other left parties and groups outside of the New Left our participants represented, was discussed with concern. A group which was – on face value – politically more acceptable and initially seen by some as 'long-hanging fruit,' but has been gradually rejected as possible allies is that of the of small 'communist' or 'socialist' parties. These parties are usually splinters from the big alleged social democratic parties that emerged from the former nomenklatura elite. In countries where such parties were present, and political alliances or individual entry strategies had been attempted, results were suboptimal. Many of these parties have retained rhetoric and media close to the left in terms of class based demands, yet continue to be profoundly nationalist, sexist, homophobic, and even racist. Many have adopted a pro-Putin stance after the Maidan and Donbas crises, and their employment of anti-migrant and anti-free movement rhetoric has often brought them closer to the extreme right than to the new left. Beyond these parties, the question of the old social democratic parties was discussed, as comrades in different countries have been courted by or invited to join these parties or their more eclectic 'populist' splinters. There was a shared sense in the conversation that whereas in the case of the UK's Labour Party, where at present the Corbyn leadership and the Momentum movements have managed to rejuvenate a traditional social democratic party, the parties in East Central Europe are of another ilk. Beyond the slick neoliberal and pro-market economy side, there lurks a more dangerous side of organised crime and corruption in which entrysm as strategy is doomed to significant symbolic failure and danger. Yet, in order to survive, newly formed parties coming from the new left have often had to make compromises by engaging with either of these choices, or including people with little or no left rhetoric and convictions on their lists, posing significant challenges.
Tentative and tender conclusions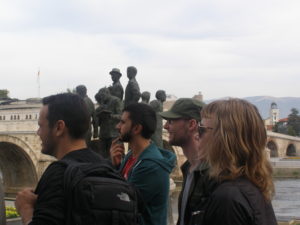 This was the first meeting LeftEast has been involved in organizing that was explicitly designed around questions of strategy. It was both exciting and challenging, leaving us with questions about how to better analyze our conditions and to articulate what we learn in useful ways. The organizing process itself is time and energy consuming, making it very difficult for organizers (mostly precarious and juggling multiple projects, and sometimes beholden to the application processes and reporting typical of funded projects) to develop methods to encourage sustained and active connections across participants and share the knowledge co-produced in context to others and for posterity. Yet at the same time, this meeting was the first of its sort in which the vocabularies and experiences of participants did not seem or sound incommensurable: we all came to the discussion circle with experiences, knowledge, burning questions about challenges we face in our day to day struggles. We were also candid to use this safe space and nurture a spirit of solidarity that would allow us to reflect on our shared predicament without mutual accusations or self-blame. The meeting reaffirmed the necessity of such live, face-to-face, international encounters that help us in our work to overcome historical, geographical, and linguistic divisions. They can help us produce analysis in motion and to imagine together ways to build sustainable alternative beyond the trenches of everyday struggle against the capitalist system with which by now we are all so painfully familiar.