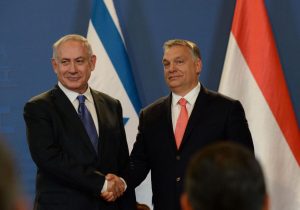 Hungarian Prime Minister Viktor Orbán's visit to Israel last week came at a moment in which the latter's slide into legally-sanctioned racism has taken on particularly stark colors. In the final meeting of its summer session, the Israeli Knesset enacted the "Nation-State Law," formally enshrining the ethnic exclusivity of the Jewish state and the degraded status of its Palestinian citizens. Though the bill passed narrowly, it has met with little public push-back. In an ironic sign of the times, another new law ruling out state-funded surrogacy for gay couples has sparked middle-class revolt and declarations of support from such institutions as tech companies and universities – all of whom have remained silent on the Nation-State Law.
Orbán must have pricked up his ears to learn from the successful passage of the Nation-State Law, which enshrines the principles of xenophobia, ethnocracy and apartheid in the Israeli constitution. The two premiers are clear about the ideological premises of their alliance: in Jerusalem, Orbán said "the two fully agreed on the major challenges regarding security and every nation's right to protect its borders," adding that "both nations live with a migration crisis and terrorism and must take steps against them." Netanyahu put a more explicit face on the enemy, emphasizing that "both of us understand that radical Islam presents a true threat."
Netanyahu's support is crucial for Orbán, who has quite accurately been depicted as deploying anti-semitism in his war on the cosmopolitan liberalism exemplified by George Soros. Netanyahu and his milieu have been generous with ideological cover, from his cretinous son's enthusiastic propagation of anti-semitic alt-right memes targeting Soros to recently revealed lobbying efforts within the Trump administration [Hebrew]. Critics of Zionism have long pointed out its disavowed commonalities with anti-semitism, but now these commonalities appear to be coming out of the closet with astonishing rapidity, as Israeli right-wingers dare to ask on Twitter (Hebrew) "who was more responsible for the destruction of Hungarian Jewry", fascist dictator and Orbán role model Miklós Horthy, or Hungarian Jewish leader and sometime collaborator Rezső Kasztner.
As Israel's integration into the Visegrád Group continues, with plans moving ahead for the group to convene in Jerusalem in the near future, it appears that an eastern branch of what some commentators – focusing on Western Europe and North America – have called the "nationalist international" is rapidly coalescing. By continuously consolidating his rule over one of the most seemingly economically prosperous and politically stable countries in the world, Netanyahu is more and more becoming an exemplar for right-populist politicians around the globe. Under these circumstances, the global left must redouble its commitments to both the freedom of the Palestinian people and the fight against anti-semitism. These two causes, just in themselves, can also serve the left as weapons as it faces off against the growing unity of the "illiberal axis" or the "nationalist international."