On behalf of LeftEast, Mary Taylor interviewed Ivor Fuka from Lupiga.com, the critical news portal founded in 2001 in Croatia as it embarks on its crowdfunding campaign. You can visit Lupiga's crowdfunding campaign here: https://www.indiegogo.com/projects/ima-nas-media#/

LeftEast: Can you tell me a little about when Lupiga first came into being? What does the name mean and who stands behind the portal?
Ivor Fuka: Lupiga was founded 16 years ago.  It is one of the oldest independent non profit websites in the region. A group of young journalists, working in different mainstream outlets, started it in Zagreb in 2001, as a place where they could write about politics, society and culture, and publish their first columns and stories that were cut out from the media organizations they and their colleagues worked for. The name came from a combination of two names: first, Arsen Lupiga, a character from the deeply beloved comic book in Balkans Alan Ford, and second, Lupilus, the name of the internet cafe where it all began. But despite the lighthearted story about the name, the idea behind it was strong. Behind our motto that stated "Lupiga – the world seen through the common eyes", was the intention to create non-pretentious and laid back, but at the same time very critical, media, free from numerous kinds of pressure, which would cover topics neglected or censored in the mainstream. The focus was on protection of and advocacy for human rights, reporting on new cultural trends, and questioning the influence of major economic and social players in Croatia, who, because of their political or/and economic influence, were protected from critical journalism.
Why a web portal: what was the contribution you wanted to make? How did you decide about this format as opposed to other online/offline media formats?
As total beginners in our profession, we didn't have any money to invest in print or broadcast of any kind, and we were all people of the pen.  At the time, a web portal seemed logical, as it would today: the easiest, most practical, and most far reaching with minimum financial input. It has proven to be an ideal format for us to upload content and to reach the growing internet audience, not just in Croatia, but also the region, where other types of media wouldn't have this kind of reach.
What was the context you were intervening in? Has it changed over time?
It was bad for media freedom and changed dramatically for the worse in the ongoing years. The crisis slashed newsrooms not only in Croatia but across the world. Forms of censorship and self-censorship become stronger and increasingly more sophisticated, especially when it comes to economic pressures, while political actors also did their best to control the media as well. Since Lupiga did not depend on political actors or ads, this aspect did not hurt us – on the contrary. We were gathering readers with the same humour and unwillingness to compromise, and many of our colleagues needed an outlet do to the same. As our authors grew up and professionalized, our network of associates grew simultaneously, many of them contributing under pseudonyms. In the end some of our
Part of the Lupiga team at a press conference.founders left their jobs in the mainstream, deciding that Lupiga was the media they want to write for. So we applied for the Ministry of Culture's small pilot project for public funding of non-profit media and managed to stay afloat for two and a half years. Politics shifted,  and we were literally the first ones to be cut off from the public budget.
Can you tell us about the content Lupiga has covered and analysis it offers? How do you make choice about content? Do you have a strict political editorial policy? What are contributions you think have been most successful?
Some of Lupigas' stories that received great attention from the public dug up the finances of the Catholic church, scandalous takeovers of public companies, and industry brought to its knees. We also had an in depth series about the takeovers and sometimes even demolition of resorts once built and owned by the workers in companies that used to be in public ownership. We also had excellent stories on attempts to commercialize public health. At the same time we are very critical of the rise of the historical revisionism that is getting stronger in Croatia and is trying to diminish antifascist values. We live in a country where more than 3.000 antifascist monuments were turned to rubble in the last 25 years, with the explosives and blessings of our authorities. The ones still standing are being vandalised every now and then.
We made it our task, and we also see it as our professional duty, to hold accountable those who are the holders of political and economic power, who are untouchable in todays' society due to the fact that at the same time they are the biggest advertisers, and thus mainstream media will not question them. We also cover grassroots movements that aim to emancipate our citizens and democratize our society.
Lupiga's editorial policy, in general, is detecting all kinds of social anomalies and promoting resistance to all forms of hate and intolerance, protecting the public good and human, labour,  social and minority rights, no matter one's national, religious or gender determination.  At the moment, all of these are seriously threatened in Croatia.
The main characteristic of Lupigas' editorial policy is open approach to our authors and the content that promotes affirmative social values with the accent on human rights protection and high professional standards. Every member of the editorial staff has an equal voice in decision making, while the editor in chief overrules only in exceptional cases.
Who is your readership? Do you have ways to survey them and get feedback?
Before we started the crowdfunding campaign we had some general data from Google Analytics and social networks. Now, we actually realise that our audience is much wider than we thought: we are proud to have a lot of small donors who do not have much money and whose donations account for 60 to 70 percent of the amount, but we realized also that there are scientists, academics, doctors, writers, and artists reading and supporting us. The important fact is also that, even though we are stationed in Croatia, our readers come from all parts of the ex Yugoslavia.
We shouldn't forget that our "respectful" readers also include members of the Right Wing movement, who pour their self-righteousness and hatred comments on Lupigas' articles. Recently they managed to temporarily shut down our Facebook page by reporting our content that warned about the rise of neo fascism as having fascist content. They succeeded due to the fact that Facebook algorithms react automatically, without any additional content checking.
Can you tell us about how you have organized yourself over time? How does your editorial team work? How have you been able to sustain yourselves financially and in terms of human labor?
We were volunteering for the first 12 years, together with our friends in publishing and art who enjoyed writing articles for Lupiga. Then came the end of the year 2013, and we had a chance to apply for public funding, so we did and we were among the highest rated non-profit websites.  During this short time of public funding, we managed to support between one and three journalists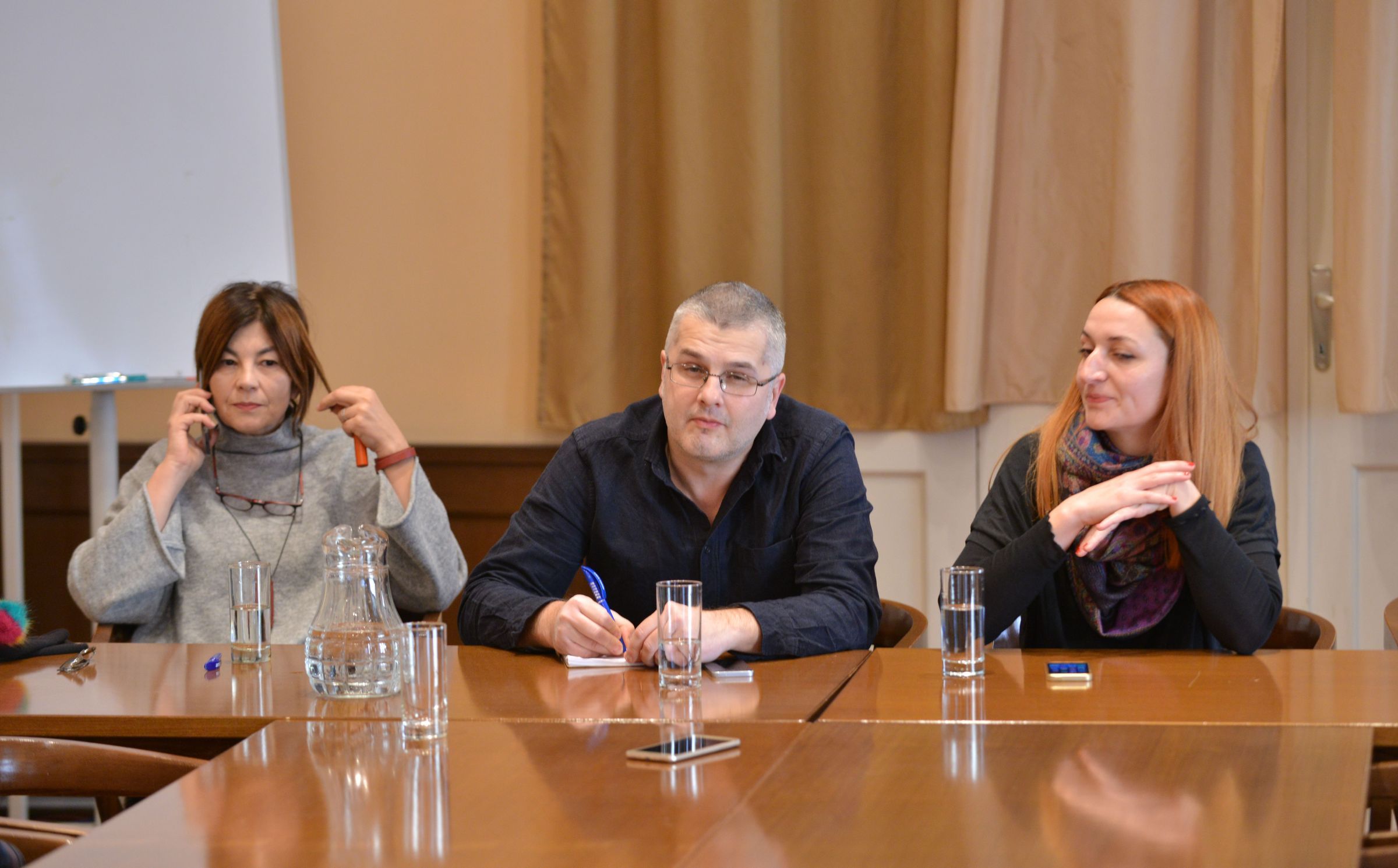 who were paid around 60 per cent of the median wage in Croatia. Of course we knew this amount is on the brink of a living wage, so we've let our journalists write freely for other media outlets to further support themselves. Lupiga also used a part of its funding to pay for articles from professionals who lost their jobs and have to work precariously for several different media.
A rather small amount of money helped us to professionalize and lift to a higher level, together with other independent, non-profit, community media, continuing our work with equally critical reporting but more investigative and in depth. During that period, Croatia ranked 58th on the freedom of press Reporter Without Borders list. In the end of 2015, a new, conservative government came into power and Croatia's rating began to sink. Croatia is now listed on 74th place on the list. Ever since this new, conservative government came they systematically work to narrow the space of work for nonprofit media and left spectrum nonprofit organisations in general. Quite literally, the first programme the new Minister of Culture shut down was that which gives small grants to non-profit media, followed by deliberate blocking of EU funding for community media.
At the same time commercial media are funded abundantly with public money. This is done in many ways, from advertising for public companies, decreasing taxes for print media and also the enabling of grants for them to participate in.  In that atmosphere most of the commercial media lost their ability to critically inform about relevant topics, so the state is obligated to step in and finance or co-finance media which would take over that role; those who are capable to report on whole set of subjects that are of public interest including equality, tolerance, social justice, environmental protection and so on.
We can say that, at the moment, across the whole media scene, not only in Croatia but in the region of ex Yugoslavia, Lupiga is now well known as one of the few independent media.
Even with public funds it was hard, but now it's even harder.
You are embarking on a crowd funding campaign. Is receiving state funding an option and where does Lupiga stand regarding the issue of state and private funding?
Crowdfunding is our only option now and it is very exciting for us to see that we've managed to motivate our readers to cover half of our yearly expenses (based on the period that the Ministry of Culture gave us grants) in only 10 days. But this can hardly be a solution. We used the public funds we received  exclusively for paying labour and taxes; for reporting honestly and with a goal of democratizing our society. We did not let it corrupt our reporting and this is something our readers recognize. Maybe it is unrealistic to ask for the state to support media who would "bite the hand that feeds it" with professional reporting, but we sincerely believe that quality journalism can not be extradited to mercy and volatility of the "free market". This is especially because we are fully aware of the struggle our colleagues in the mainstream have to put up with to seduce larger audiences in order to become sexy to advertisers, and especially when we know what advertisers ask in return – to keep their mouths shut. On top of that, we are also vulnerable to global shifts happening in the past decades – large Silicon Valley corporations are killing even the mainstream media by taking a large part of their advertisements, channelling them to their platforms. They are constantly profiting from the media content while not giving anything back. On the contrary: they are racketeering the media, making them pay to boost their reach. This is something we've experienced first hand and this logic of "the one who pays gets to have a voice" is a huge setback, not only for the media in general or specifically media of the margin, but for democracy also. And we don't know how to cope with that yet.
What else would you want people to know about the portal?
We are very proud to reach our crowdfunding goal of (USD) $19.999.00 in only ten days, and not only that – we feel more courageous and optimistic not only about the future of Lupiga, but also about our readership and society. Nonetheless, this objectively modest amount of money is enough only to provide one promised piece of quality journalism every day. So, we have decided to put a new goal in front of us. Lupiga would not exist if there weren't people who were willing to cntibute to us in the best of times and the worst of times. We will use the following three weeks trying to collect (USD) $9.999.00 more for our contributors outside Lupiga, dispersed all around the country and the Balkans. We are not speaking only about the authors that grew together with Lupiga all these years, but also activists and professionals with excellent knowledge of topics we, as well as our readership, find important.
Our goal is to keep Lupiga independent, resistant to pressure from those who think that silence can be bought. We also want to show that quality journalism does have supporters and that you don't need to feed people with bigotry and trivial content to make them your readers. We also want to thank all of our donors, no matter how much they gave for our future existence, those who contributed with their work to our campaign, artists giving their music to us, even those who didn't have any money to give us, but helped to spread our message.
Ivor Fuka is the editor of non-profit regional website Lupiga based in Zagreb from 2001, basically  since day one of his career in 2001. He worked for a number of media outlets in Croatia; starting on student radio (Radio Student) and daily newspaper Novi list, but also as a contributor and journalist in daily papers Poslovni dnevnik, Vjesnik and weekly newspapers Novosti. He focuses on domestic politics, media, comments, culture, society, human rights, region, arts, environment etc.