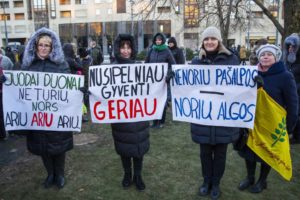 Note from LeftEast editors: We repost this article from NewsMavens.com, where it originally appeared in English on December 4th. The teachers' strike in Vilnius is unprecedented in its length and solidarity from various other movements. Since a group of teachers occupied a hall in the Ministry of Education and Science to camp there until their demands are met, the Minister of Education and Science has been dismissed, and the president has tabled amendments to the controversial legislation.
On November 28, protesting teachers occupied the building of the Ministry of Education and Science and are planning to camp there as long as it takes to have their demands met. They have asked for a review of a recent pay reform and the resignation of the minister of education.
The unions want teachers' contracts to be equivalent to full-time employment (FTE), meaning 18 hours of teaching and 18 hours of administrative work.
They also call for smaller pupil-per-teacher ratio and a clear system of salary progression. According to the ministry, implementing these demands would cost the state around 300 million euros. An average teacher earns 934 euros per month. An average city teacher is employed at 0.8 FTE, and a village teacher gets 0.7 FTE.
Education reforms in Lithuania have been going on for decades due to rapid urbanization and population decline. Between 2014 and 2016, 49 schools closed around the country, and pupils from rural areas are bused to larger schools. As the number of state schools declines, private schools are filling the niche, charging up to 1,500 euros a month per pupil. According to the editor of a school ranking magazine, teachers in state schools complain of working in "factory-like" conditions.
In an attempt to recognize the burden of non-teaching hours, the ministry is trying to come up with a new way to calculate salaries and subsidize young hires, who tend to be employed part-time.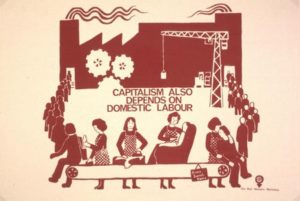 However, the protesting teachers claim that they have not been consulted over the changes, and experienced professionals fear that with the equalizing measures they will lose their jobs in favor of younger candidates.
In this context, the Lithuanian social justice movement Gyvenimas per brangus (Life is too expensive/precious) has published an anonymous op-ed analyzing the broader context of this social debate.
Details from the story:
After a three-week teachers' strike, the government once again repeated the phrase that the state does not have funds to raise their salaries. The same has been said to doctors, university staff and social care workers.
According to the unnamed author, the state undervalues public sector work, compared to investment into areas that are considered to drive economic growth.
The average gross wage in Lithuania is 895 euros (885 in the public sector).
The average salary in education is 765 euros before taxes, dwarfed by 1,710 in finance and insurance — the highest-paying sector.
Lithuania's gender pay gap is 38% in finance and under 3% in education.
Women are disproportionately concentrated in sectors that do not create profit. Teachers are frequently told to stop fretting about money and to work hard for the sake of principle — educating the next generation. This is exactly how added value is extracted from women's domestic labor — it is portrayed as a vocation, a mission rather than a transaction.
The feminized labor force in sectors like education and care is torn between the pressure to be idealistic and committed on the one hand and the pressure to efficiently deliver in today's neoliberal economy — like industrial workers.
Optimization in the sector has led to increasing the pupil-per-teacher ratio, top-down control of study programs, closing down of rural schools, as well as various metrics and rankings teachers must cater to.
Daiva Repeckaite is a Lithuanian journalist currently based in Malta.