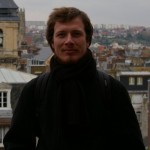 de Vlad Bolocan
Pretty much so, yet in a robinhoodish way. It appears spontaneously, shocks and disappears. When, in 1969, Noroc sells 2,5 million copies of a four-tracks single, everyone starts searching for Moldova on the map – the guys in Siberia and the ones in Berlin. De ce plîng chitarele (Why are the Guitars Crying) reaches the 6th place in a Western German chart; Gondolan Brothers (Czechoslovakia) do a cover version of Noroc' Cîntă un artist (An Artist is Singing) and in less than a year the band is eliminated by the Soviet Moldova' Ministry of Culture.
When one looks at it from far away, often enough, Moldova seems a land of the well played rock'n'roll, with a fair orchestration, a fantastic performing and sometimes having even someavant-garde trends to it. As you get closer, you will notice that there never really were a continuity of rock clubs or communities in Chisinau (the capital city) and all the great bands were all of them – exceptions. No matter how many of them there was and how high their fame.
When Republic of Moldova was annexed to the USSR, the only admitted music, was the one serving the system and some naïve songs about the flourishing Chisinau. The most exotic elements of these was the imminent resemblance with the music in Romania (which Moldova was a part of between the two wars, sharing the same language, culture and history). Otherwise – nothing special. It will take some years for the wounds to heal, for Mihail Dolgan to return from the army and for a new generation of musically educated teenagers to emerge in order for things to change.
 Who is Mihail Dolgan and why should Moldovans be proud of him?
First of all because he has at least four evergreens. Not many Moldovans have done that.
Mihail Dolgan was born in 1942, in Moldova. In 1949 he was deported, with his family, to Siberia, in 1958 he came back and started studying music and playing with local traditional folk bands. When in the army, in Kiev, he served as a musician and it is there that he fell in love with jazz music. Coming back from the army, he had the manager of the Penza Philharmonics (Russia) inviting him to establish a band there, only Fedco (the manager of the Chisinau Philharmonics) manages to change his mind, promising the same opportunities in his own town. The name of the band, meaning luck, but also hello! or  cheers! is chosen by Fedco. The first experience of the band is not only bad, but disastrous. When the band plays rock'n'roll in front of a censoring board formed of Communist Party members, the verdict is obviously clear – forbidden! Thanks to Fedco and two other workers of the Philharmonics – Crimerman (the author of the De ce plîng chitarelelyrics, who escaped later-on from the USSR and became a correspondent for Radio Free Europe) and (one can never tell) Tchaikovsky, the band is given a "second chance".
In march 1966, the band has her début night, in front of a crowded hall, filled with the Chisinau intellectual elite, a night of magic and a tiny spiritual revolution. What comes next? New members, tours all around the USSR and hand-made stage equipment – from speakers to guitar effects. In two years, the band reaches its highest point, becoming the rock'n'roll band of the Eastern hemisphere. All the concerts are sold-outs, people burn candles and newspapers during the open-air gigs, the trees around the open-air concert courts rest with broken branches, as people are climbing on them. In 1970, the band goes at Bratislavska Lira (Bratislava, Czechoslovakia) to represent Melodia (the USSR monopoly records label) having sold 2,5 million copies of their single, recorded with Melodia, earlier that year. The band was not really welcomed – only one year had passed since Jan Palach set himself on fire in Prague, protesting against the soviet tanks intrusion. Things change for Noroc as they start singing. Everyone can tell it's not a Slavic language they sing in and, with a little bit of background provided, it is clear that Noroc is not a band of commies, in fact quite the opposite. The representatives of the Triumph label (UK) are so impressed by the boys' performance during the sound-check sessions, that they offer them Triumph stage equipment to use it during the festival. It happens here, one evening, that one of the members reads a western German music magazine and finds the song De ce pling chitarele on the 6th place in a chart – breaking news to all members. Another tune of Noroc – De ce, de ce (Tell me why?) receives a Public Sympathy prize, at the festival. When Noroc returns home, planning a tour around Latin America and also having in mind not to return from that tour, it is eliminated by the Ministry of Culture, as a result of the complaints of the homologue ministries from other soviet republics – the band has a negative effect on the young generation.
The next moment, a manager in Tambov (Russia) gives ground to the band. A year later, the Moldovan Ministry of Culture learns about it and turns mad, sending a note to the Russian one –why would you re-establish a band that we eliminated on your request, in the first place?!, so the band is eliminated a second time. Only in 1974, the band's leader Mihail Dolgan, after long and humiliating negotiations, is allowed to bring the band back to life, under the condition it bears another name – Contemporanul (The Contemporary Mate). After another 12 years, the band is allowed to return to its initial name, though it's too late and many things have changed meanwhile. The biggest regret, when talking of Noroc, is the lack of quality concert repertoire records. The only records we have of them are of songs approved by the establishment, which are quite fair, but are far from illustrating what they meant. Noroc is also important for the educational role it played for the Moldovan musicians and for the standards it set for anyone to come.
Chisinau is a small town
When you have a band as big as Noroc, it is simply impossible to avoid it. From among the many music projects born in Chisinau, we will mention two that were connected in a way to Noroc.
Plai (Land/Homeland rom.) stands for a pop-rock, funk and soul band, in the beginning of the 1980s, fairly associated with its front-man – Stefan Petrache, probably the best male voice Moldovans have had among the pop and rock singers, who gained celebrity as a member of Noroc. Plai (or Play, as sometimes its members would spell it for fun) managed to put into one an amount of remarkable composers and instrumentalists. If there could be something to reproach with the band it is the bathos within the lyrics. Nevertheless, if taking into account the censorship responsible for pushing many artists to work within a set of given standards and looking at the Plai's music, one could see a high level of performance, a special attention given to each detail, a tendency to develop a more complex music, not just simple tunes.
The first greatest change of generations was brought by Valeriu Gaina – a young fellow from a little town, South-East of Chisinau, who was also a member of Noroc. Once he reaches Moscow, things change enormously for him. In 1980, joined by two other Moldovans, Gaina creates one of the first heavy metal bands in USSR – Kruiz (Cruise). First, it is part of a bigger band – Molodye Golosa (Young Voices). The first album is launched the same year and gives three hits. In 1984, after issuing four albums and passing through many changes, the band is eliminated by the Ministry of Culture. One year later, Gaina brings back the two initial members (Coroliuc and Chirnitchi) and composes a new album – 
KiKoGaVVA
 – an acronym of their names. Still, they are forbidden from using their name and a special permission is given after the band composes a couple of pacifist songs the establishment enjoys. Within the entire period, since 1980 until the late 1980s, Kruiz held a huge number of concerts and tours. In 1989, the German producer Lothar Meid, on a recommendation from Olaf Schröter (Scorpions' producer), offers Kruiz to record an album in Munich. The album contains 
thrash
metal
 and 
speed metal 
tunes. Very soon, the band starts working for a following album – 
Culture Shock
.
In 1990, Gaina closes Kruiz and starts a new project – Gain, meant for the English speaking audience. In a short while, Gaina moves to Los Angeles, where he lives to this day. During the 1990s and 2000s, the band often came together and held concerts in the USA and Russia, making efforts, every time, to bring as many of the original members, as possible.
Besides the impressive 12 million figure (number of Kruiz-1 sold albums), there are many funny stories to have accompanied the band. Here is two of them. First is when graduating high-school students from all around the USSR, at their final literature exams, where reciting a poem, the same poem, Don't Allow Your Spirit to Grow Lazy, made famous by Gaina, by having it as the lyrics for one of his songs and belonging to the Russian poet Nikolay Zabolotsky (a victim of the Stalin regime, who miraculously survived the detention and tortures he was exposed to). Second was when a newly entered member of the band, drummer Sergey Efrimov, was often annoyed by the fact that the other three members were speaking Romanian among them (their mother tongue) and not Russian (Efrimov' mother tongue and the official language in the USSR), this happening in Moscow. "One could say I was playing in a foreign band, not a Soviet one…", Efrimov was saying.
In spite of the strong mark, left by Noroc, we have to mention at least a few of other valorous names.
Guitar player Ruslan Taranu formed a progressive jazz-rock band named Timpul (Time) in 1981. In 1982, he brought, from a festival in Dnepropetrovsk (Ukraine), an originality for composition prize. No warm welcoming home, though. Nobody, in Chisinau, had the slightest idea aboutfusion. The band went apart eventually. Taranu followed his experiments and became famous one more time in Tartu (Estonia), on a festival. In 1989 he left Chisinau for Paris, doing soundtracks and making a living as a back-singer there. He came back in the 2000s, establishing a record label and trying to identify and promote young projects.
In the same 1980s, a band named Stupeni (Steps) was born in Chisinau, with a load of violin and no keyboards – an outrageous event for the Chisinau music world. The band moved to Sankt-Petersburg (Russia) and changed the name to Provinciya (Province) winning the Young Hope Prize in 1986, at the rock festival there. It is this band that served as a base for the later Vlad Capsa' Modest – an inspired project, one of the few Soviet projects to reach, in 1989, the West Berlin Rock Festival.
The 1990s started rather promising, for the Moldovan rock. The first club rock band appears – Cuibul (The Nest), a project by Igor Dinga, who, in a while, built a rock club with the same name, in the underground of a small theatre hall Luceafarul. The band was active for about 10 years and issued 6 albums and 5 videos. It rapidly grew famous in Russia and Ukraine and started to play the role of a local school of thoughts for young musicians, who are now spread around Romania. It was also Dinga who founded another successful project – Zdob&Zdub. Z&Z is a band with an excellent charisma, a fantastic show – maybe even the best of all the Moldovan rock bands. The only bad thing about them is that the tunes they are known for are mostly covers, still, with a strong own added value. On the other hand they bring out gigs which are always a guaranteed success and they are among the few Moldovan bands, who really care about their videos.
"Gheorghe Asachi" High-School vs. rock'n'roll
The band making any Beatles-wise educated Moldovan proud is The Flying Postmen – a band made by Andrei Nicula and Emil Bojescu (high school mates at the "Gheorghe Asachi" High-School, in Chisinau). Not many people know that it started in the late 1980s, in Andrei's parents apartment, where Nicula was joined by Radu Captari (a member of the later Raketobil' and nowadays – a musician playing Russian traditional music and making music for theatre shows, in Bucharest, Romania) and Mircea Sturza (nowadays – the FurioSnails' drummer), all three of them high-school mates at "Gh. Asachi". The one responsible for sabotaging the band was Sturza, who decided, out of fairness, to report, by his own will, to the Soviet Army recruiting commission and to ask for a postponing of the compulsory army service. Almost instantly he was recruited and, thus, the band was a drummer short. The band was not de-moralized, though and regrouped. The Nicula-Bojescu collaboration was an exceptional thing. The story is not only about two young men who are talented, inspired and hard-working, it is also a story of two mates who clicked and functioned just like Lennon/McCartney did. Needless to say that The Beatles were an icon to them and every bit of information they could obtain about the Liverpool band was gold. There is no man listening to their Hello tune and not sigh over it for several days, afterwards. In the first place, the band would sing in Romanian, on the sydbarret-wise lyrics written by Bojescu and switched to English when planning to participate at a festival, out of Moldova. While in Chisinau, the band issued one album and one video, before Nicula obtained a scholarship at Paul McCartneys' Liverpool Institute for Performing Arts, in the late 1990s. It was a hit for Chisinau and for him personally – a left-handed fellow, just like McCartney. As a true Moldovan would do, Nicula too, made all the efforts to bring the entire band to Liverpool – first Emil Bojescu and then Mircea Sturza and Gabi Andronic too. Being there, they have participated at the Beatles Convention festival (and even won a prize) and obtained a half a year deal to play in The Cavern. First they played for Guinness and then for money too. In a while, they changed the name to The Black Olives, as the old one was a good title for Moldova, but not for an English-speaking country, the guys figured. About five years later, two of the members (Sturza and Andronic) returned to Moldova, while Nicula and Bojescu recruited two other guys and went on, playing and issuing albums and singles to this day. Only very rarely, it would slip from Nicula short stories about him meeting McCartney several times or Rod Stewart and other fellows for that sake. Otherwise he works for an important chain of instruments and music equipment shops, in London and manages his own recording studio.
FurioSnails – a band inheriting not only two of the FP members, but also their rehearsal room, at the same high-school is still a somewhat unclear mystery for Chisinau. In a city where everything is pretty clear about how you are supposed to make it (either under a strong Russian culture influence or taking advantage of and getting inspired by the Moldovan traditional music), FurioSnails (initially a Beatles, Mamas and Papas, Simon and Garfunkel and many others' covers band) brought a convincing alternative rock sound. First, they switch to Romanian and bring out two albums and then a third one in English, recorded in Sweden. Their biggest disadvantage is the country they live in. In their home town, their audience can reach one thousand, which is a lot for a concert, but very little for more than ten years of inspired work. Perfectionism and hard-work are the words standing for them and our hope is that the best tunes from them are still to come.
In the same 1990s and also from among the G.A. High-School graduates Gindul Matei (Cats' Idea) emerges – the best Romanian language rock band of the period. The solo voice, Nicu Tarna, a student with the Academy of Arts (acting class) brought something really new to Moldova – the archetype of the rock star. Be it the acting talent or something else, it is a fact that he impressed everyone and rapidly build an image, with an insignificant help from the media. It is a pity that the band doesn't have a bigger number of albums and we hope for more in the future. One way or another, songs like La Ciocana, În jurul nostru, Fata mea and a few others are to remain there, for a long time, as Romanian language rock standards.
It would be at least unfair to speak about the 1990s and not to mention Accident (or Axident) – a word filling the school walls within the beginning of the mentioned decade. If one thinks that rock'n'roll, in Chisinau, is only alternative or funk, we have to say that in the very same place, a strong hard-rock community makes itself visible from time to time. It might be risky to assert that Accident is the exponent of this community, but we shall not hesitate to support it, should anyone else declare them so.
The project started in the late 1980s, under the supervision of Victor Panfilov, a science teacher at G.A. High-School, accompanied by Lucian Vlas. Only in a couple of years, the band becomes a more clear project and gains a name. The first record comes out – Mortul Vesel (The Happy Dead-man) and the band goes to Bucharest, to climb the same stage with famous Romanian bands, such as Iris, Krypton and Metrock. A year later, Octav Casian (the lyrics writer of the band) becomes Accident's front man. Until 2006, Accident gathers 7 albums, the last one – Psychosport – launched in Bucharest. The ex-manager of the band is established in Bucharest for many years now, having a record studio, the very one, where Gindul Mitei recorded their first album.
It would be nice to mention the gothic/doom metal band Inferialis. It had a short existence (1996-1998), but grew rapidly on the local metal rock stage. They recorded only two pieces but, instead, gave the world the pop music project O-Zone through two of its main members – Dan Balan and Petru Jelihovski.
If all the above mentioned bands brought it all into the ninety's, there is a band which appeared in about the same period with FurioSnails and Gindul Mitei, but brought a completely different approach. Marcel Bostan, a punk, as many of his high-school teachers would call him, should they only speak English, established the band in 1998. Nothing special in the beginning. Even later – only sporadic appearances and a limited audience. The video for Wamintirile, the song itself and Bostan's rebel image changed it all. In only a few weeks, the track turns into a hit in both Republic of Moldova and Romania and the band's popularity grows rapidly, altogether with their album. In a while, the band brings a second album with more hits and it figures Alternosfera is a lot more than Wamintirile. Thousands of teenagers all around Romania fall for them, spreading the message. The fatalist lyrics, the message a teenager is keen to hear, the Russian alternative rock sounds set on Romanian lyrics are only a few of the ingredients making their music appealing, especially far from their home-town, that is Bucharest and other Romanian cities. In a time when almost all the Romanian rock bands write their lyrics in English, Alternosfera keeps singing in Romanian. At one of their concerts, in 2012, they gathered about one and a half thousand youngsters, in Bucharest – a record for any rock band nowadays and probably the only rock band to do so this year. The audience sang more than half of the time with the band, line by line. The thing to mention about Alternosfera is that they wouldn't accept any compromise, when it comes to concerts. In almost all the tours they have, their full stage equipment (sometime the stage itself) is with them, unlike other bands, who negotiate to have a rider at the places they perform. All these efforts have a direct impact on their show and puts distance in between them and other Moldovan bands.
There are so many bands and projects we would love to bring to your attention, even though some of them are not exactly rock. Raketobil', presently established in Moscow; O'Chad, a classic rock band, whose mentor, Iury Berdea is presently the Gindul Mitei drummer (and his son – the Alternosfera drummer); When Comes Pain, a band coming from a small town, North of Chisinau, that appeared and quickly disappeared; Corbus Albus, with an exceptional female vocal; Millenium, a pop-rock project with an outstanding discipline, performance level and continuity – in spite of everything; HeadSwitch, a vigorous band combining hard-rock with electro, progressive and industrial sounds; Rubycone, another break from the alternative rock, for some progressive rock; Infected Rain –  and many others. Otherwise, it is always a pleasure to notice how Moldovans are infiltrated in Romanian bands like Travka (Alexei Turcan, Misha Galca), Nociv (Dan Leahu) or a most inspired Russian band named 7B, founded by Ivan Demyan – who comes from the same Anenii-Noi town as Valeriu Gaina (Kruiz).