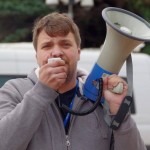 Ivan Ovsiannikov is a member of the St. Petersburg Interregional Union: "Workers Association"
"As far as anti-workers laws are concerned, the main one is the de facto ban on striking in labor law. In practice, it is impossible to conduct strikes because of the bureaucratic procedure involved. Or rather, to strike, one must work outside of the law, risking firing and discrimination, all in the context of a corrupt legal system. There are such strikes, but they are usually very spontaneous and don't enter into official statistics."
LeftEast: May Day was once a symbolic day of struggle for the labour movement and then an official state holiday. How is it commemorated in your country?
Ivan Ovsiannikov: In Russia May 1st is still an official holiday, but its meaning has been completely emptied out, which can be seen by its name: "The Day of Spring and Labor." The old bureaucratized unions, United Russia (the ruling party), or employers themselves organize official marches, which workers are forced to join. It is no accident that the majority of working people see in May 1st as just another holiday, during which one can go out in nature and have barbeque. We attempt to break this tradition and restore the original meaning of May 1st. This year in Saint Petersburg we are organizing the anti-crisis march, whose main demand is the struggle with unemployment.
LeftEast: The post-1989 transformation led to changes in the role of the unions in society. Could you tell us a bit about what it was like before and what it is like now? In particular, how would you say that these dynamics have impacted on the left in Russia, considering that traditionally Trade Unions have acted as the backbone of left mass movements?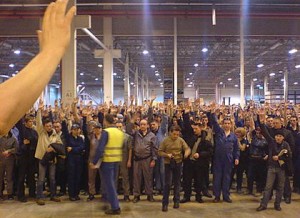 I.O.: In the USSR, labor unions were state structures whose main task was to distribute benefits such as summer vacations, rest homes, presents for March 8th, and so on. After the Soviet Union fell apart, the heir of the Soviet trade unions—the Federation of Independent Trade Unions (FNPR)—integrated itself into the new system even though its material resources had shrunk. Today these traditional, bureaucratized unions as a rule serve the employers and the state, mobilizing people for pro-government rallies, participating in the persecution of the genuinely independent trade unions. The official ideology of FNPR is "social partnership," which in practice means plain old opportunism. With a few exceptions, these are "yellow unions" whose members are automatically signed up upon taking up the job. Hence, FNPR's impressive numbers. As far as the new labor movement is concerned, it emerged in the perestroika era and survived difficult times in the 1990s, when the working class found itself under privatization and de-industrialization. There has been some positive development in the last decade, when practically from zero there emerged union structures in the plants of traditional global corporations such as Ford, Volkswagen and so on. Alternative unions of medical workers and teachers also appeared.
Today this is a hyperactive minority, which commands an increasing attention. We shouldn't minimize the difficulties it faces, though, since the culture of labor struggle has been practically lost by the Russian working class. The weakness of the labor movement, of course, holds back the growth of the left. Nevertheless, we see that in the last decade, the genuinely independent unions have made a turn to the left.
LE: Many commentators feel that globalisation has had an important effect on worker organisation (race to the bottom and threat of outsourcing, the rise of services, precarity, anti-labour legislation, etc). What are some challenges you have noticed and how have unions responded to these?
I.O.: I wouldn't say that we have ready answers, but these tendencies are actively discussed. In a number of factories, MPRA (the Interregional Union "Workers Association"—the union for which I work) achieved restrictions on short-term employment. In Kaluga, our colleagues are currently struggling against such contracts, in particular, in the Peugeot plant. Among the membership of MPRA there is also a division devoted to IT workers, which tries to unite another section of the precariat. We have also attempted to engage migrant workers although I wouldn't say that the attempt has been particularly successful. A year ago we restructured MPRA, giving up on workplace locals in favor of regional branches that accept members regardless of their particular profession. This opens the labor movement to those who are typically not included in it, especially outsourced workers. In the Russian context, such a restructuring has been a novelty. As far as anti-workers laws are concerned, the main one is the de facto ban on striking in labor law. In practice, it is impossible to conduct strikes because of the bureaucratic procedure involved. Or rather, to strike, one must work outside of the law, risking firing and discrimination, all in the context of a corrupt legal system. There are such strikes, but they are usually very spontaneous and don't enter into official statistics.
LE: Eastern Europeans are both sending and receiving countries for migrant labor. What campaigns have been made in Russia on migrant work either in reference to workers in diaspora, or to new migrant workers?
I.O.: I can say much about the abysmal state of labor migrants, who in Russia come primarily from the former Soviet Central Asia republics. If briefly, a gigantic corruption business is built on their lack of rights. The word "slavery" won't be too much of an exaggeration if we are to describe work conditions at many places. In Russia, there are strong racist prejudices, which mainstream media and the government periodically fuel. There are a number of factors making the labor movement's engagement with migrant workers very difficult. Attempts of such engagements are made—in our union as well,—but I wouldn't say that they have been particularly systematic.