Anita Tolić is a member of the Initiative for Democratic Socialism and Institute for Labour Studies in Slovenia.

"In the relative absence of an organized, progressive feminist struggle, the economic and social circumstances, which generate re-traditionalisation, re-patriarchalisation and re-domestification of women, threaten to cause even further regression of the historical achievements for which women (and men) have struggled."
What does the 8th of March mean in Slovenia? How is it celebrated today, and how do you think its meaning/celebration has changed in recent years, and especially in comparison to YU-times?
The 8th of March was of significant importance in Yugoslavia, as it was a holiday rooted in the socialist movement. Yugoslav women fought during the war alongside partisans and workers and gained their first significant rights only under the new common country, the Socialist Federative Republic of Yugoslavia: the right of women to vote was legalized in 1945, at the end of the national liberation war, with the socialist transformation of society. Feminism, we could argue, was a state policy, which was translated directly into social life via new legislature and economic directions, enabling as a result a higher inclusion of women into political, economic and social life. A well-deserved importance was given to the holiday, political celebrations were organized and women were given carnations as a symbol of their fight, which was never considered separate from the workers' movement.
Today, the 8th of March is basically interchangeable with any other "women's holiday", celebrated as just another day when men give women flowers, chocolates or other items, which they also give them on Valentine's or Mother's day. The holiday has been robbed of its political and historical importance and turned into its cynical commercialized opposite.
Can you comment on the current social situation of women in your Slovenia? In particular are you able to judge whether there has been progress or decline in the post-socialist years compared to before?
It was women's struggle and the great progressive legislative changes that occurred during socialism, which directly and positively influenced the lives of many women who had hitherto been dependent on family structures. Private chores divided by gender such as caretaking, housework, children rearing, were socialized through public institutions (kindergartens, public kitchens, homes for elderly care), women were encouraged to actively participate in social and political life and gained general access to education; progressive measures covering women's reproductive health were also introduced – the right to abortion was even passed as a constitutional right in 1974 – and this enabled them to enter society on a more equal footing and gain economic independence. Women's independence became an imperative just like any other.
However, this does not mean women managed to reach a state of absolute independence and equality. There were still weighty residues of patriarchal thinking during the period of socialism, and the level of women's rights put into practice differed significantly from one republic to the next. Since the break up of Yugoslavia, the restoration of capitalism threatens to rollback all the achievements, which had been fought for earlier. Indeed, when the recent economic crisis hit, Slovenia suffered severe cutbacks in public spending, unemployment rose to almost record levels, and the first and most numerous victims of the austerity state were women. The number of available jobs plummeted; employing new women is considered "too costly" (since they are entitled to paid maternity leave and other child-related benefits), so women are more likely than men to be pushed into precarious forms of employment; public services such as kindergartens have become too expensive or too scarce, which almost directly results in women taking up housekeeping, taking care for the children and the elderly (families cannot afford to pay for the homes for the elderly anymore), basically resigning to housework once again as the only 'obvious' choice.
In the relative absence of an organized, progressive feminist struggle, these economic and social circumstances, which generate re-traditionalisation, re-patriarchalisation and re-domestification of women, threaten to cause even further regression of the historical achievements for which women (and men) have struggled.
Can you think of an inspiring woman from your context?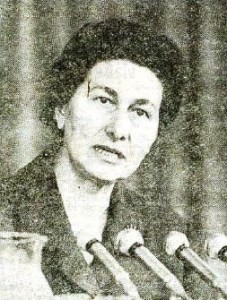 Vida Tomšič. She was one of the most influential politicians in Yugoslavia, who joined the communist movement already in 1934, well before the revolution and national liberation movements took place. She was one of the loudest voices in the AFŽ ("Anti-fascist Women's Front"); during the socialist period she occupied a number of important political, educational and social positions. She was an avid communist and feminist, responsible for major improvements in the spheres of women's economic situation and reproductive rights and continually encouraged further politicization and inclusion of women as active and equal members of society. Nowadays, however, it is almost impossible to learn anything about her in the official curricula or come across any reference to her in official contemporary history books.
Could you give an example of a song which you consider to be inspirational for the women's struggle?
Mimi Mercedez, is a very recent artist, a very controversial one, indeed, from Belgrade's poor, deindustrialized ghetto suburbs. A rapper in her early twenties, she has established herself in a predominantly male sphere, singing about basically the same themes as her male fellows: money, drugs, 'devious' ways of making money, street life, she attracts a lot of ferocious negative criticism. While male rappers are being touted for their ingeniousness, their objectification of women, utter coolness and alpha maleness, she, on the other hand, draws massive moral indignation in a traditionally very patriarchal country. She is often called a "slut/cunt", accused of having a "sick, twisted mind" and the target of a host of other negative epithets. But on the other hand, has also gained quite a lot of positive, welcoming recognition among her peers (male and female), who have taken to calling her "Mimi mama".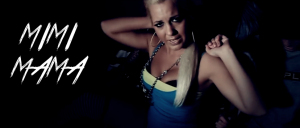 Although at first her lyrics may seem to comprise of the traditional male tough-life-clichés of the rapper's vocabulary, there is at least a hint of subversiveness in her songs. A verse in one of her songs, titled "MMM" ("Mimi making money") is very telling: "Everybody wonders whether our nation is decaying because of the likes of me; or is it the decaying nation which creates the likes of me". Scantily clad, she sings about having earned her money, "the new god", in just one of the ways, available to "her kind": through working in the nightclubs (she has "money maker" tattooed on the back of her thighs), but has earned it nevertheless and now she can live the life her society praises and strives for. She extolls the "beauties" of the "man eat man" world, her motto being "If you're a have-not, steal. Never beg". Her act (she says of herself that she is of "German quality, Serbian mentality") and her songs (basically a contemporary dystopian post-socialist version of "Diamonds are a girl's best friend") brilliantly reflect the state of affairs in which her country has found itself. It is a state, which creates "the likes of her" (especially women in the re-patriarchal zed society), the lost generation, the underprivileged class, robbed of the legal, traditional ways of getting by and, ultimately, their future.