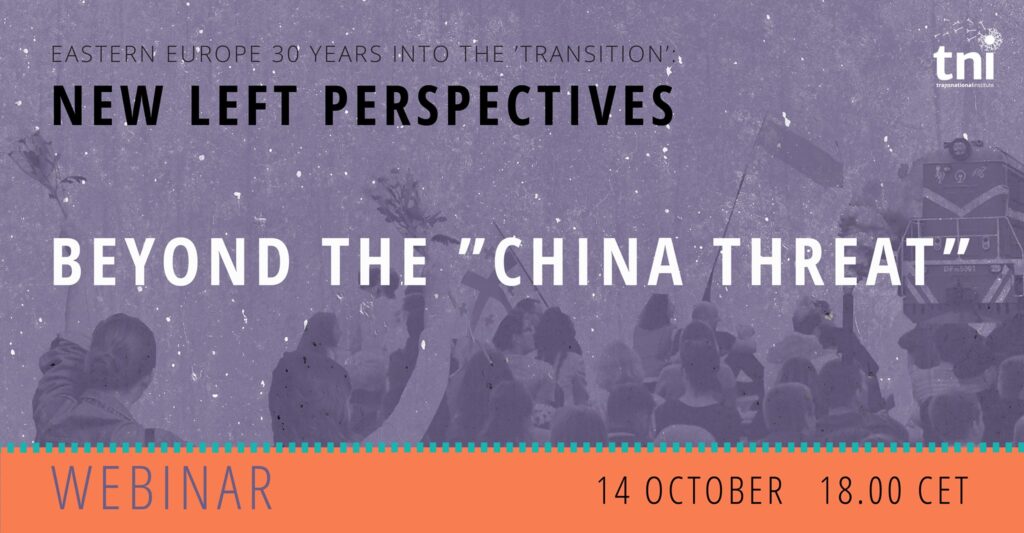 Note from LeftEast editors: This article is published in a collaboration with Eastern-European leftist media platforms ELMO – East Left Media Outlet.
A panel discussion organized by the Transnational Institute will address aspects of Chinese investments in Eastern Europe which are not grasped by mainstream accounts
Experts will discuss key political-economic issues regarding Chinese investments in Eastern Europe on an online discussion organized by Transnational Institute on 14 October. The discussion will be open to public attendance.
Since the early 2010s there has been an unprecedented rise in Chinese investments in Europe. Although the lion's share of Chinese FDI goes to Western Europe, Chinese investments and political-economic engagement in Eastern Europe has attracted the most attention.
Mainstream accounts have depicted East European peripheries as China's "Trojan horse", a fertile ground for China's "authoritarian advance" and "divide and rule" strategies that could lead to new fissures within Europe and geopolitical dependence.
However, there are important aspects of Chinese investments in Eastern Europe which are not grasped by such accounts – like how new Chinese investments fit into contemporary geopolitical transformations, or how they impact local labor regimes.
The panel discussion organized by Transnational Institute and titled Beyond the 'China threat': Chinese investments in Eastern Europe and the reorganisation of global capitalism comes as a timely source of insight for all who are interested in key political-economic developments not just in Eastern Europe but also on a global scale.
Based on case studies of Chinese investments in Hungary and Serbia, this panel discussion will look behind the "China threat" narrative, and attempt to contextualize Chinese investments in Eastern Europe as part of a broader global reorganization of capitalism and corresponding shifts in hegemonic power.
How Eastern Europe–China relations impact on local accumulation regimes, how Chinese investments can be understood as part of global finance- and infrastructure-led development, and whether we can conceive China as an imperialist power, are some of the questions that will be guiding the discussion.
The topic will be discussed by Linda Szabó (CEU, Budapest), Aleksandar Matković (Institute for Economic Sciences, Belgrade), Tamás Gerőcs (University of Binghamton) and moderated:
Lela Rekhviashvili (Leibniz-Institut für Länderkunde, Leipzig).
The panel discussion takes place online 14 October 2021, 18.00 CET
In order to attend the event register here.
You can find the event on Facebook here.
This panel is part of a webinar series organized by Transnational Institute. The series  follows the publication of a new collection of East European new left perspectives on the region's postsocialist transformation, and aims to the debate further on several key contemporary debate points. Upcoming webinars include: Producing knowledge from the left in Eastern Europe (21 October) and Decolonization and Eastern Europe (4 November).