Text and photos by Szilárd Kalmár, translated by Arnold Velansits. First published in Mérce.
In the spring of 2015, a wave of refugees reached Europe of a size that had not been seen before. The general public – including us – was not informed, or barely were, about this situation and only realized what we are facing when the quickest moving refugees, the relatively wealthier people had reached our borders.
In these early stages, Hungary registered those coming via Serbia, then gave them free transit towards the two largest refugee camps, in Debrecen, or Vámosszabadi, near the town of Győr. At that time, and due to this process, more and more refugees were spotted within our borders. So, in this first period, the goal was to place the refugees inside these camps, after they briefly passed through the capital, coming from the southern point of entry.
It was during this period when the first grass-roots communities formed spontaneously around the idea of helping these people: first and foremost, with the goal of providing food and information to those in need. The first and largest of these groups was known as Migration Aid. Another large organization, named 'Segítsünk Együtt a Menekülteknek' (Lets Aid the Refugees Together), formed on Facebook, independently from us at Migration Aid.
We did not have any big plans at this stage, certainly nothing grandiose. We had a modified street-facing cellar at 41 Bérkocsis Street, used as a social gathering place for homeless and others in need, and for providing warm meals once a week to them. This place and its basic infrastructure became our center of operations for the times to follow.
In the first weeks, providing food to the refugees in addition to the homeless, was considered something of a small addition to our tasks: we packaged and delivered maybe twenty meals to those waiting at the park at Köztársaság Square. At that time, there were no crowds yet around the Keleti Station, but more and more people were looking for a place to spend their time at without worry. The park's reputation was bolstered by the fact that authorities in charge of managing homeless services, noticing the scope of the issue, designated a public restroom in the nearby shelter on Alföldi street for the refugees. This was not unprecedented: the shelter had previously operated an "open" service for such needs to those living on the streets. It was a simple matter of adjustment to allow the refugees to use this service as well – but as th numbers started to grow, it became increasingly challenging to the shelter and its workers to scale this, having to serve hundreds of people regularly, instead of dozens.
The aforementioned 'Segítsünk Együtt a Menekülteknek' Facebook-group quickly set out to aid those who were already providing help at Bérkocsis street, and it matured into a professional, well-oiled working process. The first food-giveaways started at mid-June, and by July, all this was being done as a daily service.
The biggest hurdles were the logistics, as the group's core value was to not accept monetary donations, only pre-purchased food ingredients and volunteer work. This helped garner an atmosphere of trust which became a foundation to be relied upon throughout the crisis. We were also lucky as it was during this period in which many big stores started offering delivery, so those who wanted to help only needed to keep an eye on an online list where we posted the materials that we needed to make the next set of meals. This approach was working excellently, except for a few funny situations, like when we were overloaded with sugar, due to an error in which we forgot to remove a column which stated that we are running low on it and would appreciate if it were prioritized by the donors.
Therefore, the refugees did not appear in bursts from one moment to the next, however the crisis that followed seemed to materialize that way. The numbers kept growing, and those who had traveled by foot – the most in need, the poorest – began to arrive, the authority's approach towards registering them did not change. Those who entered Hungary were given a paper that designated a camp for them to stay at – and travel to-, starting a migration line that concentrated at Keleti (Eastern) Station, and to a lesser extent, at Nyugati (Western) Station, with the least, perhaps, at Déli (Southern) Station.
Towards the second half of July, the presence and the methodology of the illegal human trafficiking picked up and became increasingly apparent to the public eye, while more and more people were "stranded" in our country with no means of paying for such a method of travel. We did not encounter anyone who had planned to come to Hungary. Instead, everyone was aiming for the welfare states of Western Europe, also due to the fact that they already had relatives and supportive communities established in those countries. Those coming from Syria were better off, and were able to more quickly move forward, due in part to receiving assistance from the relatively populous Hungarian Syrian community, who helped if they could. The Afghans, on the other hand, were in much worse financial shape, which meant that usually they were the ones who had to wait for a longer time here.
We civil volunteers did not really bother with where these people came from and where they were planning to go; we did our work and were expecting some kind of turnaround. Many speculated that since the aforementioned camps were about to be filled up, a new camp was about to be designated in the capital which the volunteers could operate. It was rumoured that it would be in the previously closed down market at Verseny Street – but the mounting anti-refugee, "migrant"-chanting campaign of the goverment abruptly swept away these plans.
There was no goverment-provided assistance given to the thousands of people stuck in Budapest.
It should be stressed that during this period, the refugees could only count on the volunteers; even the larger charity organizations were hesitant to move, obviously due to the pressures put on them by the goverment. We were angered when the prime minister Viktor Orbán talked about how the aid given to the refugees was sponsored by the government. This created the pretense that they had financed the aid we gave. This type of sponsorship, however, did not interfere with our aid: the larger organizations only appeared later on at the borders, and we had a few laughs at how much more effective our aid was compared to theirs.
By the second half of July, Keleti Station was overcrowded, and Köztársaság Square was slowly filling up. By that time, we had expanded multiple times, and were cooking twice a day, still from donated ingredients. There were days when we gave out more than a thousand cooked meals, and on top of that our volunteers constantly made and distributed hundreds, often thousands, of sandwiches – but we were giving out clothing, shoes, blankets, sleeping bags as well. The amount of donations given was so generous that we were able to give out fruits, chocolate, mineral water, and yogurt as well – and we made sure that these goods could be consumed by those following their muslim religion.
'Segítsünk Együtt a Menekülteknek' (Lets Aid the Refugees Together) numbers kept growing and it consisted of hundreds of volunteers. Our closed Facebook group's members grew to above five thousand, and our volunteers were constantly maintaining a presence amongst the refugees. The basement that we used was almost always open, and it also operated as a social gathering center for us. Of course conflicts arose at times, as different people interpreted "giving aid" in different ways. We managed to stick to our principles: complete transparency and following the law, as we were sure that the government officials would be looking for any potential mistakes that we might make. The first "köjál" (ed.: the now defunct public health-inspection organization of Hungary) visit was made to our place relatively quickly, but we have to add that while the officials had probably not stumbled into us by chance, they nevertheless were helpful and even appreciative. Then, the still Fidesz-controlled municipal property manager approached us to cancel our residental lease contract, because we were not using the place 'as it was intended to be used'. This cheered some of us up because the municipality had nothing to do with the basement, it had been granted to us as a favor by its owner, the Éhező Gyermekekért Alapítvány (Foundation for the Starving Children).
Many of course considered it hard to keep everything completely legal, as leaving Hungary at its western borders was considered illegal at that time, and anyone helping them do so was considered a human trafficker. However, many wanted to do something, because those waiting at Köztársaság Square were eager to leave the country, and it was painful to watch the crowds getting bigger and bigger. By this time, many other venues provided food, aid and shelter to families with children as well – like Aurora and Klubbéla, the latter being the place where our now deceased friend of Sándor Böröcz did an incredible job helping those in need.
By this time, we were encountering the oppressive and combatant atmosphere generated by the government's campaign against refugees. The western borders were closed, with the only way out provided by illegal human traffickers, and the number of refugees, continuously arriving, was reaching the multiple thousands. Due to the distorted immigration policies of the European Union would have these people officially had to remain in Hungary, which seemed like an impossibility.
It became clear that this was a duel between Viktor Orbán and Angela Merkel, with no way to predict the winner or how long it might last – but we knew that we had only limited resources and energy to keep up the aid provided to the refugees indefinitely.
At the Keleti Station, we provided daily meals, but one day we were forced to stop, and to leave the area, by a Syrian television crew. As we later found out, they believed that we were providing assistance, and what they wanted to express with their action was that they did not need free meals, but rather, the opportunity to leave the country. The meals were still given out that day, but in the park at Köztársaság Square, instead.
Later on, we limited our efforts to the Köztársaság Square, since this area was fully crowded, and it was a challenge to sufficiently provide food for everyone here. We were proud to have managed not only the meals and the giveaways, but that our volunteers were involved in making sure that the area remained clean, litter-free and orderly, in addition to social events too, like public drawing sessions and talks. A closed-off dog park was repurposed to host our meal distributions, often with a queue that stretched beyond a hundred meters.
We were proud that from the beginning, our Hungarian volunteers were joined by refugee volunteers as well, who became friends in the process of working together.
One exceptional volunteer amongst them was Aziz, a young refugee from Afghanistan, who helped us for multiple weeks, and once even was in the news when he literally saved someone's life. Sadly, by this time, the migrant-chanting atmosphere had become more and more unbearable in our country, so I helped him personally with his goal to reach the West, because this was not the kind of country he needed to stay in, but rather one that would embrace him. He wanted to reach Sweden, so we helped him to find a way of getting there. Sadly, his journey ended at the Austrian-German border, where soldiers forced him off the train and took him to a camp. Despite this, his life had made a turn for the better: he learned a new language and a new profession in his new country, and he got an opportunity to become someone, and has managed to use this opportunity. Had he stayed in our country; he would have been branded a "migrant" without any real prospects for a better future.
When we left Budapest with Aziz at the end of August, the situation was almost completely hopeless. We had no idea where this could end up. Then, a few days later, it seemed to have resolved itself, out of the blue. The people gathered at Keleti Station started to march towards the western border of Hungary. The volunteers were also surprised by this development, because, unsurprisingly, they had not been not told of this plan either.
Suddenly we had two tasks to perform at the same time. We needed to still provide food and meals to those at the Köztársaság Square, where there were still large amounts of people waiting, but at the same time, we also wanted to provide supplies to those embarking on a two hundred km-long journey. That was when we decided to pack the rest of the sandwiches, bottled waters, fruits and beverages into a van and drive after them.
To get ahead of them seemed like an impossibility: you cannot pass a walking crowd on the highway. Since I was the one driving, I took a detour towards Budakeszi, and reached the highway at Zsámbék. The crowd was quite a ways behind me, but I had estimated that they will reach this point by the end of the day. I stopped by the side of the road (there was very little traffic at that day), and I started to take out the supplies that I had brought.
Not much after this, a member of an official charity organization arrived, and told me that my efforts were futile, as a rest stop before this place had been designated to be the resting spot for the refugees. He advised me to go to that spot as well, which I refused to do, as I did not believe that the crowd would just allow itself to be sidetracked, since blocking the highway was the way that they have been able to put some pressure on the officials. A bit later other civilians and volunteers joined me, who camped beside me with prepared food, so a makeshift welcome camp formed at the Zsámbék exit.
It was a pitch-black night by the time the march arrived, with exhausted people all around. Many were on the verge of collapse; others finished a sandwich and then almost immediately fell asleep. The crowd was large, and it was extraordinary to get the news that the people who had been stranded in Hungary were finally going to be allowed to leave the country, and that buses would be provoided for the people on the highway to transport them to the border. By the time I got back to the capital, even the people stationed at Köztársaság Square were being packed into the busses. The next day, barely anyone was left here, but because still many people were stranded in Pest, a second march was starting, whom we we were able to to help at Budaörs. This group then got on the train and were able to move towards the borders.
Refugees did not disappear from the capital instantly, but the possibility to leave the county legally marked a shift of direction in the aid efforts as well. Hot meals were no longer needed; people required sandwiches and packages of supplies for travel, instead. They needed readily packed and easy to carry food packages to get through the next few hours of travel. By this time, the majority of our volunteers returned to Keleti Station, where they purchased train tickets to the refugees with funds from civilian donations, so they could reach the borders as well.
The "trigger" of the lockdown at the Serbian border marked a new direction as well. After the "Battle at Röszke", it became apparent to the refugees that they would have to look for a new route. Soon after, we got news that they had started moving towards the Croatian border. We travelled to Croatia, to be met with something we would have liked to have seen from the Hungarian government. State-sponsored aide organizations were professionally helping the refugees. Properly fitted camps, and food (both warm and in packaged form) for the travelers. There were no longer stranded crowds needing the kind of aid we had become so professional at providing. The refugees were transported from Serbia to Croatia, and then to Hungary, in the early days, still "illegally". In our country's case, the entry point was the train station at Zákány, where the Hungarian authorities designated trains which transported the refugees straight to Hegyeshalom, at the western border. From that point another march began, towards Austria. There were temporary camps on the Hungarian side of the border, but understandably, no one wanted to remain in these.
Since at Zákány, there were already volunteers, and the Hungarian authorities did not really like the civilians, the "Segítsünk Együtt a Menekülteknek" group concentrated its efforts at Hegyeshalom, at an aid location developing at the border crossing on the main road. There were a lot of other volunteers here as well, the local Red Cross organized the efforts skillfully. Every day, we were able to send 2-3 cars full of volunteers and material help, from Budapest. The scene at the borders, of people marching from the train station to the crossing was dramatic, especially at night, but we felt happiness as at the other side of the border, these refugees could be closer to their goals – and further from the inhumane atmosphere that Hungary and the Balkan had meant for them.
By this time, the capital was practically without refugees. The last group's departure was aided by Austrian civilians whom came with cars, in a convoy. For me, this gesture has remained a stinging memory. When I heard that they were on their way, I sought out their Hungarian contacts requesting they would not only stop at Keleti Station and Köztársaság Square (places which were largely empty at this point), but rather send a few cars for people who were stuck at trafficking centers in the suburbs. They were not willing to do that, and later on, it was shocking to me to realize that many cars had gone back empty because the civilians were only willing to take full families, and the young, lone Afghan male teenagers were just left here.
When Hungary was finishing closing off the fences at fthe Croatian border, our volunteering work took a new turn. From the donations, we were able to continue providing aid from a foreign country, so we moved towards the latest center of the refugee crisis. The new place was an industrial track of Dobova's train station, in Slovenia. This was the place to which, at the time, , designated trains were arriving from Croatia, and the refugees only needed to cross from one track to another the other side of the platform. Of course, civilian assistance was needed here as well, which the authorities tolerated, but really did not support.
Interestingly, this was probably the most soul-crushing part of the job, because of the inordinate amount of military and police presence, which made the transportation between wagons most reminiscent of the deportations of the previous eras, with cruel armed soldiers shouting, separated family members desperately trying to cling to each other. These situations arose often, because on the basis of a strange logic the officials would enter the wagons and seperate around a dozen people to transport to local camps instead. The anxiety was increased because there was no way to know the reason for these selections.
We made hot tea for the frosty nights and made sandwiches in co-operation with civilians whom we had worked independently from in Hungary. We closed down our camp at Dobova Train Station in December of 2015. Until then, on this line, thousands passed by every day. The refugee waves seemed bigger from here than in Hungary, partly because our government's actions ha led to a disintegration of European Union's immigration policy. From the start of September, 2015, the borders were virtually non-existent, and anyone could travel to the center of the Union: in fact, this process was even accelerated by the trains, from Greece to Germany.
It is a sickening fact that Hungary's inhumane and inhospitable behavior was necessary for this change – without it, the western countries would have clung to their faux-humanitarian practices which were aimed at stopping the refugees far from the center at the peripheral country's borders, with a kind of a centralized distribution via quotas, despite the fact that there were practically no refugees that who would have wanted to reach Hungary, Slovakia, Romania or Poland.
Our group's work did not end with the dismantling of the Slovenian camps. In Hungary we've continued helping refugees and those in need. During these times, by the way, we've also continued aiding "Hungarian" homeless people as well – although this has not stopped the ongoing accusations that 'we are only helping Syrians and Afghans'.
Until February of 2016, we maintained a presence in foreign countries, for example in Athens, we joined the local aid organizations and did what we could best do: we cooked food, giving out hundreds of portions daily. During this time, we gained insight into how the autonomous local communities work and cooperate in helping each other and the refugees in squats and other alternative locations.
After arriving back at home, we encountered one last, smaller wave of refugees. In the spring of 2016, , refugees arrived once again, on Köztársaság Square, in smaller groups. We helped them with sleeping bags, food, and once I was able to introduce them to a leader of an international aid organization. After this, the Afghan Park, as our Republic (Köztársaság) Square was called by refugees among themselves, never revived again, due to constant and organized police presence.
From then on, refugees were no longer "visible" in Budapest.
Since then, quite a few travelers have returned to Budapest. Luckily, most of them came to rekindle their good memories of this place, to meet with Hungarian civilian aides who could give themse help gave not only food, but compassion of a soul-soothing quality as well.
In the past half-decade, many of us grew distant from each other. We came from different fields and places, and most of us did not care about the differences between the motivations others had for doing the charity-work. Some of us were radical leftists for whom it was only natural to help those who flee from the calamities and disasters that the capitalist system has brought upon their homelands. Others were socially minded liberals, quite a few of them practitioners of Judaism. At one time, one of them wanted to take off their star of David necklace, which I advised against, because this way those who were helped will remember that symbol and resist being convinced to hate those who practice this religion. The necklace remained, and there were no conflicts because of it. We cannot forget about the fact that there were many who came motivated by their Christian faith and put an extraordinary effort into helping the refugees, a few coming specifically as groups. The vast majority of civilians, however, came not because of an ideological or religious drive, but arrived because of their altruistim – and they remained with us until the end, not just regarding it as a few hours of exotic opportunity for charity.
In June, 2015, when we were delivering our first twenty packs of meals, we could not have imagined that this will be start of the most decisive, most important experience of our lives. Looking back on this now, replaying the events from my memory, and I believe I can say for all of us who partook in this endeavor: it is reassuring to know that then and there we were able to remain humane, despite the incendiary agitation and propaganda that prevailed back then. Finally, of course, I would like to thank everyone who was part of our group, "Segítsünk együtt a Menekülteknek", during those two years.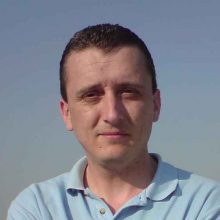 Szilárd Kalmár is a leftist public figure and political sociologist, currently working as a social worker.