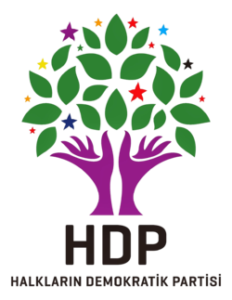 Note from LeftEast Editors: We publish this Call for Solidarity, written by a member of the HDP ( (Halkların Demokratik Partisi -The Peoples' Democratic Party) following the arrests of the joint leaders of the HDP along with at least nine other MPs, in what has become the latest stage of an ongoing offensive by President Erdogan to eliminate every single oppositional voice in the country, under the excuse of the coup attempt on July 15th.  More than 80,000 people have been detained since July 15, and about half of them are in prison now. 
Dear friends,
I hope this message will find you all good and well. It is going to be a long message, but please read it with patience.
As many of you may know, President Erdogan has been imposing an extremely authoritarian agenda on the peoples of Turkey. Using the coup attempt on July 15th as an opportunity to consolidate his rule by eliminating every single oppositional voice in the country, he has singled out our party HDP as the main target because we had stopped twice his authoritarian project of a presidential system in the June and November elections in 2015 by preventing his AKP to win sufficient number of parliamentary seats to make the necessary Constitutional changes. His aim is to paralyze our party before the possible referendum for presidential system or early elections in 2017, because he knows well that HDP can stop him in the ballot box again. Thousands of members, executives, elected mayors and city council members affiliated with the HDP and/or our sister party DBP have been sent to prison with groundless charges since our electoral victory in June 2015 and particularly after the coup attempt on July 15, 2016.
With emergency state rule, Erdogan is further polarizing the society and deepening ethnic and sectarian conflicts with the purpose of consolidating the extremely reactionary, ultranationalist and Islamist alliance he crafted after the coup attempt on July 15th, an alliance that he views as the guarantee to achieve his goal of a "Turkish-type presidential system" — a total dictatorship. If he achieves his goal, Erdogan would not simply harm the Kurds, Alevi people, women, religious and sectarian minorities and the poor in Turkey, but will further destabilize the Middle East, particularly Iraq and Syria, and create severe challenges for Europe in terms of security, refugees, and economy.
There is no freedom of expression and press, no academic freedom, and no  fair and independent judicial system in the country. With government decrees with the power of law, over 170 media outlets critical of Erdogan were banned. The Kurdish and Alevi media are totally wiped out. More than 130 journalists are in prison, also including some world renowned authors and intellectuals. Most recently, two Kurdish news agencies and several Kurdish dailies were closed and the chief-editor, columnists and journalists of the pro-Republican People Party (CHP) daily Cumhuriyet were detained. Tens of thousands of teachers and academics were dismissed or suspended. A significant number of these are either Kurdish or in solidarity with the Kurds and they have absolutely nothing to do with  the coup. More than 80,000 civil servants were either dismissed or suspended. More than 80,000 people have been detained since July 15, and about half of them are in prison now. 
On Nov 30, Ms. Gultan Kisanak and Mr. Firat Anli, democratically elected co-mayors of Diyarbakir, politically and symbolically the most important city for the Kurds in Turkey, were arrested and sent to prison. A district governor from Ankara was appointed to run the municipality. With this, the number of Kurdish municipalities run by bureaucrats appointed by the central government increased to 28. About 30 democratically elected Kurdish mayors are in prison now and about 70 of them were dismissed by the central government. Ms Kisanak was a former member of the parliament and also co-chair of the Democratic Society Party. The same day, former MP and spokesperson of the Kurdish Free Women's Congress (KJA) Ayla Akat Ata was arrested. 
Despite the opinions of the Venice Commission and the IPU Human Rights Committee, the Erdogan-AKP regime is attacking HDP deputies whose parliamentary immunities were unconstitutionally lifted in May 2016. Most recently, Turkish police physically assaulted our female deputies Feleknas Uca, Besime Konca and Sibel Yigitalp in front of Diyarbakir municipality, when they protested with local people the detention of co-mayors of Diyarbakir. Ms Uca's arm was badly injured; she was hospitalized. Before joining HDP, Ms Uca served two terms as a member of the European Parliament.
On November 1, a Turkish court imposed travel ban on our co-chair Ms Figen Yuksekdag so that she could not travel abroad. On November 2, the Court of Cessation approved a ten-month prison sentence for Ms Yuksekdag because of a speech she had delivered in 2012 – the charge is always the same: terrorist propaganda.
On November 3, HDP's Sirnak deputy Mr Ferhat Encu's passport was seized at Istanbul Airport before his flight to Brussels. Apparently, the court put a travel ban on him. The pro-AKP media said Mr Encu was "flying to Brussels: the home of terrorism." Over 30 members of Encu's family – ordinary villagers – were killed by Turkish airstrikes in Roboski in December 2011. The reason for Encu's travel ban is a protest he joined with local people in June 2015, where he condemned the Roboski massacre and demanded justice for its victims. The prosecutor charged Mr Encu with "terrorist propaganda"!
On November 3, Turkish police and military personnel raided the house of our Sirnak deputy Ms Aycan Irmez and insulted her family members.
Having arrested or dismissed many Kurdish mayors, now the Erdogan-AKP regime is preparing to arrest HDP deputies, and most probably its co-chairs. Our co-chair Mr Selahattin Demirtas has 103 cases against him – all of them because of the critical content of his speeches.  The charge is always the same: terrorist propaganda.
We have strange times in Turkey. Nowadays, there are only two camps in the country: Either you are pro-Erdogan and AKP, or you are a coup supporter, a terrorist, or a traitor – often all three of them simultaneously. Erdogan has left no space for the third option: it is either black or white: but we as the HDP occupy the grey zone, and that is unbearable to the Erdogan-AKP regime.
More challenging times are ahead. Please discuss the situation in Turkey -particularly the pressures on Kurdish mayors, HDP deputies and critical media outlets — with the organs of your parties and institutions and take action without delay.
As I am concluding this letter (1:27 am), I am receiving text messages that the police is detaining Mr Ferhat Encu. There are also many policemen at the houses of our Co-chair Ms Figen Yuksekdag, our Sirnak deputy Leyla Birlik, our Diyarbakir deputy Ziya Pir. Erdogan's war against the HDP is taking a different and extremely dangerous turn.
Peace and solidarity !