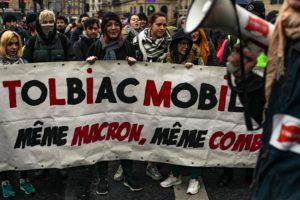 Last Wednesday students of the university Paris 1 – Tolbiac voted in the General Assembly a statement of solidarity with the mobilization of Albanian students against the hike of tuition fees. We publish below the English and Albanian version.
Students gathered today in an assembly to send their solidarity to the student mobilization in Albania against the rise in tuition fees. While the average wage in Albania is 350 euros a month, the government wants the students to pay up to 2,000 euros a year, and even to pay to retake exams. Since more than a week, Albanian students are mobilizing in the streets and are blocking their universities.
 In France too, the neoliberal government wants to raise the tuition fees for non-EU students. This measure is not only xenophobic, it is also the first step towards a general rise of the tuition fees.
That is why international solidarity is fundamental to reinforce our common struggles. Victory in one country can only strengthen struggle in the other. For quality in education and free education, let's strengthen our international solidarity!
Shqip:
Të bashkuar në Asamblenë e Përgjithshme, studentë dhe studente të Tolbiac, dërgojnë solidaritetin e tyre në mbështetje të Lëvizjes Studentore në Shqipëri. Kjo lëvizje ka ardhur si përgjigje ndaj rrritjes së taksave për regjistrim. Ndërkohë që paga mesatare në Shqipëri është 350 euro në muaj, qeveria do që studentët të paguajnë deri në 2000 euro në vit taksë shkolle dhe gjithashtu të paguajnë për provimet e mbartura. Për më shumë se një javë studentët shqiptarë kanë dalë në rrugë dhe kanë bllokuar universitetin.
Edhe në Francë, po njëlloj qeveria neoliberale do të ngrejë taksat e regjistrimit për studentët e huaj. Kjo masë nuk është vetëm ksenofobe por është edhe një hap i parë për ngritjen e përgjithshme të taksave të regjistrimit.
Për këtë arsye solidariteti internacional është thelbësor për të forcuar betejat reciproke. Fitorja në njërin vend nuk bën tjetër veçse forcon betejat në tjetrin. Për një arsim cilësor dhe falas të forcojmë lidhjet e solidaritetit internacional!