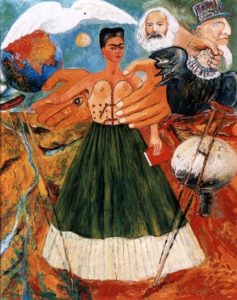 More, decolonizing and public meetings should exist for and about the feminisms of the globe's "imagined easts".
As part of an attempt to create one such type of "meeting place", we envision a series of 4 podcasts to be released regularly over the next year. For this planned LeftEast series, adequately-titled (you will agree) "FeminEasts", we invite contributions of short audio and text materials from feminist contributors wherever. Podcast lovers and amateur sound recorders are welcome; we can provide minimal technical info and tips.
The broad intention of this stories-and-discussions podcast is to regularly bring together feminist lefties (or lefty feminists) around one openly queer theme. Queer in this case means especially a broad and less-conformist theme that helps "make strange" high- and low- political quotidian and longue-durée histories of struggle in spaces that have been culturally other-ed. Additionally, we welcome articles or photo essays that engage with the themes of the podcasts [see detailed call].
We will be announcing a first theme in the next few days, but would love to hear from anyone interested until then! Please let us know if you would listen to a podcast like FeminEasts, have ideas  for stories on a specific subject or created by a particular person, or if you would like to contribute a story or curate an episode. Also, let us know if you have skills and tips that would be useful for this project. Email us at: femineasts@gmail.com
Looking forward to hearing from you!
Alex Ghit and Maryia Ivancheva
Note on themes: Announced podcast themes will be intentionally vague, but individual stories should link to feminism, politics or current events while trying to develop the proposed theme. For example, a theme such as "Dirt" may lead to a story about a locally-developing feminist politics of gardening, to an interview about corruption in a gender equality agency (the subject of a recent press expose in Romania), or to a short recorded reflection on the group of privileged US teenage girls refusing to wash at the height of the grunge era (the topic of the "Dirty Girls" documentary). We encourage contributors to record and write as individuals constrained by contexts about these contexts: it seems unfair to ask anyone to become a ventriloquist for an entire "scene", community etc.