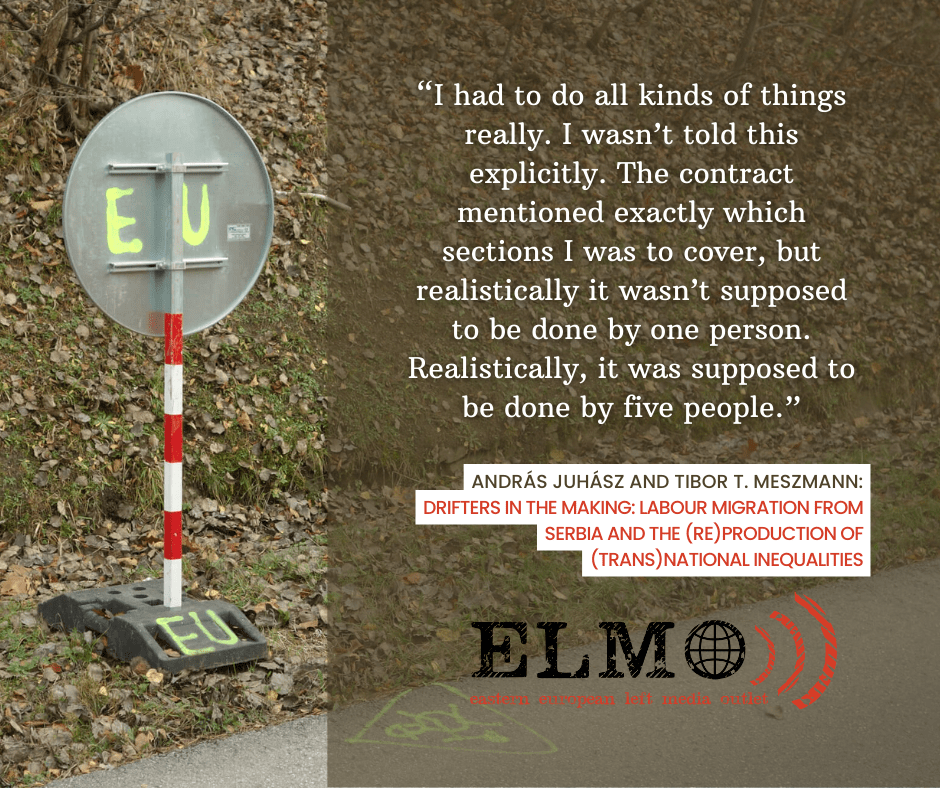 This article is part of the multilingual ELMO series Transnational migration in CEE from intersectional perspectives of race, gender, class and citizenship.
Sourcing labour from Serbia has never been easier. But the recruitment channels are not managed or monitored. With fake information circulating and actors willing to profit from migration flows, Serbian labour migrants are in danger of over-exploitation. Nevertheless, many people want to leave Serbia because they are fed up with a system that has little respect for their dignity. There is an increasing need to support and develop communities of migrant and transnationally active workers. A very practical step in this direction would be to establish regular information flows among all those directly affected, organising educational, training, and self-help sessions.
"Most people who leave Serbia to find a job elsewhere are literally driven abroad by the feeling that they'll never find a decent job at home. And so they drop all their protective mechanisms towards the offers they receive, and they are vulnerable to engaging in risky situations".
This is how Jasmina Krunić from ASTRA, the leading Serbian organisation fighting human trafficking, summed up her thoughts on labour migrants leaving Serbia in pursuit of a better future. We spoke to Jasmina and other interlocutors during our research into labour migration from Serbia to the countries of Central and Eastern Europe. about emigration to the Visegrad countries and to Slovenia and Croatia, but our interlocutors also reflected on other cases.
Labour flows from Serbia are not monitored by state institutions, and migrants are often preyed on by actors ready to profit from people in vulnerable conditions. In some cases, the situation has strayed far enough outside of what is legal to catch the eyes of ASTRA. As a result, this organisation allocated more of their meagre capacities towards addressing the problem of human trafficking through labour exploitation.[1]
The labour market in Serbia has undergone turbulent changes throughout the new millennium. From 2001 onwards, and culminating in the years during and after the global economic crisis, the country pursued a development path focused on foreign direct investment. Rapid market reforms occurred alongside often-criminal privatisation and rising unemployment. Since December 2009, the visa liberalisation regime has allowed Serbian citizens to travel within the EU Schengen Area without a visa, which has enabled extensive short-term labour mobility. The regime permits Serbian citizens to stay in the Schengen Area for three months in every six-month period. Still, only after the global financial crisis did the demand for labour from Serbia suddenly increase.
ASTRA conducted a poll on suspect work advertisements directed at students. This poll confirmed how desperate people are: even if the respondents knew the context of labour (over-)exploitation and the deceiving role of advertisements, two thirds still answered affirmatively when asked whether they would take up a job if a suspicious source offered it to them. But one does not have to fall prey to trickery or trafficking in order to be over-exploited. As we have learned from the workers, trade unionists and experts with whom we spoke during our research, the hope of a better life for Serbians who take up jobs in CEE countries is often shattered by the reality they encounter in a distant, foreign workplace and society.
"At first it was just the two of us – my boss and I," a professional with a university degree who took up work in a newly established automotive supplier company in Slovakia told us. "I covered eight departments. The job was in purchasing, all kinds of finance. It included logistics because we were already slowly moving into production", she said. For a good wage by Serbian standards (around EUR 1000), she also needed to arrange travel and take care of tasks ranging from sorting the post to arranging lunch bonuses.
"I had to do all kinds of things really. I wasn't told this explicitly. The contract mentioned exactly which sections I was to cover, but realistically it wasn't supposed to be done by one person. Realistically, it was supposed to be done by five people".
It took our interlocutor three years to start talking about working conditions with a colleague. The conversation happened only after she witnessed other people quitting, unable to bear the workload. In her first two years, she worked from 8.00 a.m. till 10.00 p.m. every working day. In the four years of her employment at the company, no organisation serving workers' interests was mentioned:
"In my work circle, no organisation – one dealing with employee rights and concerns – was ever mentioned in four years. And I think this was mainly because we were very small. And, in fact, everybody here was afraid to acknowledge that the situation was not good. Everybody was always afraid that if they were unhappy, then this would come off as being ungrateful, and then they would be reprimanded. And then they would have to get a job where they would earn two hundred euros less. Nobody wanted that. And in the small environment we were in, I think an organisation would have been very visible".
In other words, establishing a union would be very difficult.
Our interlocutor talked with her colleagues about having no social life in Slovakia:
"Somehow everyone found comfort in the fact that they were still going home and that somehow made up for it here. Let's say that this compensated for the lack of socialising in Slovakia. That in Serbia they spend time with friends hurriedly and then go back to work. Then they work again, they work again, then they take a little holiday again, and they make up for it somehow".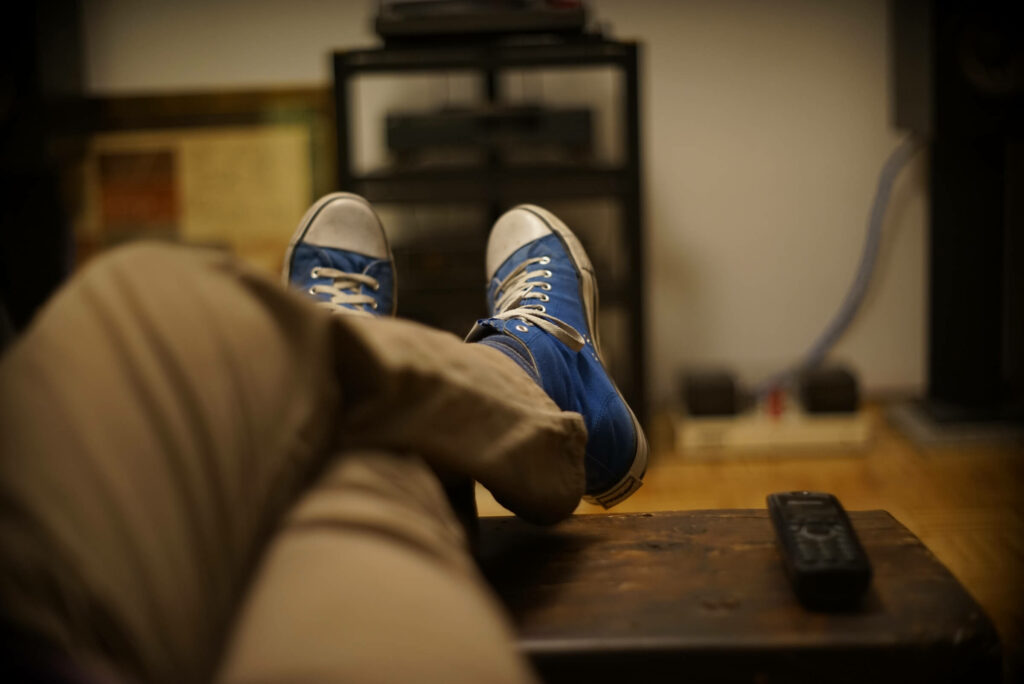 This experience of workplace over-exploitation was potentially shared by tens of thousands of people[2] leaving Serbia each year. They engage in circular migration to seek out a better future for their families and themselves. According to estimates by the Confederation of Autonomous Trade Unions of Serbia, the generation aged between thirty and fifty is the adaptive group that takes up temporary jobs in CEE. This cohort has mostly been educated to secondary school level and includes slightly more men than women.
The dominant discourse on labour migration in Serbia focuses on brain drain. But this is an incorrect, biased picture. In reality, there is indeed a significant emigration of certain high-skilled professionals, like healthcare workers. Yet the dominant pattern is short-term, cyclical migration to CEE and Germany, and the typical cohort involved is workers with lower or secondary education, employed in manufacturing or services.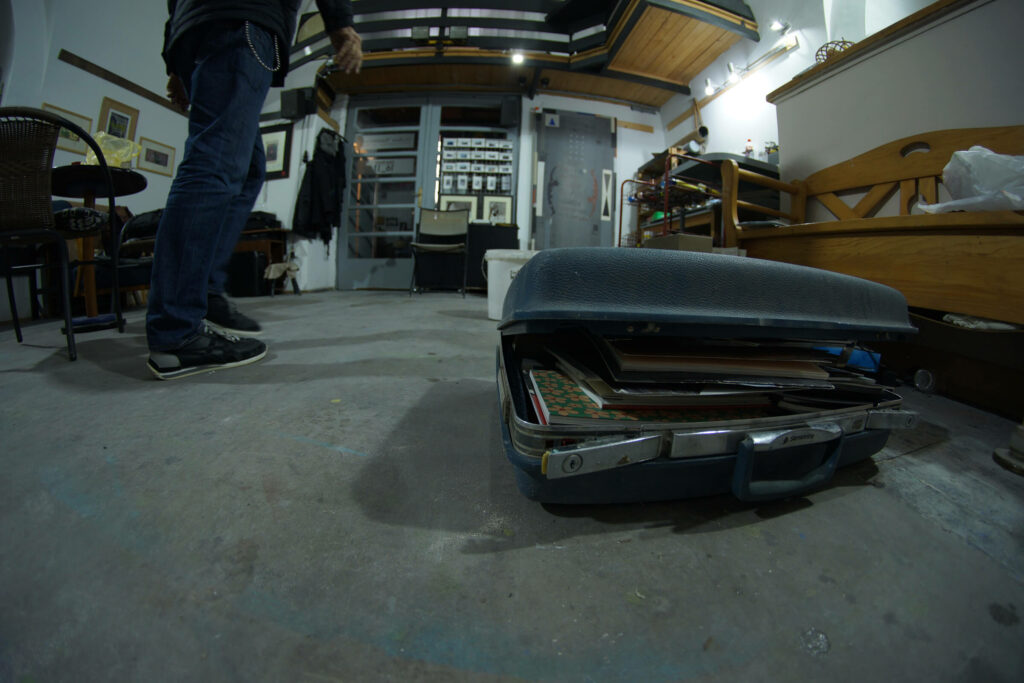 Why are healthcare workers leaving?
The trade-union representatives we interviewed spoke of an "exodus" of health workers, and transport workers more recently. Rade Panić, the president of the Trade Union of Medical Doctors and Pharmacologists of Serbia, summarised the bitter working conditions and absence of respect for the rule of law in the Serbian medical sector as the main reasons of emigration:
"The main reason why people are leaving the country is not the money. The main reason is the system. Healthcare workers are implementers. We expect to have everything prepared when we come to work, and we expect safety in the workplace. This is so we don't experience mistreatment and persecution, and so that no one treats us as commodities or slaves".
The union representative explained what he meant by the "system": despite a massive lack of qualified workers, many trained but unemployed healthcare professionals are not hired. Instead, candidates without qualifications in healthcare are hired in a clientelist manner in hospitals. A common practice in the public sector is employment based on party loyalty ("partijsko zapošljavanje"). By employing people loyal to the political party in power, the party also establishes a strong grip on and control over the workplace and the local community. The pandemic also showed how the system treats public healthcare. an institutional silence has reigned regarding just how many doctors and nurses have died during the Covid-19 pandemic to date from infection, which proves the government's criminal stance in relation to public sector health workers. Only trade unions have released facts publicly, highlighting that up until early 2021, 115 doctors had died from Covid-19 infection.
The government's approach to the pandemic has increased the mass dissatisfaction and bitterness now present in the health worker community. The poor working conditions and heavy workload discourage new entrants to the profession, such as young nurses and doctors, from staying in Serbian healthcare. Thus, the government needs to be prepared for a massive crisis in public healthcare as the future looks gloomy. Low wages add to the sense of bitterness, as health workers in Serbia earn less even compared with health workers in neighbouring countries. In fact, they earn on average thirty per cent less than in the South East European region.
"Imagine a European country, that refuses to employ skilled professionals even though it knows they are necessary to sustain and improve the entire hospital establishment". There is no implementation of legislation: while the diplomas of some are not recognised and this causes them to lose benefits and income, diplomas are available to buy at private schools for nurses and technicians. As Panić described, "There is mobbing, difficulties with gaining employment, and massive problems when employed, such as the poor organisation of work, a lack of stable employment and increased corruption – all of which adds to the list of problems and resentments".
For instance, Panić stated that healthcare professionals do not receive a guarantee that the machines they operate are functioning properly and will not cause unintended harm.
"All anaesthesiologists in Serbia, certainly in eighty per cent of workplaces, carry out their work under the threat that they will end up in prison for three years because they operate a machine that does not have a certificate of functionality, of safe use".
One systemic failure in Serbia relates to the health sector moving into private hands from 2015 onwards. Legislation on remuneration, safe and healthy measures have been left unimplemented, which is the trade union's most basic request. It appears that public health has intentionally been left hanging, and that certain interest groups are now profiting from it in the short term.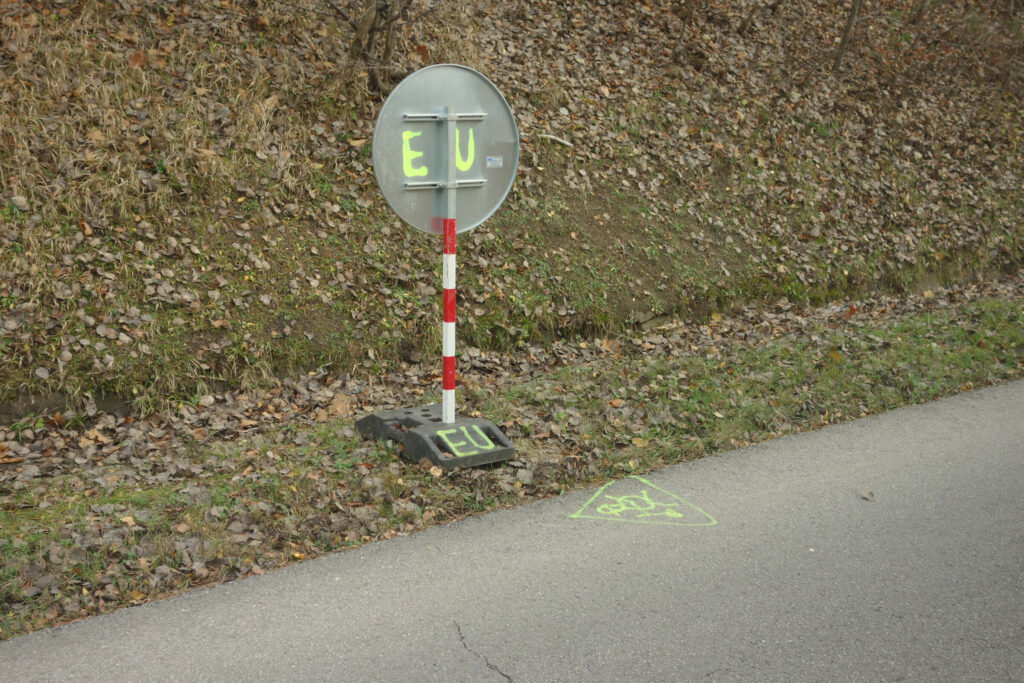 Developing a migration infrastructure: Drives and forms of labour recruitment and contracting
Compared with planned emigration to richer EU countries, the emigration of Serbian healthcare workers to CEE countries is not significant For Serbian healthcare workers, an interstate agreement exists with Germany, and contracts are also well organised with Sweden and Norway. Similar agreements also exist between Serbia and other Western EU countries, for example, for transport workers or engineers. The template involves workers being offered permanent contracts and infrastructure for integration in the host country, which includes the solving of issues such as bureaucratic tasks and language learning. Usually, workers do not migrate individually but their entire families join them. As a result, the movement towards Western countries is not circular but is rather a long-term emigration. While, as we learned from a trade-union representative, in South East Europe, healthcare workers from Serbia have found temporary jobs in Croatia, Montenegro, or Macedonia. Sometimes a main doctor organises a "crew" and they all work abroad for a week or so.
There are intermediary agencies that specialise in headhunting Serbian healthcare professionals. One difference between registered and unregistered intermediary agencies remains: whereas unregistered agencies prioritise profit-making at any cost, the registered agencies work legally to the benefit of all involved. Typically, a healthcare applicant needs to pass language and professional exams to emigrate. As the labour law expert Mario Reljanović has explained, the key difference between the legal and the dubious intermediary agencies is that the legal ones receive a percentage commission for each successful candidate and the contract with the agency ends there. However, the dubious ones request payment from the employer directly to the agency instead of to the employee, and the agency transfers a smaller share to the candidate (or the probationary employee), pretending that the agency pays for all language courses, exams, and accommodation.
Problems with unregulated or loosely regulated labour flows have been apparent for a long time. There were lots of cases in which persons wanting to emigrate signed fake contracts, which were especially dangerous when applicants did not read what they had signed.
If an advertisement promised high wages, the background information provided would be typically overlooked or not questioned. Workers eventually signed contracts that included shady or outright illegal clauses and that generated high employer dependency. Highly problematic online advertisements came from a variety of sources, and the labour inspectorates had their work cut out.
Unfortunately, they could only react to locally registered intermediaries, as they had no jurisdiction against foreign-registered advertisements that linked to, for example, Hungarian or Slovak mobile phone numbers. They had an infuriating, impractical fight on their hands, as one of our interlocutors told us. One advertisement would close, and then three new ones would instantly appear. The websites (e.g. Jooble) on which they featured were rarely registered in Serbia, and so the authorities had no access to them.
Intermediaries were well-positioned to attract desperate and rather poorly informed workers. Labour sourcing via formal or informal intermediaries was rather successful, as many people were so desperate to leave Serbia that they would respond to even the most suspicious electronic advertisements if they promised a great deal.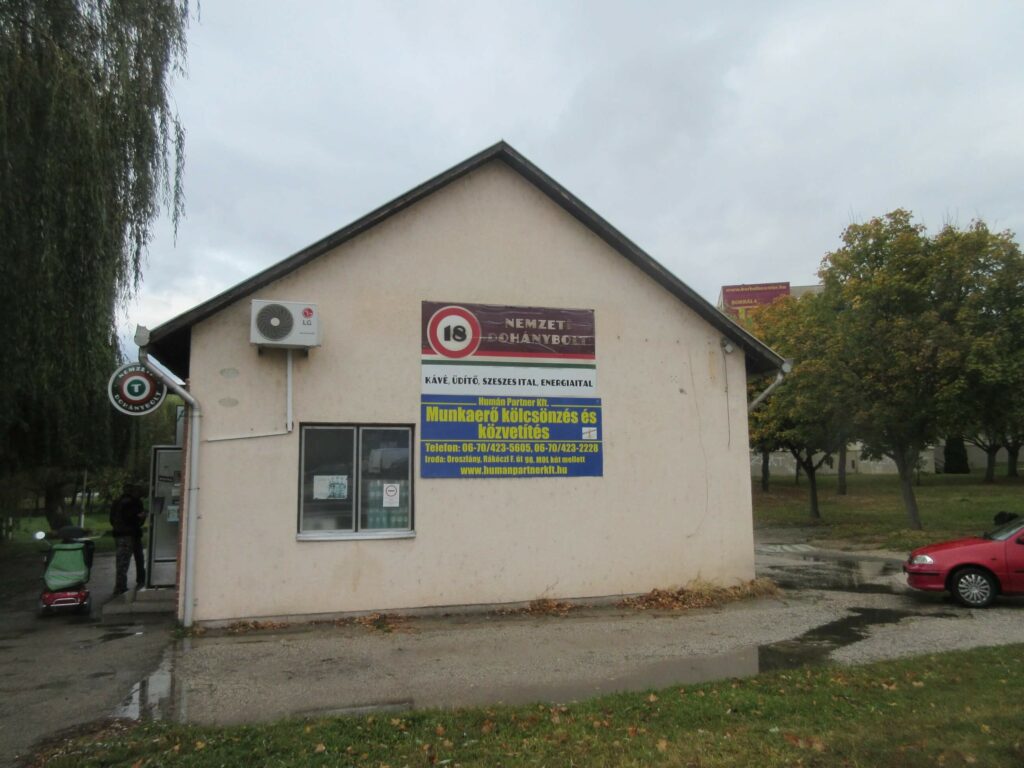 The activist Miloš Vučković told us that workers intending to take up a job in an EU country were also keen to follow up on a call or recommendation from a distant friend or relative. However, personal connections were also somewhat unreliable, and friends could turn out to be foes. A trade unionist confirmed that, in general, workers were relatively poorly informed, and they received inaccurate information through different sources such as social media and tabloid newspapers.
Experts have highlighted how labour recruitment has flourished since 2015, especially to CEE and EU, and how it has never been easier to source labour from Serbia. Recruitment channels cannot be controlled, as the labour economist Mihail Arandarenko observed, and recruitment is easier when legal conditions are loose. In general, there is a broad spectrum of organisations specialised in labour sourcing. These include student cooperatives, registered and unregistered temporary work agencies, and registered and unregistered intermediaries. Of these, the student cooperatives are not entitled to source labour for jobs abroad, and the same applies to unregistered organisations.
Recruiters have worked rather opportunistically for a percentage commission upon delivering each successful applicant or per person considered. This pattern has been especially visible since 2016, wherein members of the Hungarian or Slovak ethnic communities with good social capital and formal (legal) knowledge have pioneered labour sourcing to the destination kin countries of Hungary and Slovakia. Two of the experts we have talked to also noted the tiny municipality of Bela Crkva, which has a significant ethnic Czech presence, as an example.
Ethnic minority entrepreneurs were well-suited to adapt and exploit opportunities that arose, and they could easily organise the recruitment of a whole village.
A Slovak-speaking lawyer who was a Serbian citizen had political connections and sourced workers semi-legally, first as an intermediary and later as a registered temp agency. He owned seventeen (!) agencies for intermediation, which were all registered in a small office, and he would send (initially) Slovak speakers to Slovakia. As the law does not prevent the registration of agencies, intermediary companies, and student cooperatives at the same address, he could do this unhindered.
There was an observable pattern of entrepreneurial behaviour tied to local political support: "minority entrepreneurs" knew how the systems in the respective CEE countries operated, and they also knew the conditions and motivations of workers from Vojvodina in north Serbia, as well as other important details such as their approximate salaries.
Still, from 2016 onwards, temporary work agencies have been the most important actors in stable transnational labour sourcing from Serbia. These agencies have tended to specialise in the countries that contracted workers travel to, and the regions from where they are sourced. Thus, examples include agencies close to the Hungarian border (where there is a significant Hungarian-speaking population) that specialise in sourcing for businesses in Hungary – especially for the automotive industry; and agencies in Bački Petrovac (the cultural centre of Serbian Slovaks) that specialise in sourcing for Slovak electronic and automotive user companies. Such temporary work agencies (TWAs) have enjoyed indirect support from local municipalities and local public employment bureaus. For instance, they have been allowed to organise public presentations at municipal buildings, and publish advertisements in the halls of local employment bureaus, thus raising popular awareness of job opportunities and increasing trust for their business. The cultural anthropologists Juraj Marušiak and Sanja Zlatanović, who have followed migrant workers in Slovakia and Hungary, respectively, confirmed that a TWA is the first and crucial link between Serbia and Slovakia, especially for people who have never been to these countries, and who do not speak the local language.
Employment via a temporary work agency entailed very high flexibility but also mutual insecurity: TWAs could dismiss workers at any time and without reason. Yet equally, as a migrant worker told us, workers also searched actively for better employment opportunities, and they rarely considered staying in one workplace or seeking permanent employment. In Hungarian and Slovak manufacturing, especially in the automotive industry, specific lines in some workplaces fully or mostly employed migrant workers from Serbia and Ukraine, sometimes with a local supervisor.
Besides employment via TWAs, the posting of workers was increasingly gaining ground. Posting from Serbia was a popular option with employers or entrepreneurs, as the regulations have become lax: there is no obligatory registry at the Ministry of Labour for employers posting workers abroad.
The first recorded case of posting happened in 2015, after the criminal privatisation of the renowned metal company Goša, which had its own workshop for training and education. The new owner posted workers – mostly skilled welders – to Slovakia on low wages. The arrangement was for them to be paid the Serbian minimum wage with extra cash in envelopes (to avoid paying all the extra pension, tax, and insurance contributions). A few years later, a Serbian company registered to produce electronics in Serbia – but without any real production activities – posted workers to Slovakia. Similarly, a letter box "ice cream producer" posted workers to LEDO in Czechia.
Hybrid variants of posting also appear. For example, a multinational company in Serbia sought workers to be employed in another CEE country. A worker we interviewed told us that a company advertised jobs at its premises. It especially targeted employees from the Serbian plant who are also EU citizens, or who have access to longer stays in the EU, such as Slovak diaspora who spend time in Slovakia. The jobs they take on are extremely demanding. At a subcontractor to Volkswagen, an entire logistical operation in Bratislava was created by a Serbian team. Not only physical but also organisational and administrative office work was completed by workers arriving from Serbia, some of whom spoke Slovak. Locals did not want to take on these jobs, or they would quit soon after they realised how big the workload was.
One case that resembles posting happened in 2022 in the city of Kragujevac, once a blooming industrial centre and home to the ex-Yugoslav car manufacturer Zastava, which Fiat later purchased. There were constant problems with production at the plant, amid frequent threats of its closure. Fiat in Serbia told workers to find employment at a supplier in Slovakia, where they would have worked for the Slovak minimum wage. According to a trade unionist we spoke to, as Fiat was not producing and wanted to lay off its workers, it offered them the option of a posting in Slovakia to a subcontractor of Fiat for 850 euros per month, with no travel or accommodation costs covered. A local Serbian trade union found out that the Slovak company (an automotive supplier) was employing workers under the worst conditions locally of all the five plants in Trnava, and it therefore faced acute labour shortages, as locals did not want to work there. Initially, only a few workers accepted the offer. After an unsuccessful protest and strike, more may have followed.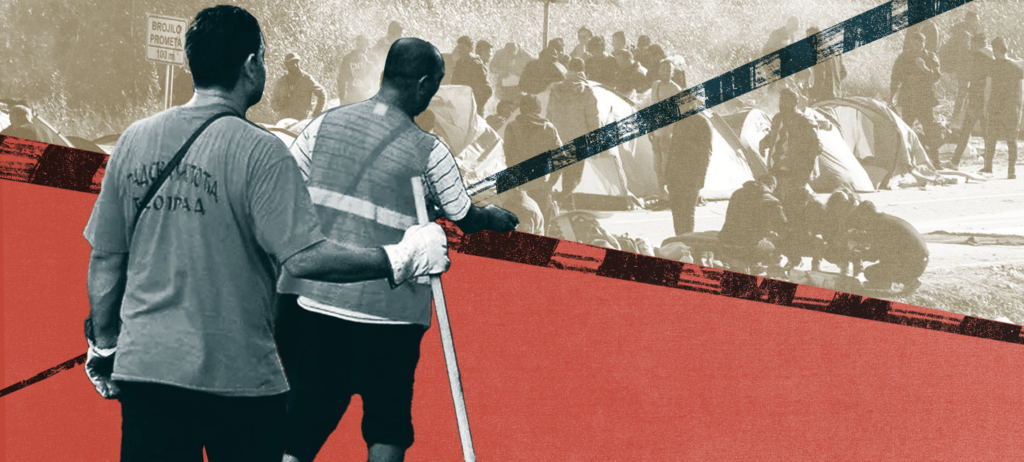 What can migrant workers, activists, and organisations do to improve the situation?
Serbia's social and economic circumstances drive desperate forms of emigration. This especially includes the emigration of a vulnerable wage-earning population on low incomes. Besides poor choice and rather poor job quality for many workers, a main driver of emigration is the social inequalities present in the Serbian economic (productive) and redistributive system. In contrast to well-articulated claims and middle-class imaginaries, labour migrants adapt to job opportunities that arise, as do the industries of labour intermediaries. An entire system and infrastructure focused on temporary migratory movements has sprung up. But there are associated risks too. Indeed, labour migrants from Serbia are prone to be preyed on by actors ready to profit from people in vulnerable situations. In short, a typical labour migrant may easily agree to work for a high wage, without inquiring into the working conditions, local labour standards and social security arrangements. The responsible bodies in Serbia have devoted hardly any attention to these movements, and there are few measures preventing the over-exploitation stemming from such mobility. This attitude will likely not change in the short-term, and so we need to press for change in the medium-term.
While transnational labour migration is on the rise, there is an increasing need to support and develop communities of migrant and transnationally active workers. A very practical step in this direction would be to establish regular information flows among (potentially) all those directly affected, organising educational, training, and self-help sessions. In establishing such infrastructure and services, trade unions and civil society organisations could build on their comparative strengths and know-how. This will help them uncover their own constructive role, generating a spirit of transnational solidarity not only in Serbia, but also throughout South East and Central Eastern Europe.
Read the article in CEE languages on ELMO member platforms:
Subscribe to ELMO's newsletter here.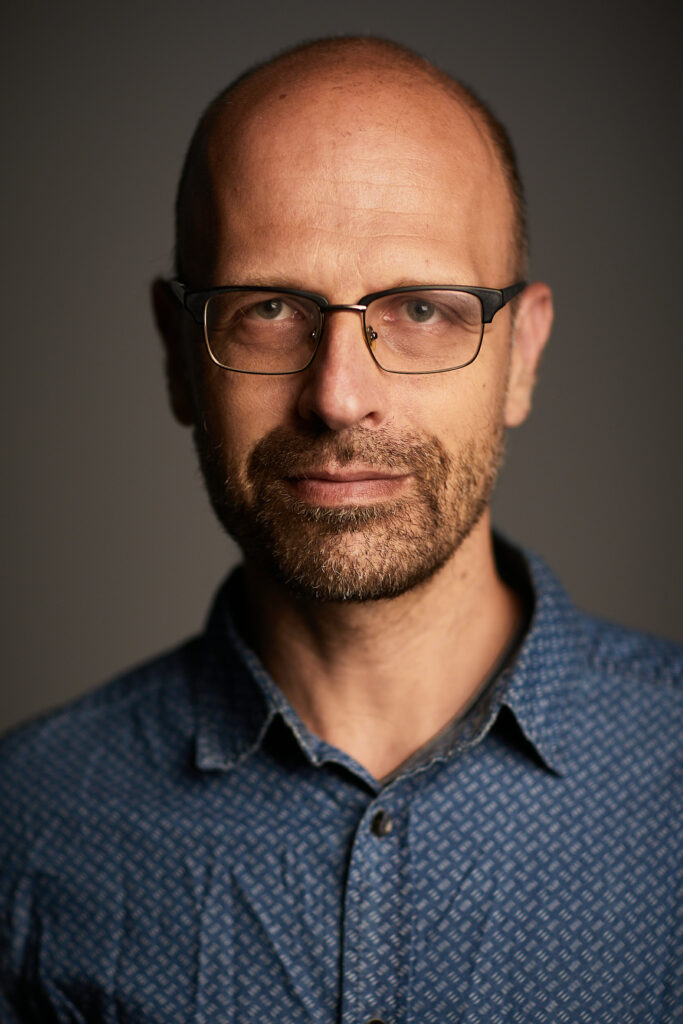 Tibor T. Meszmann is a researcher at the Central European Labor Studies Institute, Bratislava, alumni member of Public Sociology Working Group "Helyzet", Budapest, and editorial board member of LeftEast. His research is at the border of the interdisciplinary areas of industrial relations and sociology of work. Tibor's work covers trade union politics, the world of labor in automotives, and more recently, platform mediated work, especially in Hungary, but also in Serbia: Labour migration is an increasingly common theme to these areas of inquiry.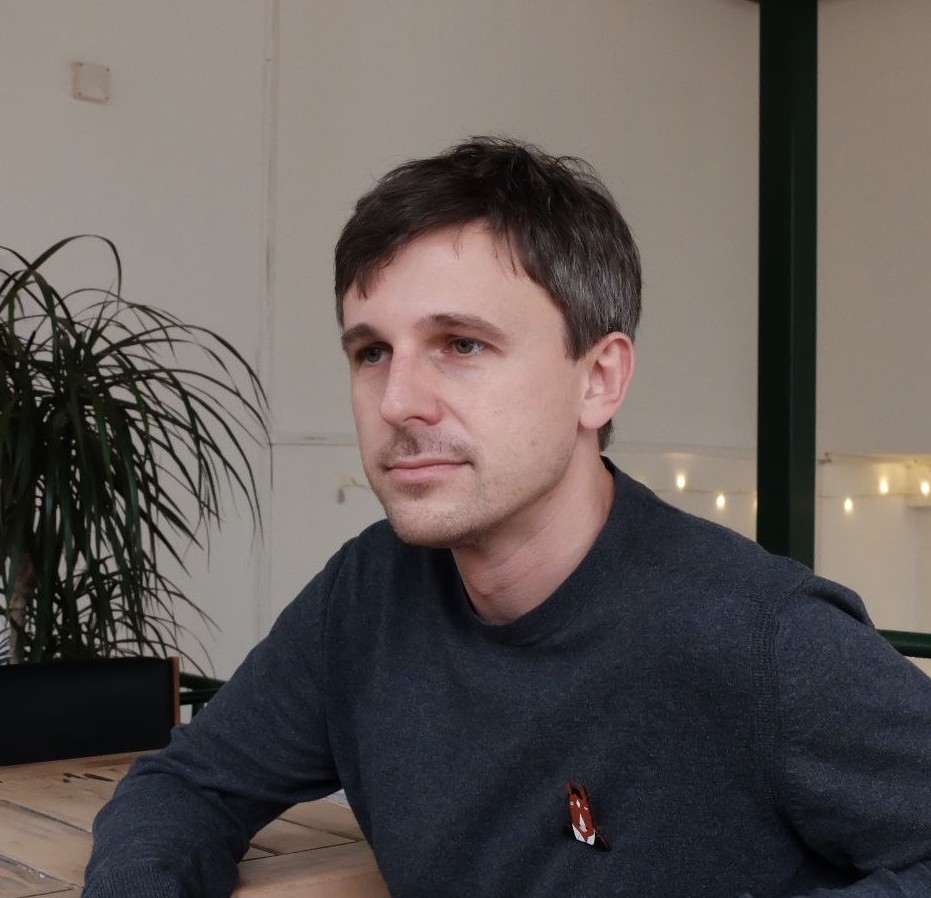 András Juhász is a journalist and co-editor of Serbian left-wing news website Masina.rs. He writes about labour, progressive politics, inequality and environmental issues.
---
[1] ASTRA identified the first victim of human trafficking for the purpose of labor exploitation in 2005. Between 2005 and 2019 the organization recorded over 120 cases of labor-exploited persons, and almost a quarter of calls made to their SOS line during 2019 (close to a thousand calls) were related to checking job offers in Serbia and abroad. See ASTRA's campaign LABOUR JUSTICE – NOW! on the organisation's website.
[2] The number of instances of annual leave granted officially since 2016 was estimated to range from 20,000 through to 50,000, and up to 70,000 in 2019. Given the lack of precise institutional monitoring, estimates differ as to the numbers of labour migrants leaving (and returning to) Serbia. See: Arandarenko, Mihail. Migration, Skills and The Labour Market. In: National Human Development Report – Serbia 2022. UNDP Serbia.