This first-person account of the conditions inside the prison in Pazardjik, Bulgaria was first published on the web site of the Bulgarian Prisoners' Association.
The Pazardjik prison is a classic. I had heard a lot about it but now that I'm here, have no words to describe what I'm going through. Most people are mentally unstable or one step away from it, especially the prison management. The institution's director Veselin Kotzev behaves like he's at a market square. He screams, scolds and doesn't know the letter of the law. Or rather, knows it, but behaves like a spoiled brat. His way or the high way, no matter if it's right or legal. Here, all cases filed under article 3 of the Law on Execution of Punishments (translator's note: Article 3, Prisoners cannot be subjected to torture, cruel or inhumane treatment) are being won in court, and will continue to be won. Taxpayers will be paying while Veselin Kotzev keeps managing the Pazardjik prison as the sole proprietor of a private company. Yes, prison conditions are bad and it's not all up to him, but he refuses to do anything, even what is within his possibility.
Today, September 5, 2018 someone pointed out to me this young guy who was sentenced for radical Islamism. He was in work clothes, and I noticed, had no beard. I asked, why, and the prison store attendant told me that his workplace doesn't allow beards. I was puzzled but another guy, present at the conversation (brother of Lazar Kolev) confirmed, his name is Ventzislav. He told me that he himself was officially punished for the same thing. He has a beard because of a medical condition (psoriasis) so he feels ashamed to do visits without a beard. It conceals his skin breakages. Time ago, he went to a work place, Sredna Gora, and they asked him to shave his beard. He refused and they punished him. I was astounded.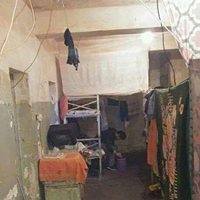 I'm trying to get used to this prison. I've been here since May 2, 2018, and I've been in different prisons for ten years now. I thought I had seen it all, but here, I'm astounded several times a day. In this prison, there is no law and order, and the most important goal is to have tension and conflict. Most of the guys need medical treatment, but the management doesn't do anything about it. Kotzev says, go sue us, this is his solution. In our cell (701) of Department 7, there is this very sick guy but no one is doing anything about him. His name is Djeko Katev and he has grown up in orphanages. He is 80% disabled because of mental problems (mental deficits) and they keep him here. He is gay. They even make fun of him. Djeko goes overboard because of his mental problems, but the management doesn't do anything about it, nothing at all. I and the other cell prisoners explained to them that there are problems with him, but the woman from management just behaved awfully, like she was at a market square. I asked her why she's screaming and cursing, and she said it was her right to do so and stands behind her words. Before, she used to hold a high position and … I didn't understand what she meant but I left because she was hysterical. If you were to ask her, or her boss Kotzev, in front of the prison gate with a microphone in hand, she would for sure deny it. In any case, she's someone who doesn't do her job. After the conversation she came back to inspect if we maintain good hygiene in the cell, and found something to quibble about. There is no way to maintain good hygiene in a cell of 20 square meters with 12 bunk beds, 10 cabinets, 11 prisoners and all their belongings. There is something resembling a toilet, no hot water, and we take bucket showers, heating the water with wire heaters, but this is something you have to see to believe. The wood floor has rotted. I had heard about this place, but it has to be seen, it can't be described.
Two weeks ago I was moved from unit 9 to unit 7. I was settled in cell 701. Ms. Stoycheva, the inspector for social work and rehabilitation of the unit, told me that she had designated this cell for non-smokers so that I can have a place to sleep. She was livid that the Boss had asked her to create a cell for non-smokers in her unit, and she wasn't hiding it. I was very glad I would be with non-smokers, but I was soon to be disappointed. She had set up the non-smoking cell with great effort. She had summoned the guy responsible for the cell and had asked him to organize a joint declaration that they would not smoke in the cell. After that, she placed me there and told me I need to report anyone who smokes inside. She had overdone my introduction to the cell. She had created unnecessary tension, but here the law is divide and conquer. They want all of us to quarrel and not to get along. In this prison, there are no cells for non-smokers and they all are angry with me that I don't smoke. Four months now, I have publicly announced to the Boss that I do not eat meat and meat products, and he is angry with me about that too. Till this day he refuses to place me on a vegetarian diet.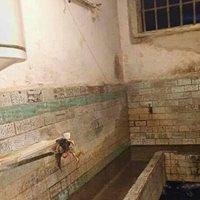 Here you take your meals at the canteen and they are below any standard. I don't know what the roles of the Chief Directorate on Execution of Punishments and the Department on Hygiene and Epidemics are in the whole scheme, but it is full of rats and has no hygiene whatsoever. It rained recently, the canteen got flooded and all were trying to save the bread. The Boss forbids us to take meals or bread in the cells. It is forbidden here. The officers have no idea about the laws and regulations on execution of punishments. They make inspections of belongings without anyone present and they never follow article 87 of the regulations regarding inspection of belongings, and this is an established practice. I will not go into the situation with prison guards; it's a painful theme right now as a few days ago a guard ran over and killed a 16 year old boy, driving with 1.58 alcohol in his blood.
There's no hot water here and we take bucket showers, heating the water with wire heaters. They take us to the communal bathroom two times a week, as prescribed by the law on execution of punishments. They are currently doing a renovation but it is below any standard. They are hiring contractors while they have more than 250 employable people. All prisoners strive for employment as it diminishes the sentence but they sign contracts with companies who send workers. Do I need to tell you that the workers leave Friday at noon and come back Monday afternoon, and often they just smell of alcohol?
Here no one works within the law and prisoners don't know anything about sentence plans. They are continuously told the lie that you need to get to the point of less than 5 years remaining sentence to be eligible for employment. Social workers are following the old law on execution of punishments. It was replaced about two years ago. I forgot to mention that this prison doesn't have a room for extended visits. They took the money allocated and used it for something… In addition, in this special prison no one has the right to home leave. No one takes a home leave, and the management says, such is their practice. Luckily they don't have the practice to execute death sentences, that's the only change here in the last many years. The food is under-nourishing and the guys look like concentration camp prisoners. Fascists!!!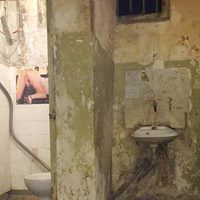 I can write about many other things, but I'll tell you nothing new. It is all an open secret well known to the Chief Directorate on the Execution of Punishments and the Ministry; they know it all but they support it. After all, they are the ones writing the script. They are the ones making sure to trample upon people like us. They want me not to have contact with my family, and at least 10 people in a room. At the moment, it is 11 of us in one cell, but about a month ago I was in a cell with 10 people, no toilet, and 8-9 people in the next cell, separated by a thick solid door made out of a blanket. Everything here is lowly. In all cells there is conflict and quarrels, but this is one of the goals of the distribution. This is what the Pazardjik Law on the Execution of Punishments says.
The place for outside walks has no awning and when it rains, there is no place to hide. There is not one piece of sports equipment and no tournaments of any kind, at least not this summer. The prison store is below any standard, but let us not disgrace it as it has the most important product – a wafer with the face of Boyko Borissov (Translator's note: Prime Minister of Bulgaria) with the brand name of B.B.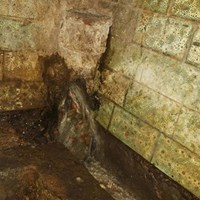 There is no lawyer's room either. No way to exchange documents, but it's all good as this is the goal, isn't it? This is where I want to ask the Chief Directorate on the Execution of Punishments, why am I here, in a place for prisoners mostly from the low levels of society? My transfer order says that I am organizing a rebellion and they are worried about my ability to easily manipulate prisoners from low levels of society as they are illiterate. Here, no one can read or write and everyone is asking me where to write and how to sue you, dear bosses of the Chief Directorate on Execution of Sentences and Ms. Minister of Justice, or you think this is just some scribbles written for the moment? Oh, I forgot to mention, my dossier says that I am at High Risk of Escape! No escape is possible from here. Prison security is very tight and I have no chances. You are taking your work very seriously.
The only thing I like is that you have secured a niche for prisoners to make some money. Everyone is suing you and has no chances of losing on a case. This is your most admirable act in the last decades and maybe I just figured it out late. Thank you!
Stanislav Metodiev Angelov, Bulgarian Prisoners' Association