Albin Kurti's party won the 6th October poll, but whether they will provide a clean break with the last 30 years in Kosovo remains to be seen, argues Vladimir Unkovski-Korica.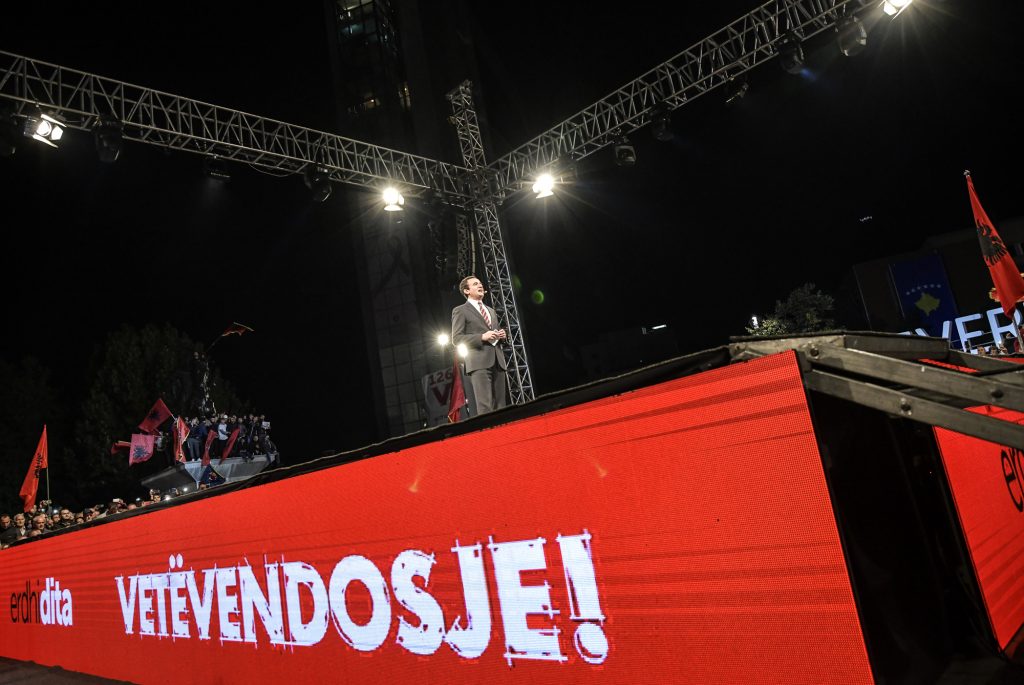 Kosovo's recent election was close. According to final preliminary results, Levizja Vetevendosje! (Movement Self-Determination!) beat the Democratic League of Kosovo (LDK) by fewer than 6,000 votes. Vetevendosje got 25.5 percent of the vote, while the LDK had 24.8 percent.
The vote for both parties was a vote for change, which has been ruled for some time by parties that emerged from the Kosovo Liberation Army. The Democratic Party of Kosovo (PDK), the dominant party since 2007, came just third with 21.24 percent.
The Alliance for the Future of Kosovo (AAK) party of the outgoing premier and KLA commander, Ramush Haradinaj, who resigned in July to face charges of war crimes in the Hague Tribunal, was a distant fourth with 12 percent of the vote, despite being in coalition with the Social Democratic Party (a split from Vetevendosje).
The PDK and AAK have overseen hard economic times, and the PDK in particular has been mired in corruption charges and accusations of 'state capture'.
Vetevendosje tapped a mood for change
By contrast, Vetevendosje has developed a programme that promises rule of law and a social state. Branding themselves as a clean break and left wing has won the party popularity. Vetevendosje's rise can therefore also be seen to an extent as part of a global trend towards the re-emergence of radical left sentiments among significant groups in society.
Similarly, the LDK tried to present itself as a new face domestically. It put forward Vjosa Osmani as the first female candidate for Kosovo PM since 2010. She is well known for her opposition to the coalition formed by the LDK and the PDK back in 2014. That to some extent rejuvenates the LDK, which had been the main national party in Kosovo in the 1990s and 2000s.
It is clear that any Vetevendosje-LDK coalition will try to decisively tackle the PDK's continuing influence in the state apparatus in Kosovo.
But the direction of travel in domestic economic terms is not so clear. Vetevendosje has always branded itself as an opponent of privatisation under neo-colonial rule.
In the run-up to the election, it laid out its plans in some detail. It promised to halt privatisation and abolish the Kosovo Privatization Agency, KPA, as well as to set up a Bank of Development to help local businesses, and invest in the modernisation of public services.
There is some ambiguity as to whether the programme would also reduce employment in the public sector but the overwhelming promise appears to be of a more social state.
Meanwhile, the LDK brands itself as centre-right. It also partnered the PDK during the privatisation process in the 2000s and 2010s. It is unlikely to go along with Vetevendosje's programme.
Relations with Serbia
Uncertainty reigns even more in terms of what will happen next in negotiations between Kosovo and Serbia, when they resume in April 2020.
The ousted PDK has roots in the Kosovo Liberation Army, but has also been instrumental to the normalisation of Kosovo's relations with Serbia in recent years. President Hashim Thaci hails from the PDK and has been mooting a territorial swap with Serbia in exchange for Serbia's recognition of Kosovo.
Both countries are seeking a deal under Western auspices in order to open the door for EU integration.
By contrast, Kurti has branded himself an opponent of all compromise in the struggle for self-determination. He famously resigned as political adviser to the KLA on the eve of the NATO bombing, opposed the neo-colonial administration of Kosovo by UNMIK and EULEX, and argued against any compromise solutions with Serbia.
Yet it is not clear that voters punished the PDK for foreign policy compromises – Haradinaj's AAK imposed tariffs on Serbian goods and caused uproar among Western powers, but his nationalist stunt failed to boost the AAK in this election.
It seems that social questions took more precedence in voters' minds, and relations with Serbia less, than they have for some time.
In fact, Kurti has for some time been making conciliatory noises to the West, signing, for example, a letter in The Guardian calling on Corbyn to call a second EU referendum and, more recently, saying he did not see unification with Albania as an imminent prospect.
His success cannot therefore be understood without seeing that it is his social promises that have won Vetevendosje support, as much as its past radicalism on the issue of self-determination.
Pressure to de-radicalise
Nevertheless, Vetevendosje will now be under significant pressure to show it can be a 'responsible' ruling party from the perspective of both the Western and domestic establishments (especially via the LDK). Showing 'responsibility' will here concretely mean attaining a compromise with Serbia and moderating further calls for domestic change. Dropping any idea of investigating privatisations under Western auspices would be an example of such de-radicalisation.
The margin of Kurti's victory is narrow and this additionally discourages any radical break with the status quo. Yet Kurti's experience must also tell him that relying on the West and the domestic elites for self-determination has not led Kosovo far. The West's betrayal of the Kurds in northern Syria at the moment must be a lesson in the same thing.
Unfortunately, no major progressive left voice has yet emerged in Serbia that can become a genuine popular ally of the struggle for Kosovan self-determination. Serbia under bourgeois nationalist forces remains a threat to Kosovo. So there is no obvious incentive for Kurti to seek an exit from the crisis through mutual guarantees with a friendly Serbian state.
The need for a left pole
Yet that would be the only solution which would be in the interests of the popular classes in both Kosovo and Serbia. Bypassing the Western powers and striking a deal would serve as an example to peoples elsewhere. Making the region a NATO free zone would be a blow for Western imperialism, which continues to wreak havoc on the world.
It is however far more likely at this time that Kurti will either try to build a national base from which to pressure the Western powers to take his side in the showdown with Serbia, or that he will seek to use his current position to complete a deal with Serbia much along the lines that Thaci has been pursuing. Either way, he will likely be hoping for ultimate convergence with the European Union, an unlikely friend of real self-determination.
There is no telling in advance, however, which route he takes, and they are different routes. The relations between Kosovo and Serbia remain volatile, and the West's allegiances remain unclear, especially with Trump in the White House. Popular pressures can build and go in unexpected directions.
This is why it continues to be imperative to build independent anti-imperialist and anti-nationalist left forces in Kosovo and Serbia. A space has opened for change and we must do what we can to push in an internationalist direction.