by Nikolai Ovchinnikov
from openDemocracy, Dec. 9, 2015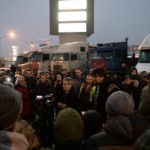 Truckers across Russia have descended on Moscow to protest a new freight tax which will threaten their livelihood. Vladimir shares his story of life behind the wheel.
Since mid-November, Russia's long distance truckers have been protesting against a new freight tax on trucks over 12 tonnes. The tax is 1.53 rubles (£0.01) per kilometre until March 2016 and 3.73 rubles (£0.04) per kilometre thereafter. The official reason Russia's Federal Transportation Agency (Rosavtodor) gives for the new tax is to pay for the road damage it says 12-tonne trucks cause. In fact, according to a press release, Rosavtodor claims that one 12-tonne truck causes road damage equivalent to 40,000-50,000 cars.
The tax will be collected through Platon, an electronic monitoring system, operated by RT-Invest Transport Systems, a company owned by Sergei Chemezov, a close Putin associate subject to western sanctions, and Igor Rotenberg, son of Putin's former judo partner Arkady Rotenberg. Given the closeness of RT-Invest's co-owners to Putin, many see this new tax as just another example of rent-seeking corruption in Russia. Indeed, the RT-Invest was created specifically for this no-bid state contract. According to Vedomosti, RT-Invest is projected to earn 10.6 billion rubles (£102 million) of the 50.6 billion rubles (£404 million) in road taxes collected annually.
In response, many of Russia's truckers rose up and have been staging protests all over the country demanding the tax's repeal. By late November truckers decided to set out for Moscow, and by 27 November the first 200 trucks had already left from Dagestan. The most dramatic protest was on 4 December when hundreds of truckers clogged Moscow Ring highway with a large, slow moving semi-truck caravan. It's unclear what the truckers will do next since their demands have mostly been ignored by the Kremlin. A few Communist Party Duma members have spoken in the truckers' defense, and it seems the KPRF is looking to politically capitalize on, not to mention co-opt, the movement by proposing to corral them into a new political organization.
The full article could be found on openDemocracy.net.